The 22nd China Hi-Tech Fair (CHTF) was held successfully in Shenzhen, China between November 11th and 15th and it combined both online and offline exhibitions. With a total exhibition area of 142,000 square meters, the 22nd CHTF had 3,349 exhibitors and a total of 9,018 hi-tech products were displayed, covering artificial intelligence, smart homes, smart manufacturing, the Internet of Things (IoT), smart driving, the Internet of Vehicles (IoV), commercial 5G, 8K UHD, blockchain technology, big data, cloud computing, emergency security, and other cutting-edge fields.
CHTF is co-hosted by the Ministries and Commissions of the National Government and Shenzhen Municipal People's Government. It is the largest and most influential science and technology exhibition in China and is renowned as "the No.1 Technology Show in China" and debuted in 1999.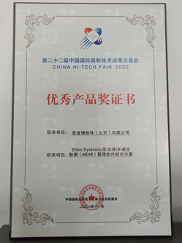 SZTV news, Shenzhen' satellite TV network reported about the scene of the fair and interviewed Jinchao Wang, China's Managing Director at Stibo Systems, who stated "Shenzhen Hi-Tech Fair is the biggest annual science and technology event in China. Many of the latest advanced technologies and products at home and abroad are released here. Stibo Systems has also increased its resources investment in the Chinese market this year and wants to bring the best products and technologies to Chinese enterprises." Watch the news report at this link.
Chongqing International Communication Center (iChongqing) also reported from the fair and interviewed Mr. Wang who mentioned that Stibo Systems' Multidomain Master Data Management (MDM) solution is applicable to companies in all industries. In the special circumstances of this year, many Chinese enterprises have accelerated the pace of IT transformation. The ability to improve the customer experience, speed up the time to market, and enhance the core competitiveness of enterprises depends on the quality and availability of data. Stibo Systems' multidomain master data management (MDM) solution can manage data across domains on one single platform, enabling enterprises to promote new digital transformation initiatives and effectively utilize data when needed to ensure business success. Watch the news report at this link.
On CHTF's official website, it is reported that "Stibo Systems, headquartered in Denmark, is a world-renowned master data management (MDM) solution provider, ranking among the top five suppliers in the MDM market. At present, it has set up branches in all major markets in the world, and established the first Stibo Systems innovation center in Shenzhen in 2019. The company attaches great importance to this exhibition, and actively signed up for the relevant activities of the 22ed High Tech Fair. The company won the "Excellent Product Award" at the 22nd High Tech Fair by virtue of its strong product.
Highlights from the fair: