Harnessing master data management to boost data-driven management practices and digital transformation of Japanese companies
October 14, 2021
Stibo Systems KK
Nippon Systemware Co., Ltd.


Stibo Systems KK (head office: Aarhus, Denmark; Japan office: Chuo-ku, Tokyo, Representative Director: Hiroyuki Kudo; "Stibo Systems") and NSW (Nippon Systemware Co., Ltd.; head office: Shibuya-ku, Tokyo, President and Representative Director: Shoji Tada) have concluded an agreement under the new One Global Partner Program (OGPP), a global partnership initiative recently launched by Stibo Systems, and have agreed to a partnership with the aim of leading the digital transformation of Japanese companies. As a certified consulting partner under OGPP, NSW will begin providing solutions centered on Stibo Systems' multidomain master data management (MDM) SaaS platform ("Stibo Systems MDM") from today.

With the new agreement, Stibo Systems, a global leader in the master data management platform market with a track record of supplying MDM solutions to more than 500 companies, and NSW, which has forged a proven reputation over many years in Japan's IT solution market with its advanced technology and solution proposal capabilities, will be able to provide highly practical and effective solutions to the growing awareness for data-driven management among corporate executives.

NSW will collaborate strongly with Stibo Systems' Japanese Division and leverage the company's best practices in Europe and the Americas to propose a new approach to master data management to a broad range of industries, with a focus on manufacturing and distribution. In building and upgrading the management platform at the core of data-driven management, Stibo Systems MDM's features will help to significantly reduce costs and the burden of system management by enabling agile, short-term implementation of MDM, in-house production of operations based on high maintainability and scalability and improved business agility. NSW will also aim to contribute to the digital transformation of companies by adopting a more comprehensive approach, such as supporting continuous implementation of master data management, optimizing auxiliary IT systems surrounding the MDM platform and supporting the implementation and development of business strategies covering mid- to long-term digital transformation.

NSW will expand its consulting framework and demonstrate to a wider audience on effective approaches to master data management, starting with a joint webinar scheduled for Thursday, October 28.
About Stibo Systems' Multidomain Master Data Management (MDM) SaaS Solutions
Stibo Systems MDM is a single software platform equipped with all the essential functions for master data management (such as collection, management, acceleration, distribution, modeling, system integration, workflow control, auditing logs, access rights, normalization, multi-language support) with a standardized user interface and operation, generating golden records of various types of master data that can be utilized throughout the organization for a broad range of activities. Its main advantage is that implementation, operation and maintenance are achieved through configuration settings instead of programming-based development, which allows for faster response to business needs and cost control with in-house operation that does not rely on vendor support. Its unparalleled scalability is highly praised by countless companies as a strategic platform for supporting ongoing growth, including M&A and business transformations implemented at global companies.


Stibo Systems MDM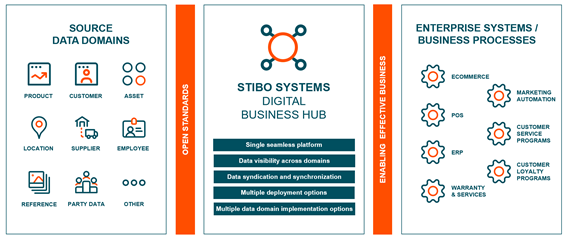 Stibo Systems, the master data management company, is the trusted enabler of data transparency. Our solutions are the driving force behind forward-thinking companies around the world that have unlocked the strategic value of their master data. We empower them to improve the customer experience, drive innovation and growth and create an essential foundation for digital transformation. This gives them the transparency they require and desire – a single, accurate view of their master data – so they can make informed decisions and achieve goals of scale, scope and ambition. Stibo Systems is a privately held subsidiary of the Stibo A/S group, founded in 1794, and is headquartered in Aarhus, Denmark. The Japanese Division of Stibo Systems was established in 2016. More at stibosystems.com/ja/.
About NSW (Nippon Systemware Co., Ltd.)
Established in 1966, NSW provides a one-stop solution for developing manufacturing, distribution and other industry-specific systems, designing and operating IT infrastructure, and supplying cloud services utilizing its own data centers. It is also involved in the development of embedded systems in the automotive, communications and equipment sectors, as well as LSI and board design and development. Building on this solid foundation, NSW is focusing on the IoT and AI sectors to supply various solutions and services based on its IoT platform "Toami," and is aiming to become a company that leads customers' digital transformation. For more details, visit nsw.co.jp/.
Stibo Systems KK
Nihonbashi Front Building 1F, 3-6-2 Nihonbashi, Chuo-ku, Tokyo, 103-0027
URL: stibosystems.com/ja/
TEL: (03) 4588-2776 (switchboard)
Email: info@stibosystems.jp (for products, services, and press inquiries)

NSW (Nippon Systemware Co., Ltd.)
31-11 Sakuragaoka-cho, Shibuya-ku, Tokyo 150-8577
URL: m2m-cloud.jp/data-mgt
TEL: 03-3770-0096
Email: data-mgt@gw.nsw.co.jp (for services)
Email: kouhou@gw.nsw.co.jp (press inquiries)