How to choose a master data management architecture and implementation style that supports your business objectives and strategy
What the foundation of your Master Data Management (MDM) system is built on will depend on the implementation style you agree gives you the best chance of project success. And this will largely be determined by your business situation when it comes to data management.
There are a few different implementation styles (also called approaches, methodologies and architectures) to choose from with the main differences being whether you control your data from a central hub or synchronise the hub with your existing data sources.
But why is it essential to give careful consideration to the style of implementation?
Maintaining a single version of the truth across your organization is a high priority for most organizations – alongside meeting compliance and regulatory obligations. Focus is placed on improving data quality and processes, establishing guidelines for data governance and ensuring data can be easily managed and accessed across the business.
Each of these factors can be achieved by using most common implementation styles. However, master data management systems vary widely between organizations, and your type of deployment will depend on your core business, corporate structure and company goals.
Your master data management solution provider will be able to advise you on the best approach depending on your business needs. Here we take a look at four common master data management implementation styles to help you decide which one most closely matches your organizational requirements.


The 4 most common master data management implementation styles
The four most common master data management implementation styles and architectures followed by companies are: 1) Registry style, 2) Consolidation style, 3) Coexistence style and 4) Transaction/Centralized style.
MDM implementation 1: The Registry style
The Registry style is mainly used to spot duplicates by running cleansing and matching algorithms on data from your various source systems. It assigns unique global identifiers to matched records to help identify a single version of the truth.
This style doesn't send data back to the source systems, so changes to master data continue to be made through existing source systems. Instead, it cleans and matches the identifying cross-referenced information and assumes the source system can manage the quality of its own data.
Information needed to match and provide the link between corresponding records is stored, and a view of this data can be accessed as required.
When a single, comprehensive view of a customer is needed, it uses each reference system to build a 360-degree view in real-time. However, central governance of the data is required to ensure the golden record is reliable.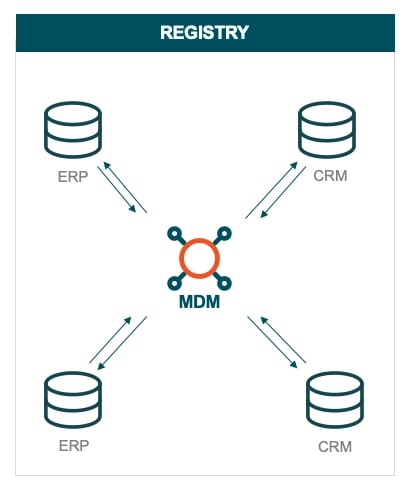 The benefits of a Registry style implementation
If you have a large number of source systems spread across the world, it can be difficult to establish an authoritative source. A Registry style approach can be used to analyze the data while avoiding the risk of overwriting information in the source systems. This will help you avoid potential compliance failure or other regulatory repercussions (which may vary from country to country) that could occur if source data is changed.
Registry style provides a read-only view of data without modifying master data and is a useful way to remove duplications and gain consistent access to your master data.
It offers low-cost, rapid data integration with the benefit of minimal intrusion into your application systems.


MDM implementation 2: The Consolidation style
With a Consolidation style, the master data is generally consolidated from multiple sources in the hub to create a single version of truth, otherwise known as the golden record.

A golden record is stored in the central hub and used for reporting and reference. However, any updates made to the master data are then applied to the original sources.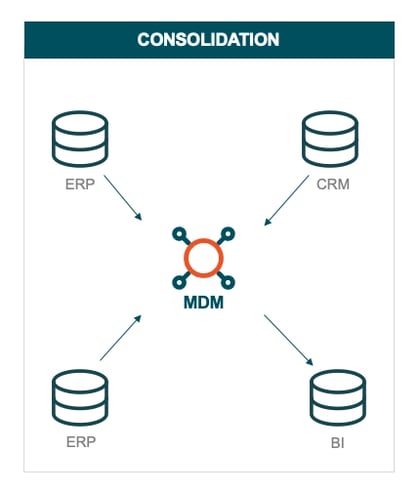 The benefits of a Consolidation style implementation
With a Consolidation style, you can pull master data from a number of existing systems and channel it into a single managed Master Data Management hub. This data can then be cleansed, matched and integrated to offer a complete single record for one or more master data domains.
Consolidated hubs are inexpensive and quick to set up, providing a fast and efficient way to facilitate enterprise-wide reporting. This style is mainly used for analysis, giving you a trusted source of data for reporting and analytics.
MDM implementation 3: The Coexistence style
A Coexistence style allows you to construct a golden record in the same way as the Consolidation style, but your master data is stored in the central MDM system and updated in its source systems.
Master data changes can happen in the MDM, as well as in the application systems.
All attributes of the master data model must be consistent and cleansed before uploading them into the Master Data Management system.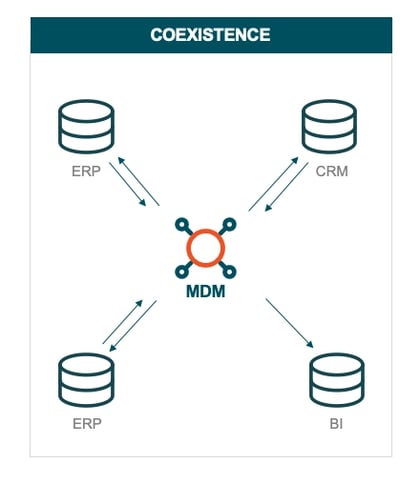 The benefits of a Coexistence style implementation
The main benefit of this style is that data is mastered in source systems and then synchronized with the hub, so data can coexist harmoniously and still offer a single version of the truth.
Another benefit of this approach is that the quality of master data is improved, and access is faster. Reporting is also easier as all master data attributes are in a single place.
A Consolidation style hub can naturally evolve into a Coexistence style hub if your business decides it requires the advantage of being able to link centrally governed data back to the source systems.


MDM implementation 4: Transaction/Centralized style
The Centralized style allows you to store and maintain master data attributes using linking, cleansing, matching and enriching algorithms to enhance the data. The enhanced data can then be published back to its respective source system.
With this architecture, the master data hub supports the merging of master records, and source systems can subscribe to updates published by the central system to give complete consistency.
The Centralized style also allows you to create master data making your MDM the system of record.
This means you can centralize data creation functions for supplier, customer and product domains in a distributed environment by creating the entity in MDM and enriching it through external data sources or internal enrichment.
Making the MDM the system of origin of information enables you to create workflows and validation capabilities to update your ERP and other business systems that need accurate master data.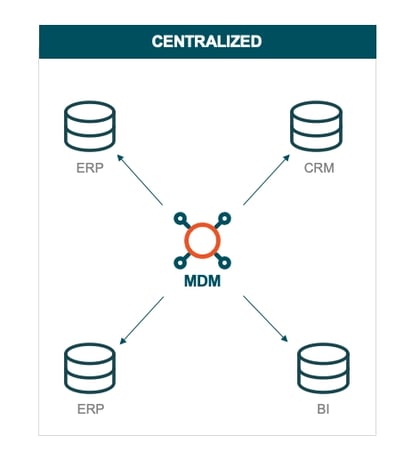 The benefits of a Transaction/Centralized style implementation
Your master data is accurate and complete at all times while security and visibility policies at a data attribute level can be supported
You gain a centralized set of master data for one or more domains
With the MDM as system of origin, you can leverage the powerful data governance capabilities of the MDM
The centralized style can often evolve from consolidation or coexistence styles.
Your master data management implementation style
Depending on your business needs, you can now identify the right approach and methodology for your organization's implementation plan.
Another important aspect is that a mix of styles is possible within a single MDM deployment so that the style is unique to data type.
However, before you embark on any implementation, you need to ask some fundamental questions regarding your current state of data quality and future data policy.
What is your requirements for data quality?
If you're hampered by data that's siloed in disparate systems, your first step should be to explore what you'd like to do with your data if you had convenient access to a single comprehensive record.
The next step is to think about who in your organization needs access to that data, and finally, do you want them to be able to access it from different devices and locations globally?
Fortunately, you can evolve from one implementation style to another as your company's needs grow or your organization expands. The key factor is to get the data governance policies right from the beginning and then choose a master data management platform to support those policies.
---