Data management and data governance is the first and most foundational step sustainability leaders need to take on their journey to support ESG initiatives and sustainability in retail.
Sustainability data has many sources and formats. It needs to be calculated, collected and curated to make it fit for compliance, reporting and customer experiences.
In this guide to retailers, we will discuss some of the drivers behind sustainability initiatives, the complexity of sustainability data and show how sustainability data management can have great business value.

Table of contents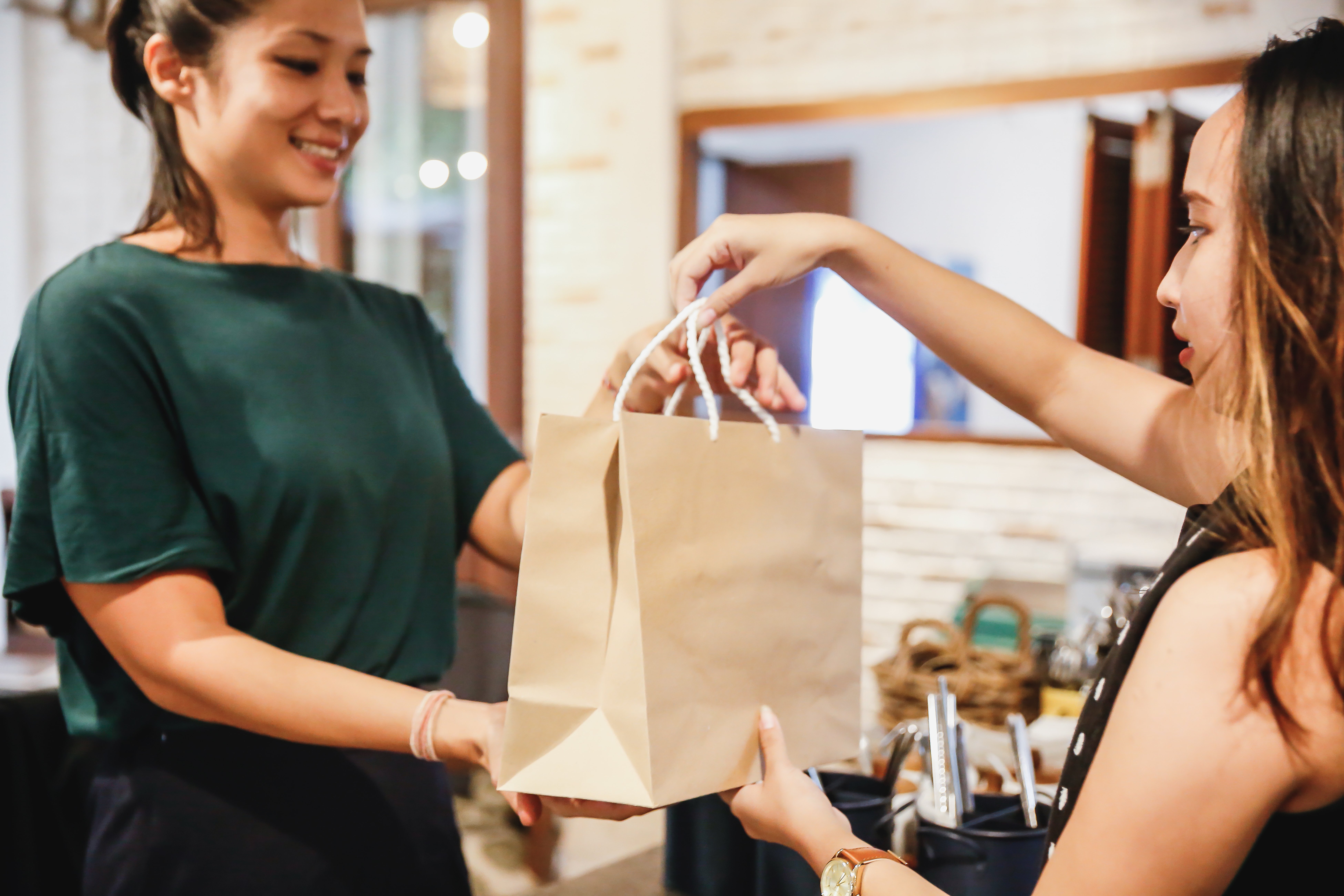 Sustainability in retail is business- and data-driven
Companies have many different business-critical data: product and asset information, as well as supplier and stakeholder data. Keeping this data clean and well-managed is crucial to run the business. However, in recent years a new subset of data of equal importance is getting attention: sustainability data.

The environmental impact caused by the production and transportation of industrial and consumer goods has drawn scrutiny from governments, NGOs and consumers alike. The call for companies to act responsibly and adopt more sustainable practices in sourcing, manufacturing, packaging and distribution processes will intensify as environmental, social and governance (ESG) concerns increase globally. To meet that call, new types of data need to be governed and managed.

Companies need to set sustainability and ESG goals for three main reasons:
Regulatory demands from governments, investors and 3rd parties are growing and evolving at a high pace

Brands and organizations differentiate themselves from competition with social and environmental actions

Consumers are increasingly influenced by the sustainability footprint of the products and services they consume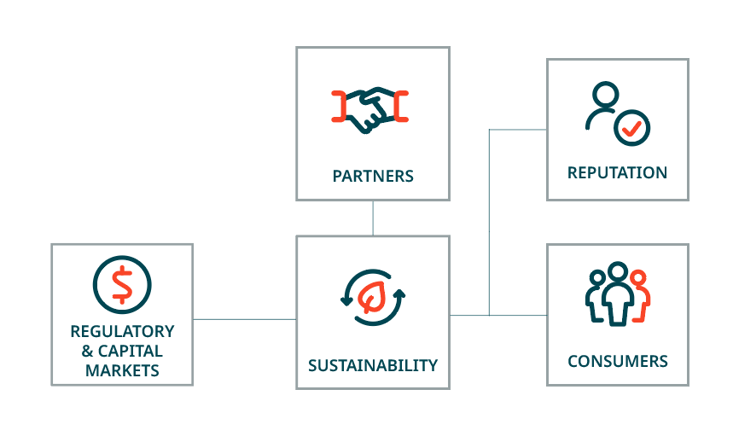 The ramifications of the sustainability call impact all parts of the business from funding to customer experiences
At the heart of sustainability in retail lies data management that can provide transparency. This is key to instill consumer trust in a brand. It's not enough to be ethically sourcing, you also need to be able to bring the proof.

The sustainability demand affects all parts of the business: supply chain management, purchase, product development, legal, finance, sales and marketing. Many departments need to have access to and share trusted sustainability data internally and/or with customers and 3rd parties (investors).
"Authenticity is important, but customers are increasingly expecting that [fashion brands'] efforts are backed up by data," according to Clarisse Magnin, a McKinsey senior partner.

McKinsey & Company, NEF Spotlight: The path forward for retail's sustainable future, January 26,2021
Sustainability is changing retail
The growing market for sustainable goods has made the pivot toward sustainability more palatable for companies.

"For our first ten years, sustainability was not even in the top five reasons why customers chose our company. Now it is one of the top two reasons" said the CEO of one fashion company. "Customers want to see data on the environmental impact. Transparency is crucial." (McKinsey & Company, NEF Spotlight: The path forward for retail's sustainable future, January 26, 2021).
Learn more about Retail of the Future.

As a result of consumers becoming more purposeful in their shopping behavior, retailers need to look again at which products they are bringing to market, and they need to adopt certain sustainability standards.

Retailers can establish more environmentally sustainable product offerings, innovate in more efficient store operations and partner with their supply chain partners to reduce environmental and social impacts. These are some of the top opportunities for retailers.

But will consumers pay? Generally, the younger and more affluent the consumer, the more likely that consumers will pay more. Currently 60% of Gen Z, higher income shoppers are willing to pay more for sustainable products vs. only 49% among all demographics. (McKinsey & Company, Climate sustainability in retail: Who will pay?, May 4, 2022).
Retailers leading the way to sustainability
Even though environmental and corporate interests are aligning more than they have in the past, the actual path toward adopting more sustainable practices is not the same for all. Each company must look to which initiatives make the biggest impact and how they can measure it. Below, you will find three very different examples of individual sustainability goals - circular economy, carbon neutrality and human dignity. But, of course, there can be many more depending on your type of business. A top-down approach is recommended: Take a step back and consider which standards are meaningful to comply with, identify the KPIs, and then create a data governance policy that supports those KPIs.


1. Circular economy
One concept that has gained traction in recent years is the circular economy model, where materials that otherwise would be headed to a local landfill are being reused to create new products. In addition to the many inherent environmental advantages of this approach, companies benefit from reduced sourcing costs and the creation of new revenue streams from these sustainable products, ultimately improving their financial performance. Furniture giant Ikea introduced its Buyback & Resell program in 2020 for 27 countries, offering store credit in exchange for used items. In 2021, the company expanded the program to 33 locations in the US. (CBI Insights, The Shift To A Circular Economy: How Tech Is Shaping The Future Of Sustainable Retail, February 2, 2022)


2. Carbon neutrality
Many retailers are setting goals for carbon neutrality. BestBuy has become a founding member of the Breakthroughs 2030: Retail campaign, a Race to Zero initiative that aims to accelerate climate action within the retail industry. The company claims to have reduced emissions 61% since 2009 and pledges to be carbon neutral by 2040 (Best Buy, Best Buy becomes founding member of Race to Zero campaign, November 10, 2021).


3. Human dignity
From a sustainable supply chain perspective, Walmart has implemented a responsible sourcing program to promote human dignity. This includes selecting suppliers according to certain assessment data, "such as KPIs and Health Check Reports – to help hold suppliers accountable for supply chain health and risks." (Walmart, Responsible Sourcing).
The complexity of sustainability data
Underneath all sustainability initiatives there are data and metrics. The sustainability demand therefore raises a need for solutions that make sustainability data more accessible and connected to other types of master data, such as product, location and supplier data.

The complexity of sustainability data is notorious. It includes a variety of stakeholders and sources, it's difficult to calculate and it can have a huge impact on the bottom line.

Let a recent example highlight the complexity: In order for consumers to make sustainable shopping choices, a group of French retailers have launched the Eco-Score – an easy-to-understand symbol that sums up the life cycle assessment and environmental impact of food products. The Eco-Score aptly encapsulates the variety of data that needs to be factored into the calculation, including product packaging, production processes, supply chain parameters like travel, the policies of the countries involved, whether the product affects any endangered species, the amount of water needed, the use of raw materials and your sub-suppliers' carbon footprint.
Traditional product lifecycle:
Sustainable manufacturing approach: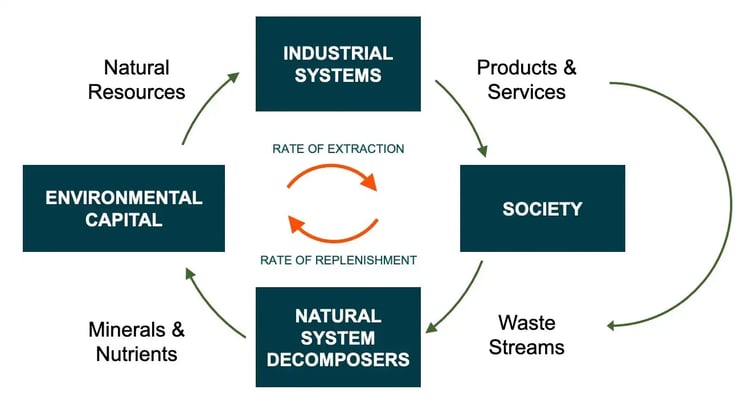 Sustainability data is not a singular data domain, it needs to be extracted from your suppliers, product information, location data and financial data.

Calculating, aggregating and mapping this variety of data requires expertise and data scientists, as well as technology to support the processes. Lots of master data must be linked together and organized in logical hierarchies. Retailers need to reduce the complexity and organize data in a single source of truth, providing the needed transparency.

As an example, to adopt a circular economy mindset and become more environmentally and socially responsible, companies will need greater visibility and control over the recycled and externally sourced materials as they flow through the product development process and supply chain. Yet, for companies burdened by disconnected systems, siloed teams, inefficient processes or an inability to access information across the enterprise, this can be a significant challenge.
To achieve the needed transparency, data needs to be governed centrally: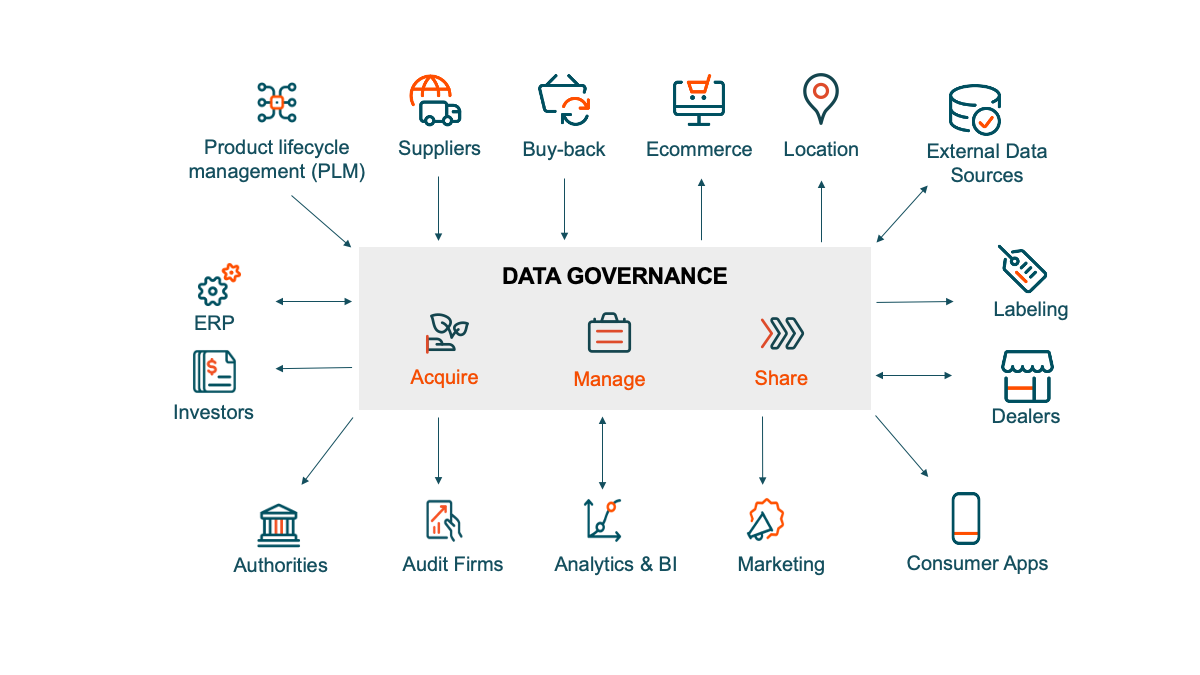 "Data is essential to ensure that organizations are aligned with rapidly evolving regulations around climate disclosure. Data also provides organizations with the means to accelerate their journey to net zero by catalyzing organization-wide action on emissions reduction."
(Capgemini Research Institute: Data for Net Zero, 2022)
As more companies provide their products and services with sustainability KPIs, the collection and management of sustainability reference data has become a master data initiative.

Retailers may bind their suppliers contractually to adhere to sustainability objectives. Suppliers, therefore, need to ensure that their products are sourced appropriately and carry sufficient information to support controls and enhance transparency for the retailers and their end customers.

This value chain shows that sustainability data lives in the relationships between companies within the procurement, manufacturing, distribution and customer engagement processes. A data management system is needed to describe the individual sustainability characteristics of products, suppliers, distributors and other actors within that value chain.
The retailer's questions that sustainability data can answer: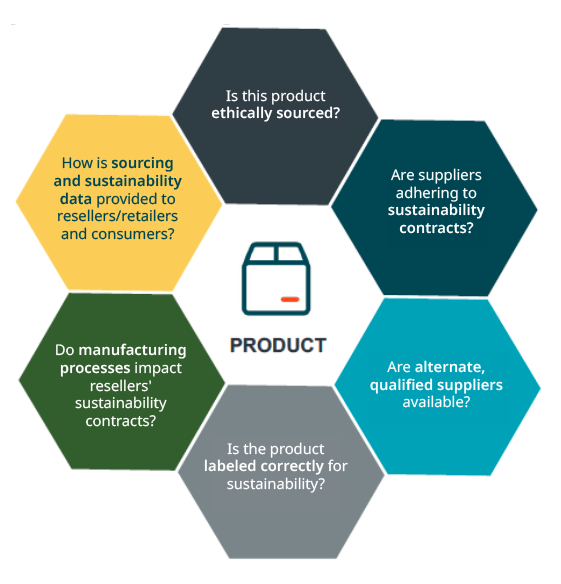 Enable traceability with master data
Evidencing sustainability requires the ability to track a variety of data through the supply chain and product lifecycle. Imagine, for instance, a fashion retailer wanting to engage in textile-to-textile recycling, recovering materials from consumer textile waste to produce yarns for new fabric. To do that you need to collect trustworthy information from an array of datapoints across the value chain, establishing end-to-end data visibility from both upstream and downstream activities:


Supplier data
Identifying which suppliers are partaking in buyback programs and comply with your standards for recycled material and other sustainability criteria.
Capturing data on bill-of-materials, sustainability and ESG programs of suppliers, including certificates and audit reports.
Ensuring updated contact information and contracts.
Tracking supplier data is important for risk mitigation and in order to be able to quickly switch suppliers.


Location data



Identifying manufacturing plants.

Capturing data on product quality, manufacturing methods, storage conditions, logistics, work environment, water consumption, waste management, etc.

Managing location data is crucial to establish supply chain transparency. This enables you to make informed decisions on where to source from and choose the most compliant and sustainable solution, e.g., locally sourced material.

Product data



Ensuring correct labelling, attributes and digital assets for consumer information, including disposal information and how to return and recycle products.

Ensuring accuracy about the percentage of the product that comes from recycled textiles, so it's represented on applicable product tags across sales and marketing channels, as well as in stakeholder reporting.

These assets can be described with master data which is low volatility data. Treating sustainability data as master data enables you to create a solid framework of data points for measuring the success of your sustainability initiatives.
Managing your supply chain is crucial to achieve sustainability
A transparent supply chain is crucial to be able to communicate sustainability.

Maybe you don't have your own product development team or capability. You need to control and access supplier items and supplier data, nevertheless.

The retailer is the consumer's touchpoint in a long value chain, it's therefore on the retailer to track supply chain data and set up a transparent supply chain system where reporting data is fit to share with consumers, authorities and investors.
Countries and their states and provinces are developing more regulations to encourage improved sustainability of supply chains and improved human protections, for example, the California Transparency in Supply Chains Act requires companies to, among other things, disclose how they evaluate and address risks of human trafficking and slavery in their supply chain, as well as conduct audits of suppliers to evaluate their compliance with company standards (The California Transparency in Supply Chains Act).
"As net zero has become an organizing principle for business, executives are on the spot to lay out credibly how they will deliver their transition to net zero while simultaneously building and reinforcing resilience against the certain volatility of ongoing economic and political shock."
(McKinsey Sustainability: A devilish duality: How CEOs can square resilience with net-zero promises November 1, 2022)
What is supply chain transparency?
Data transparency hinges on centralized data management. The opposite being siloed data management.
Data transparency is a powerful tool that can provide the needed agility in a quickly shifting market. It occurs when an enterprise's different departments and external business partners work together on the same platform to ensure a single source of truth.

In real life, this means that suppliers syndicate and share relevant information in a format that is accepted by the retailer. Key suppliers can even be integrated and load information directly into the retailer's data management platform.

Supplier information then becomes available as master data, which, in turn, can be enriched by third-party sources and leveraged by internal teams, such as product development or the ESG office.

The one-platform collaborative process also has the advantage that new suppliers can quickly be onboarded, and you can easily track supplier performance. This helps improve risk management and makes your supply chain more resilient towards disruptive incidents.
Supplier information includes:
Contracts
Contact information
Organizational hierarchy
Performance metrics
Sub-supplier information
Manufacturing plants
Operating practices
Logistics (which suppliers deliver how much to which locations through which methods?)
Certificates
Compliance to company and regulatory standards
ESG reporting
It's the retailer's responsibility to curate and share this information to create a customer experience that is transparent and trustworthy. Governed supplier data is a company asset.

Transparency does not mean full disclosure of everything but the ability to share what is needed. The initiatives to improve visibility across the supply chain add to the volumes of data to be collected, managed and shared. That's what makes the collaborative platform critical.


Retailers of tomorrow
Retailers of tomorrow will look into how they can:
Manage compliance and related details
Remove silos of data and generate a 360° view of sustainability data related to products, suppliers and locations with metrics
Connect sustainability data to corporate ESG reports
Prepare products to leverage the business around circular economies
Manage data related to the UN Sustainable Development Goals
Manage data related to regional and national policies
Manage data related to financial guidelines, such as the Sustainability Accounting Standards Board (SASB)
Efficiently manage certification data with proper governance and accuracy
Retailers need to apply master data discipline to sustainability and ESG data. This enables you to capture the entire data value chain in a single repository and build data cards that can give you insight into suppliers, products, locations, assessments, ESG goals and, not least, the relations between the data points.