An integrated approach to data management is critical for CPGs to take on supply chain shocks, rising prices and whatever comes next.
Fact:

"In the past three months, more than 80% of consumers bought a different brand than their usual – lower prices (65%) and out-of-stock products (51%) were their primary motivating factors."

- Insider Intelligence, September 2021
Supply chain challenges faced by consumer packaged goods (CPG) makers have made headlines recently, contributing to declining brand loyalty and eroding market share, as consumers seek out alternatives to fill gaps they encounter in what used to be jam-packed store shelves. Consumers often have no option but to choose more readily available items to navigate around potential delivery delays or price increases for their previously planned/preferred purchases.
This has led many once loyal shoppers to switch brands or retail channels entirely. It may initially be temporary but can easily lead to a long-term brand preference change. With supply chain constraints and resulting swings in availability and inventory, this is a tremendously challenging time for CPG brands that want to ensure core customers remain loyal and relationships are kept intact with valued retail partners.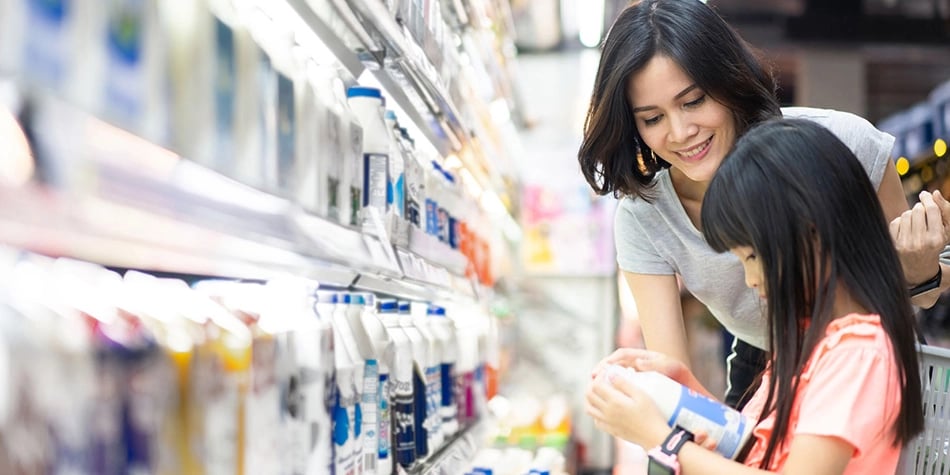 Complex problems require comprehensive solutions
While the toughest times are likely behind us, the pandemic's impact is making CPG leaders take a proactive look at everything.
The complexity can be daunting. There are in fact multiple, rapidly evolving factors contributing to global supply chain challenges, and this is just a quick sample. Depending on where you are in the world, they are likely to shift in level of importance:
Increasing consumer demand, leaving manufacturing facilities struggling to keep up.

Congested ports – 77% of the world's largest are over capacity – preventing products from getting to warehouses fast enough to meet demand.

Trucking shortages, limiting the ability to deliver everything from raw material to finished goods.

Geopolitical barriers to trade and customs reviews delaying product release from ports.
As if supply chain issues alone weren't enough, they contribute to an entirely different though completely interconnected issue amplifying the problem in global CPG.
After years of moderate price increases, many countries are seeing the steepest price gains in years, causing widespread inflation. The cost of transportation, labor, food and housing are up worldwide. In September, Canada saw prices spike higher than any month since 2003, while France experienced the highest inflation rate gain in 10 years. The problem echoed across Europe, where inflation was driven by a 14% rise in fuel prices.
Some economists believe it is temporary, driven by pent-up demand and supply chain related shortages, and that prices will eventually stabilize. Others predict this will continue throughout 2022.
Regardless of duration, CPG makers are likely to experience ongoing operational pain and business uncertainty, as well as eroding margins and share of market. Unless they can figure out a way to leverage the resources they have, to move with the speed and agility they will no doubt require, to hold onto or regain market leadership.
Using master data management to take control in CPG
While there is no single fix to CPG's pandemic supply chain ills, it is clear manufacturers can benefit from a more integrated approach to managing, sharing and extracting value from their critical data. Siloed, application specific approaches no longer apply. The future demands the flexibility and agility of multidomain MDM, which can empower packaged goods makers in many ways, including:
1. Building a more resilient supply chain
Create a consolidated view of the business ecosystem: With a single source of truth about product identifiers like UPC, GTIN and accurate dimensions, case pack, sizes and weights, CPG brands can speak the same language as items travel from factory to distribution and on to retail channels. Using a streamlined data supply chain to keep pace with the physical one – with data quality management, approvals and regulatory controls to minimize costly errors – can help turn supply chain data into one of their most valued assets.

Strengthen redundancy in supplier base: CPGs are reassessing their supply chains and employing strategies to build redundancy in packaging and ingredients for their most important products. They're also building regional manufacturing facilities to serve more finite markets and moving away from a global, single source model. Multidomain MDM can support these changes using complex data models to accurately link multiple parts within a bill of materials (BOM) for CPG brands and to have that same material model digitally shared across factories, enabling superior agility and flexibility to serve constantly changing market needs.
2. Mitigating inflationary risk
Improve operational efficiency: Using a single, fully-integrated solution across all data domains allows organizations to make processes more efficient and less labor-intensive. This gives data and analytics staff more time to focus on value-added opportunities and driving business growth.

Manage and execute change with speed and agility: To avoid price increases, some CPG makers have taken an alternative approach by launching smaller size packs. An innovative approach to product MDM/PIM can help them launch these new offerings quickly while ensuring flawless distribution, getting the right products to the right retail channels and partners across the right geographies at the right time. This requires powerful data governance, efficient workflows and the ability to set clear priorities for the team on data requirements and timelines.
"Consumer-facing price is the last lever we normally use to manage inflation, but we have landed list price increases around the world."

- Graeme Pitkethly, CFO, Unilever, October 21, 2021
Drive digital transformation in CPG with multidomain MDM
While CPGs have seen double digit growth over the last few years due to increased and evolving demand, we have now entered a new phase where the most digital savvy companies will be able to extend, or in some cases, recapture market leadership. The complex and sometimes chaotic mix of higher ingredient costs, supply chain delays and constantly changing retail landscape create an immediate need to understand the market with greater clarity and insight and react with greater speed and confidence.
Evolving consumer expectations and demand for greater transparency also favor CPGs that can effectively orchestrate this information, with a data management solution in place to drive understanding, analytics and agile decision making. Those that do stand the greatest chance of gaining share of market and mind.
With Stibo Systems Multidomain MDM, CPGs can accelerate digital transformation and deliver data transparency to enable success in a constantly changing market. Product data can be managed end-to-end to ensure in-depth information on suppliers and ingredients, and product images and marketing copy are accurate, up-to-date and in compliance with industry and regulatory standards. Location and B2B customer/ party data can be governed and linked to product data to create a digital business hub. This allows CPGs to quickly understand and optimize distribution and distinguish between digital and physical channels, down to specific geographies/store sites and sales opportunities.
With a centralized and governed source of trusted multidomain data, CPGs can create competitive advantage by understanding the context between previously siloed sources of information. By blending data across domains, they can create unique zones of insight to uncover unique opportunities less data-driven brands might miss.


Competitive advantage in CPG demands better data
Consider the combination of location, customer and product data, which CPGs can connect to performance data to see how consumers are reacting to price increases and assortment changes across different markets and product sizes. With advanced analytics they now can react and provide recommendations to retail partners quicker based on this precise rich data foundation present in multidomain MDM.
By combining, modeling and making data available everywhere it's needed, CPGs can democratize data and bring analytic capabilities to users and partners across the business ecosystem. This will provide a powerful hedge against an increasingly unpredictable and volatile business environment, along with tools to manage future adversity, including supply chain shocks, fluctuations in supply/demand, inflationary change and whatever comes at us next.
For more about how multidomain master data management can help CPG companies rise to future challenges.
---