September 28, 2021
Stibo Systems KK
Data Research Institute
Supporting companies' digital strategies with cloud-native technology
Stibo Systems KK (head office: Aarhus, Denmark; Japan office: Chuo-ku, Tokyo, Representative Director: Hiroyuki Kudo; "Stibo Systems") and Data Research Institute (head office: Chuo-ku, Tokyo, President: Kosei Sato; "Data Research Institute") are strengthening their collaborative relationship with the One Global Partner Program (OGPP), a global partnership certification initiative recently launched by Stibo Systems. As a certified partner under OGPP, Data Research Institute will become an integral part of consulting services for Stibo Systems – the global leader in cloud-native multidomain master data management (MDM) – MDM solutions, as both companies work together to develop a business strategy to combat the "2025 Digital Cliff" in Japan. The partnership will provide extensive, long-term support to companies' data management strategies through the design, development and operation of a master data platform, which will become the foundation for Japanese companies accelerating their digital transformation.
In recent years, more than 80% of Stibo Systems' new clients have chosen to implement MDM as a SaaS model. Considering this, OGPP gives Data Research Institute the tools to provide comprehensive support for developing the structures, systems and processes needed for managing master data, as well as implementing MDM and creating roadmaps and data governance regulations, leveraging the flexibility and scalability of multidomain MDM SaaS solutions provided by Stibo Systems.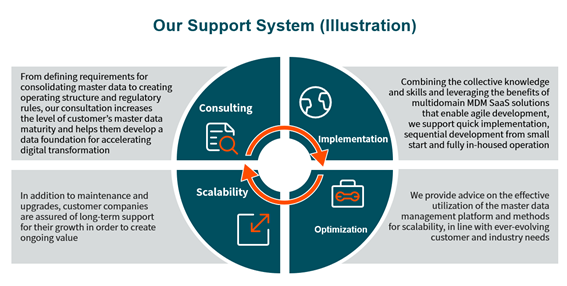 "In the midst of the major trend of digital transformation, utilizing data generated on a global scale – and the data management needed to realize this – has become essential for companies," explained Kosei Sato, President of Data Research Institute. "While data compliance is drawing attention in society, there are still many companies facing challenges from the actual approach needed for master data management. This is due to the immense time, labor and cost required to build the framework required for consolidation and management of master data, which is in stark contrast to the expectations and speed of achieving digital transformation."
Data Research Institute has many years of experience providing consulting services based on the methodology developed through the institute's expertise in designing and standardizing business data, to ensure the effective utilization and enhancement of the value of data as a business asset.
"As a certified OGPP partner, we have built a system to quickly support the provision of Stibo Systems' multidomain MDM SaaS platform," Sato said. "The Data Research Institute is certain this will provide a major driving force for customers seeking to shift to digital business."
"Many company managers have a keen interest in implementing strategic data management practices today, and they are seeking the best approach to realize it with the outcome and speed required by their companies," said Stibo Systems KK Representative Director, Hiroyuki Kudo. "Data Research Institute and Stibo Systems have collaborated for many years, specifically in the field of data management, and Data Research Institute's certification as an OGPP partner will serve to further strengthen our working relationship. Our combined knowhow and technologies mean we can better assist our customers develop their strategies through providing a more comprehensive level of support over the long term. Our partnership will fast-track essential and strategic data management practices in Japan and help develop a new vision in the field."
Both companies will regularly hold master data integration, code standardization and MDM seminars and focus on providing valuable information about the importance of master data management in the digital transformation era and the methods for implementing these projects.
Stibo Systems MDM is a single software platform equipped with all the essential functions for master data management (such as collection, management, acceleration, distribution, modeling, system integration, workflow control, auditing logs, access rights, normalization, multi-language support) with a standardized user interface and operation, generating golden records of various types of master data that can be utilized throughout the organization for a broad range of activities. Its main advantage is that implementation, operation and maintenance are achieved through configuration settings instead of programming-based development, which allows for faster response to business needs and cost control with in-house operation that does not rely on vendor support. Its unparalleled scalability is highly praised by countless companies as a strategic platform for supporting ongoing growth, including M&A and business transformations implemented at global companies.
Stibo Systems, the master data management company, is the trusted enabler of data transparency. Our solutions are the driving force behind forward-thinking companies around the world that have unlocked the strategic value of their master data. We empower them to improve the customer experience, drive innovation and growth and create an essential foundation for digital transformation. This gives them the transparency they require and desire – a single, accurate view of their master data – so they can make informed decisions and achieve goals of scale, scope and ambition. Stibo Systems is a privately held subsidiary of the Stibo A/S group, founded in 1794, and is headquartered in Aarhus, Denmark. The Japanese Division of Stibo Systems was established in 2016. More at stibosystems.com/ja/.
About Data Research Institute
Established in 1985, Data Research Institute is a UNIRITA Inc. group company that provides consulting services for implementing data management throughout system life cycles, from IT planning to the utilization of information. As a pioneering company of the data-oriented approach (DOA), since its foundation Data Research Institute has focused efforts on contributing to company activities through seeking the ideal format and maintenance of data and utilization methods of data and IT assets companies maintain and manage. It has developed a range of techniques and methodologies for data management based on its knowhow, including the "PLAN-DB" modeling method that has proven successful for data design and standardization in countless large-scale projects, and the master data integrated design methodology called "PLAN-MASTER", compiled from the experience and knowhow of supporting more than 1,200 master data consolidation projects. A unique consulting company in the data management field, Data Research Institute has experience providing support to a large number of leading companies, most of which are publicly listed.
Stibo Systems KK
Nihonbashi Front Building 1F, 3-6-2 Nihonbashi, Chuo-ku, Tokyo, Japan, 103-0027
URL: stibosystems.com/ja/
TEL: (03) 4588-2776 (switchboard)
Email: info@stibosystems.jp (for products, services and press inquiries)
Data Research Institute
Ningyocho First Building 5F, 3-3-6 Ningyocho, Nihonbashi, Chuo-ku, Tokyo, Japan, 103-0013
URL: jp.drinet.co.jp/
TEL: 03-5695-1651 (switchboard)
Email: crm@drinet.co.jp (for services and press inquiries)