Trusting the data you use has never been more important in the life sciences industry
As supply chains undergo ever greater pressure to perform faster and more efficiently, business leaders need to become more data-driven in their decision making to identify areas for cost efficiency improvement, new business opportunity and transparent compliance management. However, the most business critical of data, including product, supplier and customer data, is impeding the data-driven objective. This data is lacking in quality, coherence and availability due largely to fragmented and inconsistent data management processes.

You just cannot be data-driven if you don't trust the data you use.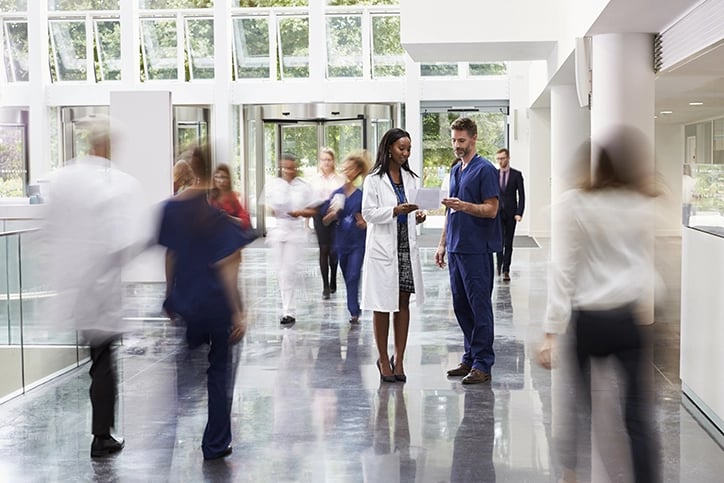 Transparency of business operations depend on the transparency of the data that support them.
Transparent customer and supplier data is the high-quality and unique data describing healthcare organizations (HCOs) and healthcare professionals/providers (HCPs).

HCO/HCP data impacts a wide range of subjects: the decisions you make about your day-to-day effectiveness, the impact on your business and the people you manage, the safety of patients, the respect of privacy and the preservation of the environment.

Unfortunately, HCO/HCP data often sits fragmented in silos across different systems. This condition inevitably results in data inconsistencies and quality issues which in turn impact the customer experience, such as delivery time and invoicing errors, and business performance such as DSO (daily sales outstanding) and accrued shipping expenses.
Transparent HCO/HCP master data mitigates supply chain complexity
Industries working in or alongside the life sciences and healthcare industries have complex supply chains. Customer and supplier relationships are often under scrutiny from regulators. As such, transparency in their relationships with hospitals, healthcare organizations and medical practitioners requires attentive management. To ensure its transparency, the data that describes those relationships requires a central point of accountability and governance.

Transparent HCO/HCP data:
Facilitates regulatory compliance reporting, such as the EFPIA code in Europe, the Sunshine Act in the USA and accounting standards such as SOX
Uncovers new sales and marketing opportunities based on an insightful, single view of the customer and supplier across the entire business
Improves demand forecasting with a deeper understanding of your customer's needs
Drives operational efficiency, with customer self-service, automated processes and AI based inventory optimization
Improves patient and consumer safety by playing a part in the prevention of adverse events


Having confidence in your data, helps you to uncover new opportunities
A data-driven company has a plan for its HCO/HCP data. It has a data policy that defines acquisition, management and sharing of data. This policy is typically embedded as part of a wider data awareness program, often referred to as data culture.

Perhaps you have a sales function, and you are trying to find a new opportunity, or a marketing role where you need to identify which types of potential customers would be most influenced by your new products or services. Even if you are managing clinical services you will need to know that they are being delivered by qualified personnel.

Access to trusted HCO/HCP information is essential to run the business, monitor its performance and ultimately help to prevent adverse events that impact patient safety. For example, in procurement processes, it is vital to have intelligent, reliable information on suppliers and customers to ensure supply chain continuity. Or in product traceability where a complex network of suppliers, distributors and intermediaries needs to be represented accurately and comprehensively.

But where does HCO/HCP information come from? Who is responsible for it? Is it accurate? What other information is connected to it that you could use? What are the limits of your own responsibility in using this information? The answers to these questions determine your level of maturity in data transparency and hence your ability to embrace data-driven decision making.
Governing HCO/HCP information is the mission of master data management, not of CRM
But is this data not being looked after by the CRM system?

As a strategic asset, curating HCO/HCP information is a master data management task that requires its data governance policy to be defined and executed at an enterprise level. A CRM is only focused on supporting its own domain of activity. A CRM is not wholly concerned, for example, about the ERP data that is used to support shipping. Likewise, a CRM is not directly integrated with the business analytics processes that support demand forecasting, and it is not an integral part of the financial systems that support invoicing. Indeed, all these other systems have their own interpretation of what good HCO/HCP looks like and how it should be managed.

Unlike CRM, master data management focuses on accountability for the data itself. There is organisational responsibility for its stewardship, security and quality. Master data management works alongside your CRM, ERP and other business systems, ensuring that they all benefit from accurate, coherent and insightful customer data.

To ensure customer and provider data quality across many different business applications, the master data management software must be capable of:
Collecting, enriching and validating customer data from many disparate sources
Monitoring and controlling data quality based on business agreed data definitions and data quality rules
Sharing coherently data across the business, for example, with your regulatory information management (RIM), marketing automation systems and business analytics, so that decision making is more reliably and readily executed
Master data management bounds these capabilities into a business process of data stewardship, to ensure accountability and transparency of data.
From untrustworthy data to actionable insight
Master data management identifies uniquely your customers, suppliers and providers so that you may have a trusted base of information from which to build more insightful views of your relationship with them.
Purchasing departments can make better decisions on their choice of suppliers or indeed reduce them in number
Sales representatives can see how their customer's organisation is connected to help identify new business opportunities
Business leaders can better anticipate demand and measure channel performance based on trusted analytics
Why you need master data management to become data-driven
Master data management implements the accountability required for data to be transparent. Transparent data is trustworthy, auditable and complete.

With a unified, trusted and governed view of your HCP/HCP data, you can enrich it and thus enhance its value through the addition of other trusted information sources, even from outside of the organization, such as IMS, CMS, MedPro and regional medical registers.
The value of high-quality customer master data
If your internal data sources containing HCP and HCO information have not been maintained using the same data policies, this can be a risk that grows only more intense as more data sources are added, especially when the ambition becomes enterprise-level data-driven decision making.

This is exactly where master data management can help: adding master data into the mix with operational and analytical data provides a compass with which to improve accuracy of data navigation.

Analytical models can leverage the master data references in order to support data-driven decision making; and with traceability and transparency in mind, master data management also helps to identify the data lineage associated with data-driven decisions.

Master data management enables advanced analytics to work on more joined-up information in a way that it can be trusted and shared across enterprise organizational boundaries.

Master data management gives you trust and transparency in your HCO/HCP data and is therefore, an indispensable tool to anticipate your customers' needs and ultimately improve patient healthcare.
---