Stibo Systems honors women in master data management (MDM) and the great work by so many to achieve gender balance and equity. This series brings you interviews with remarkable women in our industry, and we hope their stories will inspire you to chase your passion for MDM and related fields.
As a product owner for British retailer Marks & Spencer (M&S), Rebecca Chamberlain oversees site content tools for the company's online presence. M&S operates flagship websites in 44 different territories, selling food, clothing and homeware to millions of customers globally. In her role, Rebecca is responsible for ensuring the right product data, imagery and content appears on the M&S websites. She manages five different systems – Stibo Systems Product MDM, a content management system, a digital asset management system, a visual hosting system and an internal system for managing merchandise samples – that fuel the information displayed on their sites, which have become a lifeline for customers during the Covid-19 crisis.
How did your academic and previous job experience help prepare you for your current role?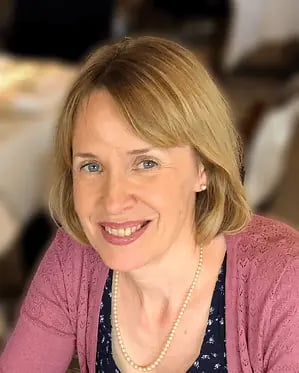 I studied history at the University of Bristol, so it wasn't the most direct route to my current position. However, it's an analytical subject, requiring you to gather evidence and draw conclusions – a skill that's relevant to my career today. After graduating, I worked in financial services for a short period of time and then as a merchandiser for a high street retailer for several years. I was asked to serve as a business subject matter expert for a six-month project to implement a new merchandising system. I didn't return to merchandising after that, but instead continued working on system and process implementations.
A few years later, I moved to M&S as a business analyst, where I worked on a massive business foundation program to implement SAP Retail as the company's enterprise resource planning system. I later moved into a new role supporting our multichannel foundation program. At the time, M&S was in the process of re-platforming its website. We decided to put in all new systems, and I served as the business lead, specifically for product information. That's when I started working with Stibo Systems; we deployed Product MDM as the product information management system for the re-platforming. Once the project was complete, I became the product owner for site content tools.
What does a typical day at work look like for you?
My days vary quite a bit because of the different systems I manage. On some days, I meet with the business users to understand how we can better support their processes or address any challenges they're having. Other days, I'm involved in more technical discussions with product teams about getting data to them for our website, app, or international franchise partners. One constant is that I begin every day catching up with the development teams, so I can keep track of what they are working on and what their priorities are.
What do you like most about your job?
I like being able to deliver solutions that support the business and serve our customers. I gain a lot of satisfaction from being able to say this is how we're resolving this problem or managing this process more effectively.
What do you see as the biggest barriers for women in the master data field?
I'm not convinced there are real barriers for women, but perhaps perceptions about barriers. I think there's a perception that data is going to be too techy, or it might be too dense or hard to understand, but that's not necessarily the case. If you have an interest in data and if you have a logical mind, then you can work in the master data field.
What advice would you give to a woman considering a career in master data?
For most businesses, data is at the heart of decision making. It's also always evolving so it's going to be an interesting career. If someone is interested in pursuing it, then they should follow up on that interest.
Does your organization work to promote gender equality? If so, how?
Yes. M&S supports gender equality through its diversity network; there are also networks for LGBT, parents, veterans and those with health conditions and disabilities. Each network is sponsored by an executive director and chaired by a colleague that runs the network, including a website with the latest news. Throughout the year, the network chairs organize events that line up with dates of interest such as International Women's Day. The networks are very much an inspiration within M&S in terms of managing diversity. Many colleagues get involved, and sometimes the groups become a driving force behind corporate changes that further promote inclusivity.
Share a fun fact about yourself.
I love to walk in the British countryside. I've been walking with friends, and we've been working to complete the North Downs Way, a 150-plus mile trail that runs through Surrey Hills to Kent Downs, along part of the old Pilgrim's Way to Canterbury. We only walk about 15 miles at a time, so it's going to take a while for us to complete.
---