Not all "multidomain" master data management (MDM) solutions are the same. Here are the differences and why you need to know.
When selecting solutions to help support your master data management and data governance ambitions, one of the many aspects you are likely to evaluate will be support for "multidomain" MDM. Your initial inclination is almost certain to be selecting a solution that can "do-it-all." In many cases, this will be despite the fact you currently have a business use case for only one data domain; customer or product data, for example. A single solution that could do more in the future would, of course, be desirable, to make more efficient use of available resources.
Multidomain MDM is not the same as MDM for multiple domains
People often use the terms multidomain and multiple domains in an interchangeable fashion but there are inherent and important differences. Not all "multidomain MDM" solutions are created equal. There is a distinct difference between a solution that manages multiple domains and one that is multidomain. Understanding the difference could radically improve your MDM business case and outcomes.
To explain why, we need to revisit some basic concepts and definitions.
First, what do we mean by "a master data domain?"
A domain generally refers to the type of master data we are focusing on. Keep in mind master data is generally low-volatility, business critical, information. Common domains include customer, supplier, product, asset and location.
Mastering the customer data domain requires the establishment of unique ways to identify customers by their names, addresses, identifiers and other distinguishing attributes. MDM achieves this by creating transparency around this data, ensuring quality, uniformity, coherence, etc., so it can be shared and consumed reliably across the enterprise.
Some MDM solutions focus more on mastering a single data domain, like customer or product information. The reason is the use cases for managing some types of data domains can be very specific.
For example, the use of machine learning to help identify products in images is unlikely to be commonly employed to identify customers. On the other hand, customer data tends to originate in, and be enriched by, multiple external systems, in addition to following more of a consolidation or registry implementation style. These are characteristics that can make the customer domain different in the way it is governed.
In contrast, product data tends to follow a more "linear," single source method of creation, enrichment and syndication. It thus lends itself to a more centralized implementation style and workflow-led approach.
The choice between a multidomain vs. multiple domain MDM solution to manage these different kinds of use cases is important to consider when seeking to create incremental value to your MDM business case.
Multidomain and multiple domain MDM differ in numerous ways
Multiple Domain MDM

Multidomain MDM


May require additional "modules" or "tools" to provide support to additional domain use cases

Integrated, native governance functionality that applies across all domains and at their points of intersection where they are related

May lack the ability to manage both choice of domain

and

implementation style

Able to mix implementation styles and use cases (multivector MDM) across different domains

May require significant configuration or coding to make the management of multiple domains possible

Configuration-based approach to data modelling and governance
Multidomain MDM provides unified governance across all domains
MDM solutions that can manage multiple domains tend to have unique governance functionality relative to each domain being managed. Yet a true multidomain solution will provide identical governance functionality uniformly across all data domains. A multidomain solution allows cross-domain and contextual data relationships to be governed.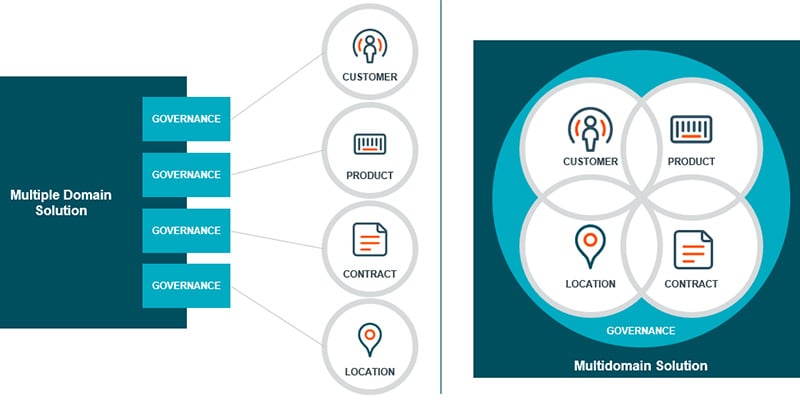 The difference is important to understand
Some business use cases require the governance of multiple domains and their relationships at the same time; i.e., multidomain governance.
Multidomain MDM allows you to establish relationships between data of different domain origins and bring governance across these relationships, with governance policy written for the data in the context of these extended relationships.
When this feature is considered as an element of an evaluation process, it provides a unique opportunity to measure the extended value of the solution, even if it does not play a role in the first phase of your implementation.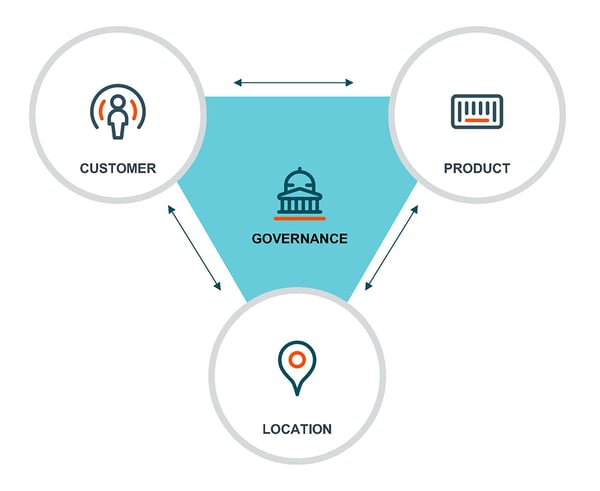 For example, when defining what constitutes a household, party and location data must be governed together.
In the example of safety asset management, when defining the characteristics of a point of safety infrastructure, the equipment (fire extinguishing apparatus, protective gear), qualified personnel that can intervene, preventative devices (IoT sensors, cameras) and locations where these elements are found, need to be governed collectively.
In financial services, a unified customer view across lines-of-business requires an understanding of the different contractual relationships that may arise as customers interact with different products and services. In such a case, multidomain MDM helps manage discrepancies that can occur over the master data records. It is possible, for example, to have two different legal addresses for the same party, according to two different contractual relationships relating to the same product.
Consider your decision at the start
Those who don't think they can focus on more than a single domain governance project at a time should keep a multidomain approach in mind, because it can be a great way to get more value from their initial MDM project. Using a registry or consolidation style alongside their initial focus domain, they can extract more value by adding complementary data domain information alongside it. Even if it is not of the highest quality, this complementary data can be used to improve support to the data stewardship process.
The ability to support different implementation styles and use cases at the same time is often referred to as a multivector MDM solution. This approach is worth considering when you have a large amount of low-quality data, as might be found, for example, in prospect (individuals) data. So, unless you only have a very highly focused, single domain requirement, it is always judicious to consider how your data governance ambition (and not just the technology, per se) might evolve to support additional domains and their relationships.
Why you should consider multidomain MDM, even for a single domain implementation
| | |
| --- | --- |
| Multiple Domain MDM | Multidomain MDM |
| May require more significant changes to be made to data governance and stewardship rules as more data is integrated | Supports better performance for data stewardship, reducing the number of data policy changes; data stewards can exploit insights provided by a complementary data domain source |
| As new sources of data are integrated, data quality rules associated with the first domain may need to be reconsidered | Increases data quality for the focus domain when data stewards have access to a secondary domain in consolidation style |
| Often lacks governance capabilities required to produce reliable data sets at their points of intersection. This may impact analytics where the data itself may not be sufficient to make a confident decision based on it alone. | Creates areas of reliable and actionable insight at the intersection of data domains thanks to governance capabilities at points of intersection. This can add great value – for example a small data initiative – to your project, even if focus is only applied to a single domain. |
Multidomain MDM reveals more actionable insights
Multidomain MDM is an important tool in support of analytics and data-driven decision making. Which is why, more often than not, you see it appearing in big data, AI and machine learning projects in which inferring patterns and relationships are fundamental capabilities.
A multidomain MDM solution creates and manages "zones of insight" at the intersections of multiple domains to support data-driven decision making. For example, not all customers will be eligible for all products. Some products might be personalized for a particular customer and thus be rendered quasi-unique. Also, usage of a certain product at a certain location might have a contractual impact.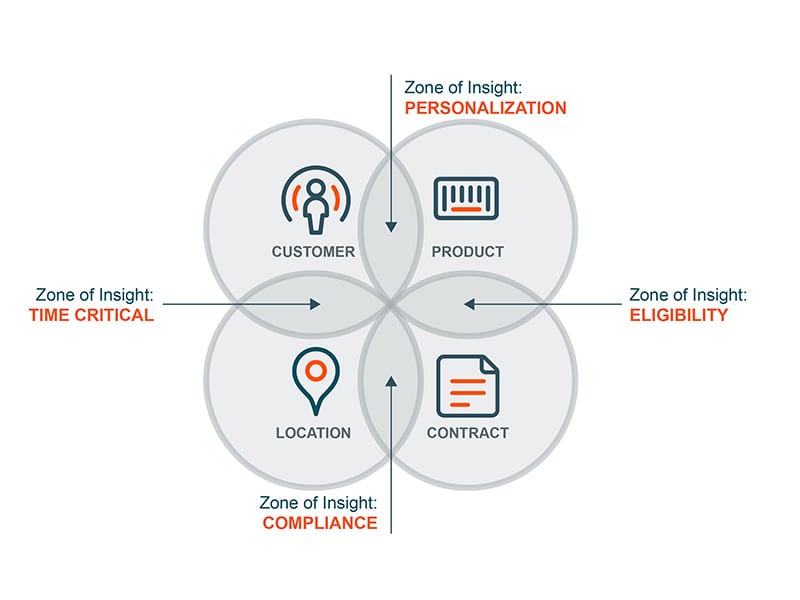 Multidomain MDM in action
So, what are the use cases for multidomain MDM? Here are some examples:
Small data – Adding contextually significant small data sets against interconnected domain information can help support decision making. For example, a

customer

, at a given

location

, who is about to experience a cancelled flight, could be redirected automatically to an alternative option.
Analytics – Creating zones of insight between intersecting domains can give managers more confidence in decision making and support business transparency.
360° view – Building a unified customer view, may require the aggregation of different master data elements and their respective attributes from multiple sources. In such a case, the cross-domain governance perspective provided by a multidomain solution is of great help. This allows source data to be "adjusted" to create the desired view to serve the intended purpose of the unified view. For example, depending which product (product domain) a customer (party domain) is consuming, their address may differ. Consolidated implementation styles are frequently employed to create this view, but there are cases where one or more domains may be centralized. In a 360° view of an asset, its assigned location might intersect with the party data that describes the organization managing it.
Big Data – Multidomain MDM is a useful way to increase the quality and coherence of a big data repository. It can constitute a governed reference data source adjacent to the repository that can then be incorporated within in it. In this way, it can act as a type of reliable "data compass" to assist in data navigation.
IoT – Highly contextual or time sensitive information that originate from many types of IoT sources can be combined with master data to provide insightful information for time sensitive decision making.
Synthetic data generation – Multidomain MDM can help govern data sets to ensure a more reliable and complete representation of it when generated as synthetic data sets. Good synthetic data sets improve the ability of data science projects to yield better outcomes for forecasting and machine learning. Multidomain MDM can help to increase the number, type and richness of data sets and cases.
Application Data Management – ADM is the "MDM" for a specific business application or process. A multidomain approach to ADM combines and unifies key master data elements under one roof in order to support governance at an application level.
Contextual MDM – The ability to yield the right master data under a specific context is a significant capability of multidomain MDM. Knowing what parts are needed to repair a customer's car before they arrive, personalizing products and services according to individual preferences, and managing the differences between registered contractual master information (names, addresses, contact info, etc.) across different lines of business are use case examples for contextual MDM.
Poor data quality (single domain) – Integrating master data alongside the primary domain can help data stewards resolve discrepancies in that domain, even when the secondary data is of dubious quality.
Let's get started
In conclusion, here are some points to consider if you are thinking about what type of MDM solution is right for you.
Put it in the RFP: Despite having a business case for a single domain, it is worth requesting this capability in your RFPs to see how different providers respond. Look at how they demonstrate their multidomain capability and how they interpret its business case advantage for your organization. The combination of multidomain and multivector MDM capabilities within the same solution may give you better flexibility of implementation and importantly, allow you to change implementation style later.
Integrate it into your business case: Consider exploring potential business benefits of integrating some basic aspects of multidomain within the scope of your first focus domain project. In particular, look for benefits gained by the governance of small data in the areas of insight that describe your inter-domain data relationships.
Start your multidomain journey with an application specific lens: An ADM (or process specific) approach is sometimes easier to establish than an enterprise-wide initiative, in which case, a multidomain, multivector MDM solution may provide the advantage of getting you more quickly and efficiently to your business objective destination.
While considering these elements in your MDM solution selection process may seem like adding more complexity – especially if your initial ambition is focused on a single domain – doing so may reap significant benefits later on. Being prepared for whatever comes next is never a bad idea.
For more information on Stibo Systems approach to multidomain MDM, visit stibosystems.com.