When a simple Google Search on "How to get started with Master Data Management" gives you 13,600,000 hits, it is not surprising if you're not sure how to approach Master Data Management (MDM). Whether you are considering if your business needs to adopt an MDM solution for your enterprise data, if you have already decided that it does but you don't know where to start, or if you already have some MDM capabilities implemented but feel that they need to be updated, these three initial steps will help you get started.
Three initial steps to get started with Master Data Management (MDM):
1) Align with, and help deliver, the business vision
All companies have different business visions depending on their industry. The first thing you need to do is establish what your business vision is, where the vision is going in the future and who owns it.
You need to look at the vision and ask what your business differentiator is – what is your fundamental 'thing'? It's usually one of these three:
Customer centricity – we want to deliver really personalized and valued customer experiences

Product excellence – we have the best product(s) on the market

Operational efficiency – we want to be the fastest and most convenient choice at the lowest price
Once you have established this for your business you need to work the Master Data Management initiative into the framework. So, if your business 'thing' is customer centricity then you should probably focus your MDM efforts on the customer domain. If it's operational efficiency or product excellence then you most likely need to focus on Product MDM and/or Supplier MDM.
Note, if your vision is more than 10 years old, it probably needs to be updated. Your 2025 vision will most likely differ a lot from your 2020 vision due to the digital development. Just like your MDM efforts, your vision needs to change once in a while.
2) Choose the right strategy and approach
Maybe you have already done great things with Master Data Management in one domain and now you want to move onto another master data area. Maybe you need to restart or re-energize your Master Data Management approach. Or maybe you are completely new to this. All of these starting points are just fine.
To move on, you need to determine exactly where your organization is at an MDM maturity scale, since organizations as well as individuals can be in different stages with their master data. Take a look at this MDM Maturity Model – originally created by John Radcliffe when he was with Gartner - and ask yourself. Where are we now? Where do we want to be? What is the gap?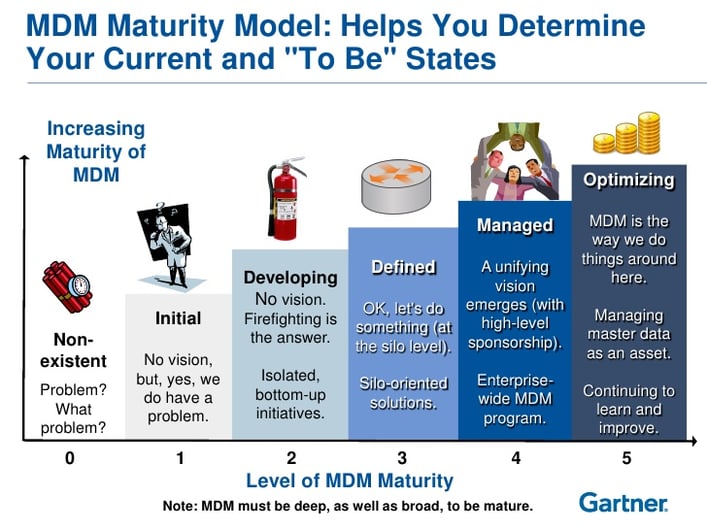 Source: http://bit.ly/295GlZi
Your master data strategy should explain how Master Data Management enables the business vision and how to reach the required state of MDM maturity. 
3) Quantify and demonstrate the business value
No matter how well you present the benefits of MDM, the business owner will say "Show me the money." In other words: the business value of a Master Data Management solution has to be very clear. That is why you need to present a business case and justify the ROI upfront to be able to make a good business case for MDM. But how do you establish the ROI for MDM? This can be very hard. However, the value of MDM can be made very visible with this strategy based on business metrics.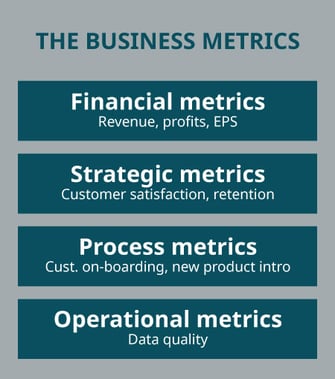 How to approach Master Data Management (MDM) in a nutshell
All of these metrics have a business owner. What you need to do is find the owner of the strategic and process metrics and define their KPI's. Each of them has targets and challenges, and some of these will be data-related. You need to have conversations with these people. Ask them what problems they have, where they would like to be, and how they think their problem(s) can be solved. Bring these people to the table and have finance help them define what these problems are costing the organization, and how much it can save by solving them. Use these tangible inputs to build your business case.
So, there you have it. The three initial steps to get started with a Master Data Management approach.
To learn more about Master Data Management, visit our MDM site or download our eBook Transforming Business with Master Data Management for Dummies.