January 5, 2022
Stibo Systems KK

Stibo Systems KK (head office: Aarhus, Denmark; Japan office: Chuo-ku, Tokyo, Representative Director: Hiroyuki Kudo; "Stibo Systems") announced today that Aeon Next Preparation Co. Ltd. (head office: Chiba, President: Bharat Rupani; "Aeon Next") has selected Stibo Systems SaaS Multidomain Master Data Management platform ("Stibo Systems MDM") to enhance the integration, management and supply of product information for its next-generation online supermarket business.
The size of the grocery delivery market in Japan is expected to expand further in the future. In this context, Aeon is aiming to grow its online supermarket sales to 600 billion yen by 2030, while focusing on digital shift within its medium-term management plan, aiming to improve customer convenience and establish superior service through a new product information platform. Aeon Next has decided to implement Stibo Systems MDM to manage approximately 50,000 items worth of product information while ensuring its quality, and to achieve seamless information supply and linkage to the latest technologies utilizing AI (artificial intelligence) and robotics to be used at the CFC (Customer Fulfillment Center), which is currently under construction and planned to become operational in 2023.
Stibo Systems' advanced data management know-how cultivated through its extensive experience supporting major overseas retailers, combined with its cloud-native SaaS platform with unparalleled flexibility and scalability, were recognized by Aeon Next as an ideal fit for its online supermarket business strategy it is developing using the latest technology.
"We aim to implement MDM in a short period of time by taking an agile approach to this project," explains Shinji Ushijima, Head of Operations & IT at Aeon Next. "After the implementation, we will be freed from the cost and effort spent on monitoring and managing the infrastructure, and instead will be able to focus on creating value that accelerates business development by consolidating and standardizing a wide variety of data and providing the necessary data in a variety of formats to respond quickly to changing business needs and environment. This was a key requirement for us to drive the digital shift."
"We are truly honored that our solution has been selected as the platform for Aeon Next's strategic digital business," says Stibo Systems KK Representative Director, Hiroyuki Kudo. "As their trusted partner, we will continue to provide strong support to their strategic data management practices and accelerate their digital shift."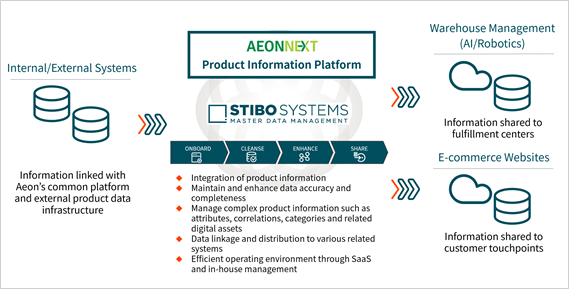 [illustration of online supermarket product information platform]
Stibo Systems, the master data management company, is the trusted enabler of data transparency. Our solutions are the driving force behind forward-thinking companies around the world that have unlocked the strategic value of their master data. We empower them to improve the customer experience, drive innovation and growth and create an essential foundation for digital transformation. This gives them the transparency they require and desire – a single, accurate view of their master data – so they can make informed decisions and achieve goals of scale, scope and ambition. Stibo Systems is a privately held subsidiary of the Stibo A/S group, founded in 1794, and is headquartered in Aarhus, Denmark. The Japanese Division of Stibo Systems was established in 2016. More at www.stibosystems.com/ja/.
Stibo Systems KK
Nihonbashi Front Building 1F, 3-6-2 Nihonbashi, Chuo-ku, Tokyo, 103-0027
URL:www.stibosystems.com/ja/
Contact: Aya McMillan
TEL: +81(0)3-4588-2776 (switchboard)
Email: info@stibosystems.jp (for products, services and press inquiries)