SaaS, low-code, and no-code empower companies' data-driven management practices

Aarhus, Denmark, September 5, 2022 – Asteria Corporation (head office: Shibuya-ku, Tokyo; President & Chief Executive Officer: Yoichiro Hirano; Security Code: 3853; "Asteria") and Stibo Systems KK (head office: Aarhus, Denmark; Japan office: Chuo-ku, Tokyo, Representative Director: Hiroyuki Kudo; "Stibo Systems") have concluded an agreement under Stibo Systems' global partnership certification program, One Global Partner Program (OGPP), and have agreed to a strategic collaboration toward future development into global markets.
This partnership will support companies' essential data-driven management practices based on more effective master data and empower them to execute such strategies as digital transformation, M&A, and ESG.
Overview of partnership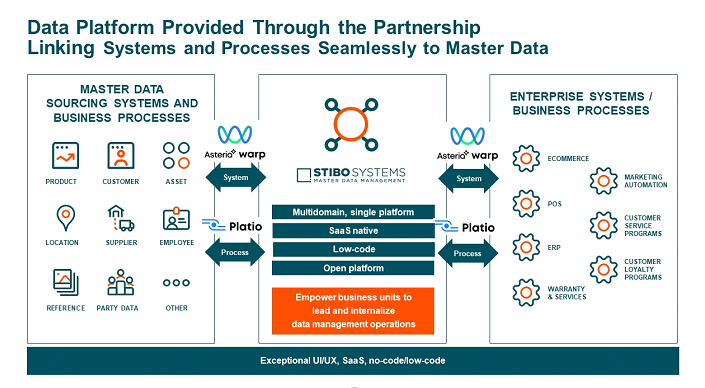 Background
ASTERIA Warp, a data integration tool that has maintained the number one share in the domestic Enterprise Application Integration (EAI)/Enterprise Service Bus (ESB) software market for 15 consecutive years*, and Platio, a mobile app creation tool, are no-code software provided by Asteria that improve the efficiency of on-site operations that contribute to the digital transformation of a wide range of industries. In addition, Stibo Systems MDM, a SaaS-native low-code software, has been adopted by over 750 global companies as the leading technology platform in the global master data management (MDM) market.

The data platform provided through this OGPP allows for a new way of working with data. By utilizing the strengths of both companies' technologies, the platform allows non-IT departments to be involved in the management process as key players. Master data provides competitiveness to companies and is indispensable to business activities. In this age of uncertainty, it is important for management and business operators to be constantly aware not only of their own management strategies and business activities but also of the external environment and new regulations and rules and to continue to proactively create master data with a vision for the future.

In addition to the highly user-friendly UI/UX of both companies' software, the SaaS, low-code and no-code features can be leveraged to efficiently implement the platform and internalize data management operations by business divisions. Furthermore, it provides touch points for various business processes from the master data generation process to its utilization, as well as linking all internal systems. As a result, not only will the effectiveness of master data within a company be significantly enhanced, but the increased accuracy and continuous usability of information obtained through corporate activities, for example, the smooth linkage of master data across companies in the event of an M&A, will become the foundation of a major transformation as a data-driven business.
"Data integration and master data management form the foundation of, and are indispensable for, companies promoting digital transformation," said Yoichiro Hirano, President and CEO of Asteria Corporation. "The combination of Warp, our market share number one data integration middleware, and Stibo Systems MDM, which has been adopted by more than 750 global companies worldwide, makes it possible to comprehensively understand corporate data taken from various systems and realize data-driven management practices. Furthermore, by combining with Platio, the use of mobile devices in the field enables businesses high portability and flexibility to change. Asteria, together with Stibo Systems, will contribute to logical and proactive data-centric businesses."

"We are honored to realize a strategic collaboration with Asteria through OGPP, as master data management is fundamental for companies to implement measures such as digital transformation, ESG, and data-driven management," said Hiroyuki Kudo, Representative Director at Stibo Systems KK. "The integration with Warp, a market-leading middleware with an established reputation and track record, with a mobile touchpoint through Platio, a service used in the worksites, enables highly effective management and operations-driven master data management infrastructure. The collaboration between the two companies will accelerate data strategy and innovation and contribute to sustainable corporate growth."

Starting with a joint webinar to be held on Thursday, October 13, Asteria and Stibo Systems plan to conduct closely coordinated marketing activities to widely disseminate the ideal approach to MDM that can be realized by leveraging the power of technology and leading Japanese companies' efforts to the next stage. In addition, the two companies plan to actively collaborate with system integrators that can support the development of a data platform comprised of products of both companies. The two companies will also promote the platform to existing customers and new projects at Stibo Systems' overseas offices, with a focus on the Asia-Pacific region.

* Techno Systems Research Co., Ltd., "2020 Software Marketing Overview: EAI/ESB Markets". EAI/ESB stands for Enterprise Application Integration and Enterprise Service Bus, respectively, and refer to product categories that control data integration within and outside companies.

Supplementary material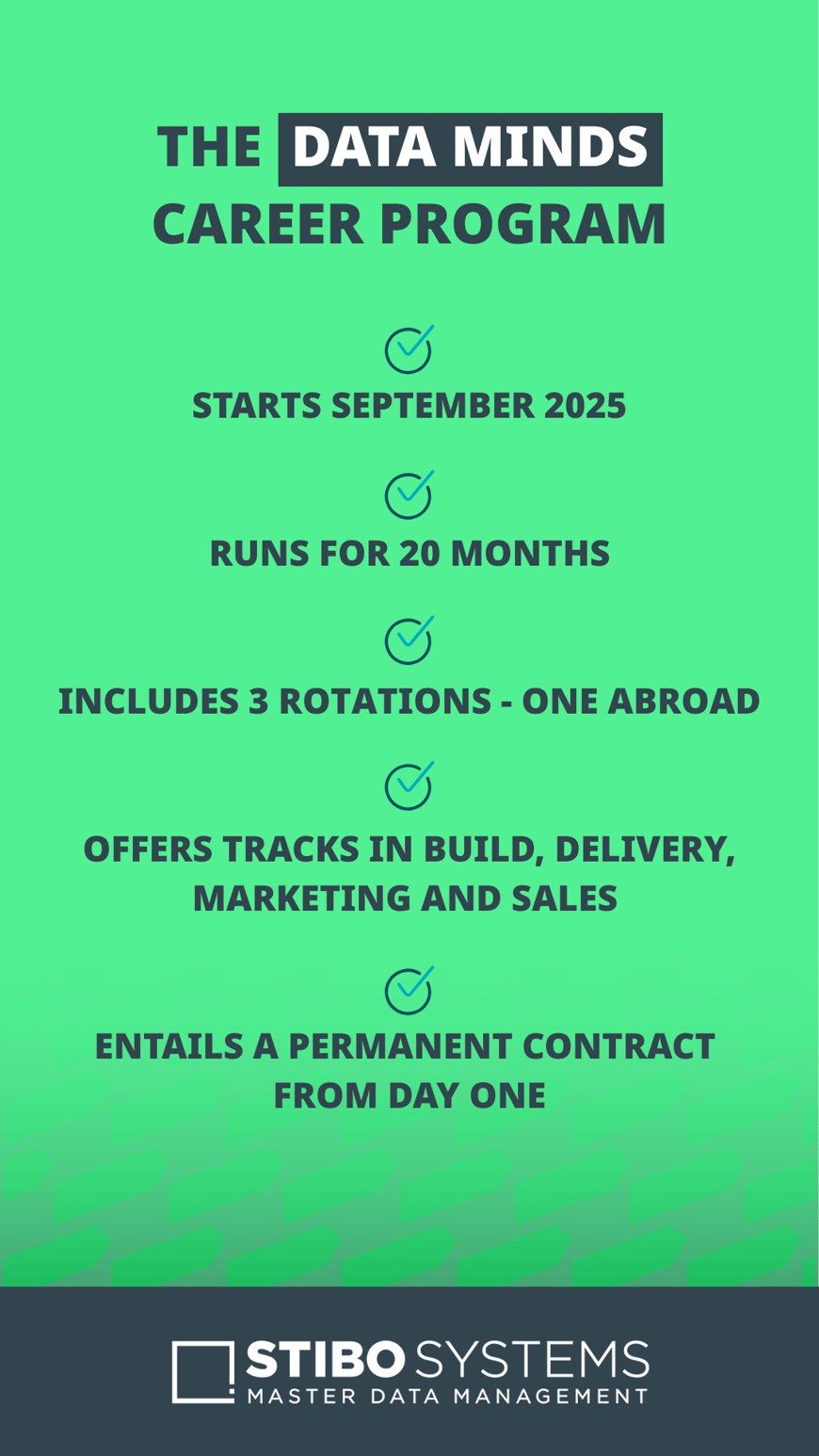 About Stibo Systems
Stibo Systems, the master data management company, is the trusted enabler of data transparency. Our solutions are the driving force behind forward-thinking companies around the world that have unlocked the strategic value of their master data. We empower them to improve the customer experience, drive innovation and growth and create an essential foundation for digital transformation. This gives them the transparency they require and desire – a single, accurate view of their master data – so they can make informed decisions and achieve goals of scale, scope and ambition. Stibo Systems is a privately held subsidiary of the Stibo A/S group, founded in 1794, and is headquartered in Aarhus, Denmark. More at stibosystems.com.

About Asteria Corporation(www.asteria.com)
Established in 1998 as Infoteria Corporation, Asteria developed its first no-code product in 2002. It sells software and services which connect a variety of in-house computers and devices. Its key product, ASTERIA Warp, is middleware which integrates data in different computer systems without coding. As of end-June 2022, 9,739 companies, mainly large and medium ones, had introduced the product. Another product, Handbook, allows users to carry around materials used for sales activities and meetings as well as product catalogues in electronic files on smartphones and tablets. A total of 1,653 companies and public institutions had adopted the product through end-June 2022.