The next sustainability requirement that needs effective master data management
What you need to know about the upcoming digital product passport and how you can prepare.
Manufacturing companies will need to revisit their supply chain management and how they govern supplier data.
The European Commission has proposed the introduction of digital product passports under the Ecodesign for Sustainable Products Regulation (ESPR) to "make sustainable products the norm […] and ensure sustainable growth."
The purpose is to help businesses and consumers make more informed choices by providing information about a product's origin, materials, manufacturing processes and other relevant details to create a map of the product lifecycle.
The overall intention of introducing digital product passports is to make the environmental impact and lifecycle of a product transparent and provide guidance on how to reuse, repurpose and maintain. In that sense, the passport is an element in the breaking away from the traditional linear value chain and a step towards a circular economy; and that first step is a mandate to deliver data.
"Digital product passports will be the norm for all products regulated under the ESPR, enabling products to be tagged, identified and linked to data relevant to their circularity and sustainability."

COMMUNICATION FROM THE COMMISSION TO THE EUROPEAN PARLIAMENT, THE COUNCIL, THE EUROPEAN ECONOMIC AND SOCIAL COMMITTEE AND THE COMMITTEE OF THE REGIONS

On making sustainable products the norm

Brussels, 30.3.2022
The impact of this proposal should not be underestimated. The most obvious comparable directive is the GDPR from 2018 which continues to occupy data scientists, IT departments, legal officers and locally appointed data protection officers. The passport is in a similar way going to affect the manufacturers' relations to retailers and regulators, supply management and marketing, IT and data management.
The introduction of digital product passports are intended for 2024-25 for three key markets, including textiles, batteries and, still undefined but possibly, consumer electronics, packaging or food.
The passport creates a digital record of data relating to all aspects of the lifecycle of a product. The onus seems to be on the manufacturers who will need to collect large parts of the information and make it available to retailers so they can provide the passport information to consumers. The environmental impact naturally comes from the supply chain which accumulates from multiple suppliers and their actions. However, the digital product passport will also contain themes pertaining to the product's afterlife, such as disposal, recyclability, recovery, refurbishment, remanufacturing, predictive maintenance and reuse.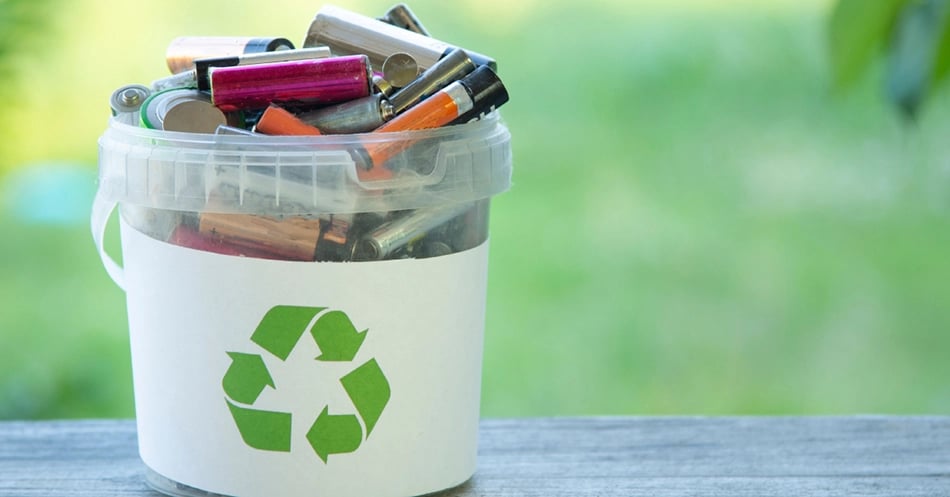 Details of digital product passports
There are multiple ongoing threads regarding the details of the digital product passport. One is concerned with what data should be contained in the passport, another is discussing the topic of how to store and communicate and share the passport information (QR code, blockchain, de-centralized, etc.). At the same time there is a proliferation of industry-driven passports emerging, e.g., the Battery Passport. Possibly, there will be more than one format or a merger of several passports over time.
But the idea is pretty clear: Digital product passports are intended to solve the information problem regarding circularity and impact. How can stakeholders, ranging from manufacturers to resellers, consumers, authorities and NGOs track and verify products and their components throughout their lifecycle and measure their environmental impact?
The final details being still unknown, the digital product passport will center on the following themes:
Product durability, reliability, reusability, upgradability, reparability, ease of maintenance and refurbishment
Restrictions on the presence of substances that inhibit the circularity of products and materials
Energy use or energy efficiency of products
Resource use or resource efficiency of products
Minimum recycled content in products
Ease of disassembly, remanufacturing and recycling of products and materials
Life-cycle environmental impact of products, including their carbon and environmental footprints
Source: COMMUNICATION FROM THE COMMISSION TO THE EUROPEAN PARLIAMENT, THE COUNCIL, THE EUROPEAN ECONOMIC AND SOCIAL COMMITTEE AND THE COMMITTEE OF THE REGIONS On making sustainable products the norm, chapter 2

To deliver this level of transparency requires data and insights that are not necessarily available to retailers and manufacturers.
An easy-to-understand product passport can encourage reusability and informed decision making. However, the circular economy is complicating the calculation of the environmental impact and multiplying the number of datapoints as recycled material has a longer and more complex product life. A product can potentially consist of both first- and second-generation recycled material.
Traditional product lifecycle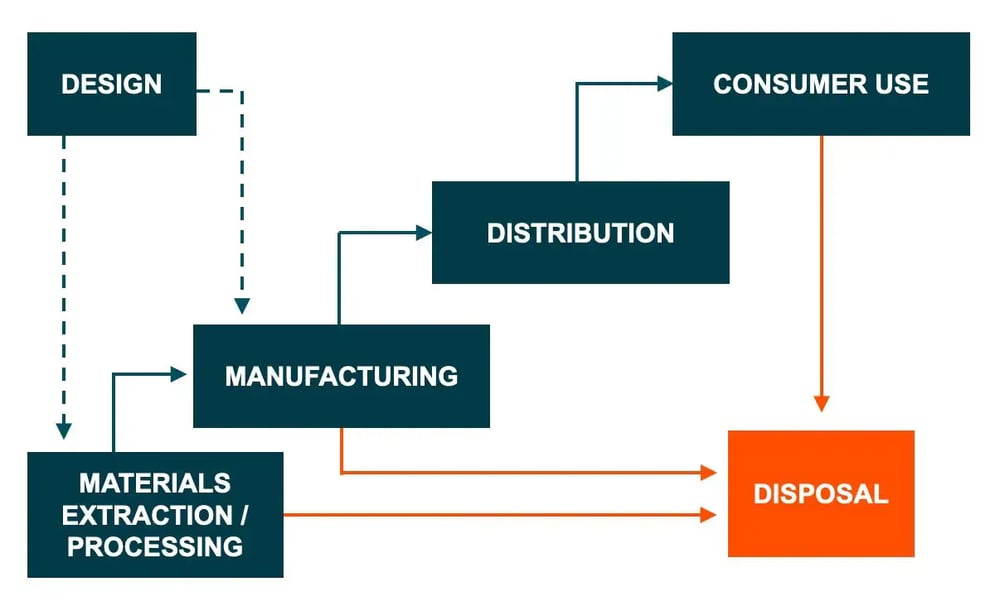 Sustainable manufacturing approach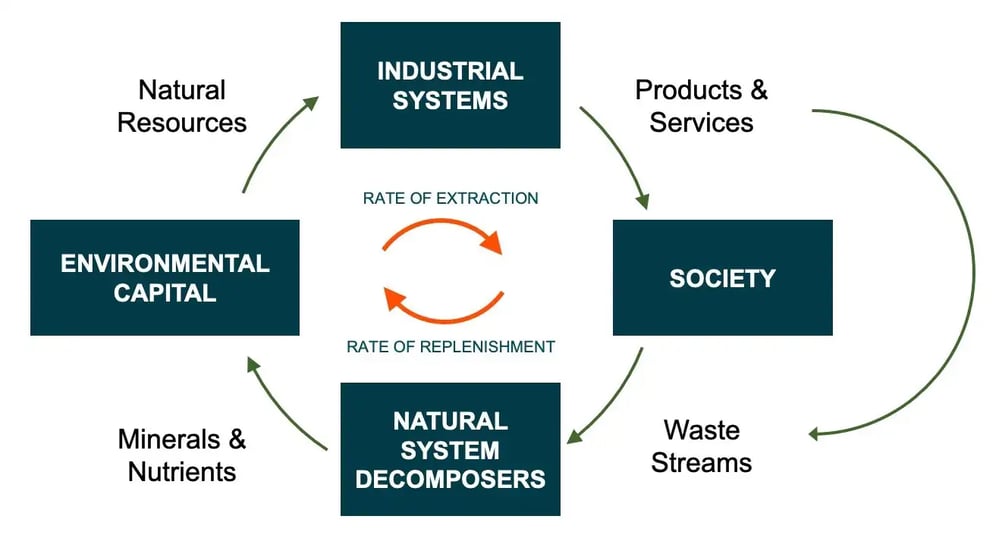 We are starting to see the emergence of 3rd party services and recognized reference data sources come together to provide industry-specific information around impact analysis calculations. Other algorithms are starting to emerge to take this complex impact assessment data and simplify it into understandable and comparable metrics.
The Eco-Score is an indicator of the ecological footprint of a food product. The methodology to calculate the Eco-Score was developed by a group of eight independent players in France: ECO2 Initiative, Etiquettable, FoodChéri, Marmiton, Open Food Facts, ScanUp, Seazon and Yuka. The Eco-Score can be found through more and more channels: not only on the packaging or price labels of many products but through barcode scanners and search functions also in apps and on various websites.

Learn more about the Eco-Score and how to calculate the lifecycle assessment score for food products.
What does the introduction of digital product passports mean for manufacturers?
The digital product passport is yet another sustainability requirement next to hundreds of other standards and reporting frameworks, such as the Sustainability Accounting Standards Board (SASB) and Global Reporting Initiative (GRI) that operates across more than 140 different topics, and not least the 17 UN Sustainability Development Goals.
The difference is that the digital product passport will be mandatory if you want to sell to the EU market in one of the targeted sectors.
The ramifications of a mandatory digital product passport standard will be all-encompassing:
Customer relations
The digital product passport is an extended version of product descriptions that inform about allergens or nutritional values, adding a new set of data that allows manufacturers and retailers to demonstrate the sustainability and ethical sourcing of their products. On the positive side of this, manufacturers and retailers will be better equipped to meet the expectations of purposeful shoppers. Consequentially, the passport can help establish trust and loyalty and thus hold potential of new revenue streams.
Regulator relations
The digital product passport will require a new, highly granular dataset to comply with. New and more datapoints will need to be included, disparate sets of information will need to be unified. Managing compliance will continue to sit with the chief data officers but they will probably need to staff up.
Supply management
Digital product passports can provide insight into the materials, methods and processes of product manufacturing, ensuring that they are manufactured and sourced responsibly. Enabling supply chain transparency is a big part of the passport initiative, and that will eventually benefit all stakeholders. Customers can make more informed decisions, retailers can onboard products and suppliers faster because they get better insight into supplier items, and regulators can more easily verify sustainability claims.
Marketing
Products have already for a long time been advertised for their sustainable qualities. In the future, the digital product passport will make it easier to evidence those qualities. The passport could be the beginning of the end of greenwashing by standardizing the way in which data is reported.
IT and data management
The digital product passport requires proper technological support as its success relies on the availability of accurate data. IT leaders will need technology that can collect and manage sustainability data from many different sources and systems and make it easily sharable; and most importantly, sustainability data needs to be trustworthy.


How to get started
Even though the details of the digital product passport are yet unclear, you can already now prepare yourself and your organization just like you would prepare for any other sustainability standard (or digital initiative): by getting your data in order.


Sustainability data should be treated as master data
It's crucial to realize that the sustainability data required for reporting, including the digital product passport, is very heterogenous and comes from a variety of sources. Generally, sustainability data describes products and packaging but also manufacturing methods, processing, transportation, supplier information and details about locations. This extends beyond typical product information and involves several master data domains into which authorities will require insight.
What is master data?
Master data is generally low-volatility, business critical information that describes company assets. These assets are typically grouped as master data domains. Common domains include customer, supplier, product, asset and location. Your master data is the information that enables you to run a business, deliver superior customer experiences and comply with regulations.
Master data can have hundreds of attributes. Sustainability data is often contained in these attributes. Regarding supplier data, such sustainability attributes could be certificates, taxes paid, account information, hierarchies, sub-suppliers and financial information.


Sustainability data needs to be managed
Deriving from different sources, sustainability data inevitably sits in different business systems, i.e., data silos where it is defined and managed by separate departments. This decentralized way of managing data is an impediment for transparency and efficient reporting.
Step one is to unify master data in a central repository that also allows you to govern your data: carry out de-duplication, set thresholds for data quality and apply business rules to automate workflows and ensure accountability.
A product information management (PIM) system could seem like an obvious place to store sustainability data. But acknowledging the disparity of data domains, chief sustainability and chief data officers will have a much easier job with a platform that has extended capabilities for governance and analytics and is capable of managing relationships and complex hierarchies.
A regular PIM solution, which is fine for ecommerce operations, is not going to meet the compliance requirements for digital product passports. Specifically, you need to be able to capture and store supplier information alongside product information. Evolving your PIM strategy to using a master data management (MDM) solution will enable you to build a foundation of clean and accurate master data across domains.
This means you can govern and manage different types of master data in conjunction and build relations between them.
Learn more about:
With a foundation of trusted data, your organization is in a favorable position to launch new initiatives, including sustainability compliance. As you can imagine, sustainability isn't unique in this sense: all digital initiatives – ranging from ecommerce to AI-driven product innovation – need trustworthy master data.
Having governed and trusted master data is a framework that can help you:
Tie other data types to master data
Start building your sustainability profile
Define KPIs and add the needed data domains and attributes
Launch digital initiatives with confidence and agility
An open master data platform can integrate with external and internal systems to ensure that governed data is shared from a single source.