Omnichannel supports the non-linear customer journey
Retailers today are challenged to keep up with the growing expectations of consumers to have an easy, personalized, and flexible path to purchase. In the past several years, consumers have picked up new digital shopping habits and now interact digitally with what was traditionally a linear path to purchase of discovery, consideration, purchase, and review. Consumer expectations have elevated due to the upgraded digital experience in other industries. The purchase journey is not linear anymore and that is where effective omnichannel retail execution supported by data management can help.
Table of contents

What is omnichannel retailing?
This is the approach to commerce where retailers use multiple channels to communicate and enable purchases and delivery of goods and services to the customer in an integrated, consistent and low-friction way.
Omnichannel is the mix of all physical and digital channels. It provides the right message, right action at the right time for the consumer consistently across all channels. The focus is on improving the experience across channels leading to improved brand preference and transactions online via web, apps and desktop or in-store and will extend into emerging digital channels such as the various metaverses and live shopping.
Omnichannel retailing includes the marketing communications and operational execution, which is underpinned by strong data technology and processes.
What is the difference between omnichannel and multichannel?
Multichannel retail is having the ability to sell products on more than one channel. Retailers using this strategy are more flexible to sell to consumers in a way that they want whether it is in app, in-store or through social channels. Multichannel retailers are typically stronger in their legacy channels and the remaining channels have not caught up to the same level of expertise. Additionally, individuals within multichannel retailers may only be aligned with their particular channel of commerce and at times compete with the other channels internally, only making it less convenient for consumers.
The downside of multichannel retail is that it is outdated and not customer centric. Multichannel retail is typically not orchestrated well and so it is hard to bridge the gap between channels. The channels are isolated from each other meaning certain activities are only allowed in channel resulting in a lower customer experience.
Examples where multichannel falls short:
Online orders at a department store can't be returned in physical store
Buy online only can be delivered to home but can't be picked up in store
Questions about online purchases can't be answered in store
Consumers walk through a store without a single digital interaction
Multichannel retailers found it quite difficult to understand fully how consumers shop because the data is in silos. Each touchpoint provides a different slice of consumer behaviour. Most retailers have this data stored somewhere but the data is rarely assembled into ways to understand their full experience. See the chart below to see how consumers behave now in their individualized path to purchase.
As early as 10 years ago, leading retailers were building omnichannel capabilities to meet the needs of consumers. Omnichannel consumers do not think in discrete channels but think of their favourite retailers as brands in a holistic way with multiple methods to research, evaluate, purchase and post purchase review.
"Retailers that execute a well-rounded omnichannel strategy retain 89% of their customers, compared to 33% of those who don't pursue the omnichannel route."- 2022 Omnichannel Index Report, by IMPACT Commerce, August 2022
Omnichannel touchpoints and relevant data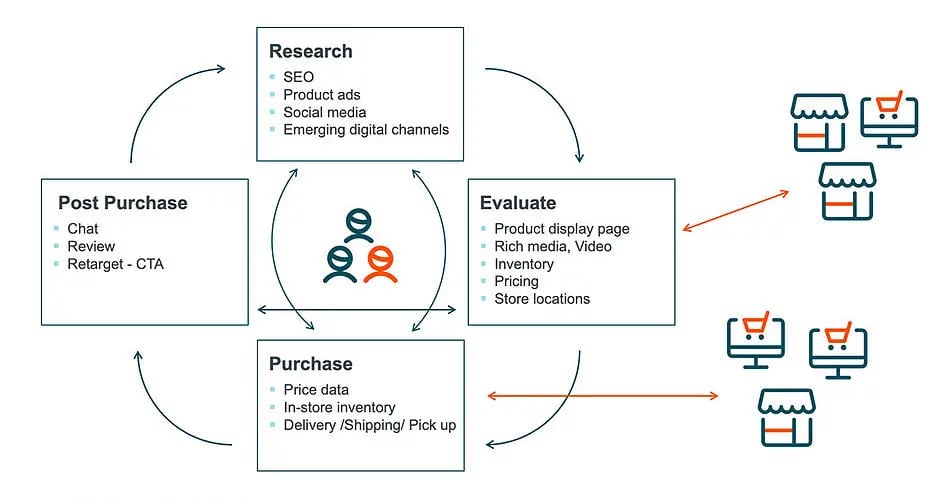 Despite what appears to be chaos at times, retailers are obliged to deliver accurate and consistent data across all channels and deliver in an increasingly more personalized way.


How data management helps succeed at omnichannel retailing
1. Maintain connections and enhance relevancy
Despite the seemingly randomness of some of the approaches to making a purchase, consumers expect ease in switching between the touchpoints and appreciate not losing context. Inconsistent and/or incomplete product data can turn off consumers.
In working backwards from the consumer point-of-engagement, product data needs to be timely and accurate – so retailers need to be able to update that information in real-time to minimize confusion and be able to answer the key consumer questions regardless of the interaction type. Having a trusted source of product data including images, videos and other rich content is critical for being able to be shared directly across channels sets retailers for omnichannel success.
After product data processes are optimized, omnichannel retailers start thinking about other data that is important for omnichannel retail – consumer and location data. The consumer data helps understand the privacy consent and overall preferences for the consumers, such as where they are engaging with the brand or their delivery shopping behaviours. The location data is also important in an omnichannel perspective because each site may vary and may have different services and products available. By being able to share location data in a timely and accurate way and with information they value, retailers can take advantage and prove once again how convenient and valuable they are to consumers in their lives.
But bringing business data from various silos and connecting this data can be the biggest differentiator. Combining the business data from product data, location data and consumer data can drive efficiencies in the operations of the business. By working off the same platform, retailers benefit for one tool and one skill-base and a common way of governance and workflows. Beyond the operational efficiencies, combining data across previous data silos yield new combinations of data that are hard to come by. We call these intersections, zones of insights. These zones of insights are important for omnichannel retailers as they create very sound linkages which can be used to communicate in a more relevant way to the consumer. Take a situation where a retailer was rolling out nutritional tours at a few stores such as store #10 for interested customers. For example, if a consumer shared that they were interested in healthier diets and identified a specific store #10 as their home store – That information could be used to invite the consumer to the event in a personalized way. This highly personalized event is made possible by consumer consent and sharing of their favorite location and specific health topics of most interest.
2. Ability to source product data from supplier and channels
Like the intertwined web of consumer behaviours, retailers face complexity in managing data earlier in the process on the buy side of the operations. Retailers commonly have hundreds of vendors managing thousands of products that are constant changing.
Setting standards for product data acquisition and minimal quality rules ensures that the final consumer experiences are consistent within a category and similar types of products. Additionally, the ability to bring in other product data from data pools align to standards ensure that the manufacturer suppliers are aligned on the same industry-approved hierarchy and speaking the same language. The right data management solution can achieve both faster onboarding and higher quality data which leads to improvements in speed to market and more engaging product display pages.
Muebles Jamar, one of the largest retailers in Colombia, has used centralized data management to lay the groundwork for omnichannel by integrating all systems that use product data into a single, complete, and enriched source. This has reduced costs from repetitive management of digital assets and set up technical sheets, videos and manuals for the assembly of centralized products and standardized management in all sales channels.


3. Ensure continually improving product data health
Product data accuracy and completeness may change and denigrate as product data is shared across your retail ecosystem and outside to your marketing partners and digital channels. Specialty retailers are diversifying their revenue through adding sales channels, and some are executing store within a store programs with department or mass retailers. Additionally, retailers are setting up merchant shops on Google, executing a focused marketplace strategy and selling on Facebook, TikTok or other relevant social media.
Monitoring this data suddenly has gotten much more involved compared to the days of two points of contact in multichannel context of the physical store and the web shop. Once the data has left the retailer's control, data can change, and errors can occur. Gaps in data can result in abandoned shopping carts, increased returns and decreased loyalty.
Retailers are using web crawlers to understand gaps in their content in their new digital channels. The gaps of effective product data may include missing attributes, irrelevant copy or old information. This information can then be fed into a robust data management solution to start renewing and improving data based on proactive data governance goals and guidelines. Projects and activities follow established workflows for specific data to update the source data and then reshare with partners. Establishing data management processes like these and executing successfully will ensure that your data team is seen as driving value internally and it will drive tremendous business value externally because consumers will gain greater trust resulting in higher sales conversion.