Aarhus, Denmark, 27 May 2015 - Stibo Systems, the global leader in multi-domain Master Data Management (MDM) solutions, has been awarded, along with its customer IC Group, the prize for Best eCommerce Case at the Danish eCommerce Award 2015.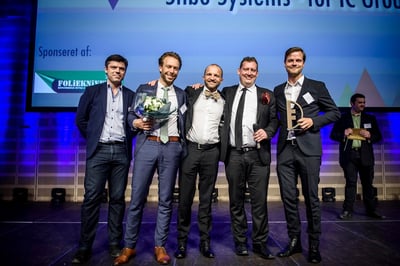 The eCommerce Award is Denmark's biggest competition and awards ceremony for online retailers, and is one of the most sought after and prestigious awards in the industry. A jury consisting of more than 30 experts and decision-makers with extensive knowledge in eCommerce rewards the best companies in 12 different categories. The assessment focuses on many elements, from technology of specific solutions that support eCommerce, to a strong focus on innovation and business acumen.
IC Group, one of the largest apparel companies off- and online in the Nordic region, embarked on a digital transformation journey and worked with Stibo Systems' Master Data Management (MDM) solution STEP to prepare for the way consumers will shop in the future. The project had fantastic end results, setting new standards for greater usability, and adoption of a centralized STEP MDM platform enabled IC Group to create one version of the truth and reduce time-to-market significantly.
The Danish eCommerce Association (FDIH) selected the winning case with this statement: "Stibo Systems impresses with a reference list of the biggest international brands and the IC Group case emphasizes their great success. The STEP solution demonstrates professionalism, efficiency and a product that makes a difference for IC Group for their three major fashion brands. All content, work processes, languages, images, design sketches, catalogs and much more are managed from one platform, and everything can be published seamlessly in multiple channels. The jury is very impressed."
Stibo Systems Quote:
"By enabling organizations to link all of their product, supplier, customer and operational information, Stibo Systems helps our customers to achieve real value from their information assets and a greater return on their MDM investment," said Mikael Lyngsø, CEO of Stibo Systems. "We are thrilled that FDIH has recognized our technology and congratulate our customer, IC Group, for their highly successful MDM initiative and for their ability to create a more satisfying and rewarding customer experience."
About Stibo Systems
Stibo Systems is the global leader in multi-domain Master Data Management (MDM) solutions. Industry leaders rely on Stibo Systems to provide cross-channel consistency by linking product and customer data, suppliers and other organisational assets. This enables businesses to make more effective decisions, improve sales and build shareholder value. During the last 30 years, Stibo Systems has helped hundreds of companies to develop a trusted source of operational information. A privately held subsidiary of the Stibo A/S group, which was originally founded in 1794, Stibo Systems' corporate headquarters is located in Aarhus, Denmark. For more information, visit www.stibosystems.com.