With NRF 2022 complete, one thing is clear: change continues to be the new normal for the retail industry.
As industry leaders trekked back to New York to attend NRF 2022, attendees couldn't help but notice that while things looked similar, much had changed. Since the last in-person NRF in 2020, while the world and various aspects of the global economy have shut down at various points, the retail industry kept going at an accelerated pace.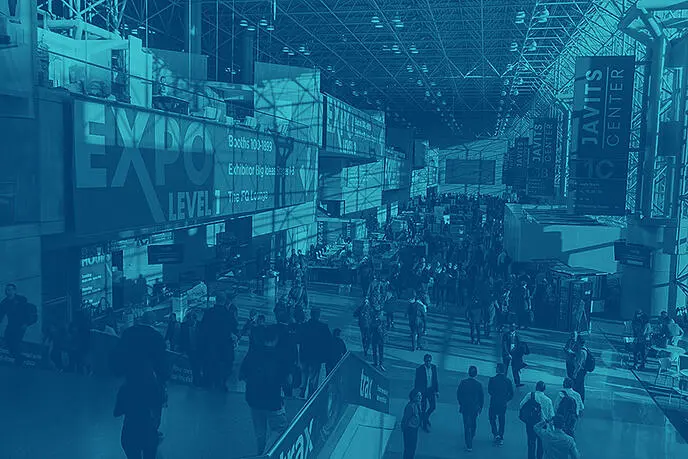 Photo credit: National Retail Federation
This same resilience was on display last week after the National Retail Federation decided to move forward with the show as planned, despite ongoing concerns over Covid-19. Over 20,000 attendees and 800 exhibitors attended NRF 2022, demonstrating that even against the backdrop of the new normal, there is much to be optimistic about regarding the retail industry and its collective leadership.

Those in attendance were more intentional and open to new ideas and displayed a strong commitment to sustainability and diversity. At the same time, there was increased acknowledgement that retailers cannot tackle these issues alone; they need to collaborate with their external partners and communities to drive real change.


Key Takeaways from NRF 2022
Following are the key takeaways we heard at NRF we believe will help propel retail businesses in the year ahead. Followed by a few thoughts on how retailers can leverage data to take advantage of associated opportunities.
"Three things that will define retail in 2022:
agility, adaptability and flexibility."

- Brian Cornell, CEO, Target, at NRF 2022
Omnichannel is a baseline requirement in an increasingly digital world

As consumers spend more time on digital channels and experiment with new shopping platforms, as well as trends like rapid delivery services and the metaverse, traditional retail is at risk of becoming irrelevant. According to McKinsey, 75% of U.S. consumers have tried a new shopping behavior since the pandemic began. From here on, retailers will need to constantly watch for new, relevant channels and make sure they have the right data and technology infrastructure in place to use them. This will give them the flexibility to test and learn and the agility to respond to new opportunities quickly.

Enhance/blend the CX across all channels

Ongoing disruptions in the global supply chain have given customers ample opportunity to test new retail channels and direct-to-consumer (D2C) brands. They've changed routine purchase behaviors, testing new experiences, delivery methods and return policies.

And their expectations are rising fast. Positive customer experiences with innovative food delivery services (e.g., Uber Eats, DoorDash) make it essential for retailers in all sectors to focus on the CX, using personalization across channels to enhance engagement and loyalty. McKinsey reports when consumers blend online and in-store experiences, grocery retailers can expect a 10-20% higher basket. That's a major opportunity.

Data quality, accessibility and governance are critical for AI success

At the last in-person NRF, big data, AI and machine learning were hot topics. In just two short years, the industry has matured significantly. Most retailers have added data science teams, built and started testing new AI-driven processes and new data models. In the NRF Big Ideas session, Applying AI at scale in large organizations, Tapestry and Dick's Sporting Goods shared that clean data enables increased scale in AI. Furthermore, AI is a process, and it's necessary to have governed data that is accessible to execute on identified opportunities.

The time is now for sustainability and supply chain transparency

2022 will be a significant year for sustainability. According to Deloitte, 72% of global consumers believe climate change is an emergency. Consumers are worried about the future and in response are becoming purposeful with their purchases. More than half are intentionally buying brands that fit their values (57%), while others (43%) have left brands because they no longer align with them.

Retailers such as Walmart have cited only 5% of their supply chain carbon footprint is from their own business/assets, whereas their extended supply chain of manufacturing partners and suppliers account for 95%. Partnering and sharing data with the right suppliers will be increasingly important as retailers work to understand product characteristics and operational footprints as they work toward shared sustainability goals. Solving this will help retailers be more transparent with consumers and other stakeholders when sharing their progress.


How retailers are unlocking the value of their data
At NRF, our own team partnered with our customers to demonstrate how they are unlocking the power and value of their data to create increased loyalty with THEIR customers.
Jan Madsen, CEO of Lobyco, shared how consumer behavior is shifting more toward mobile-driven shopping applications, but grocery retailers are not keeping up with the changes. Retailers, he said, need to transform the shopping experience to mitigate the risk of losing younger consumers. A key to that is using loyalty platforms fueled by clean data. Stibo Systems Multidomain MDM solutions provide an accurate data foundation, enabling retailers to make trusted business decisions and drive loyalty across new and evolving digital channels.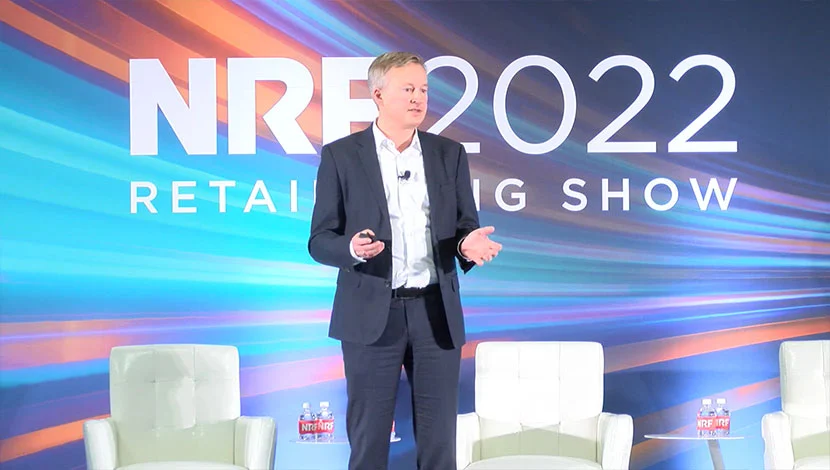 Jan Madsen, CEO, Lobyco, at Stibo Systems' session at NRF 2022
In Customer engagement in retail requires more than just product data, Jennifer Skeen, SVP of Omnichannel & Marketing at Sun & Ski Sports, spoke with Stibo Systems' Doug Kimball about how important it is to have visibility into all enterprise data – product, customer, etc. – and then make it accessible to everyone that needs it. Bringing in different types of data and seeing data combined in new ways creates "Zones of Insight" that create incremental value and doing it the right way can improve both your internal operations and lead to increased loyalty.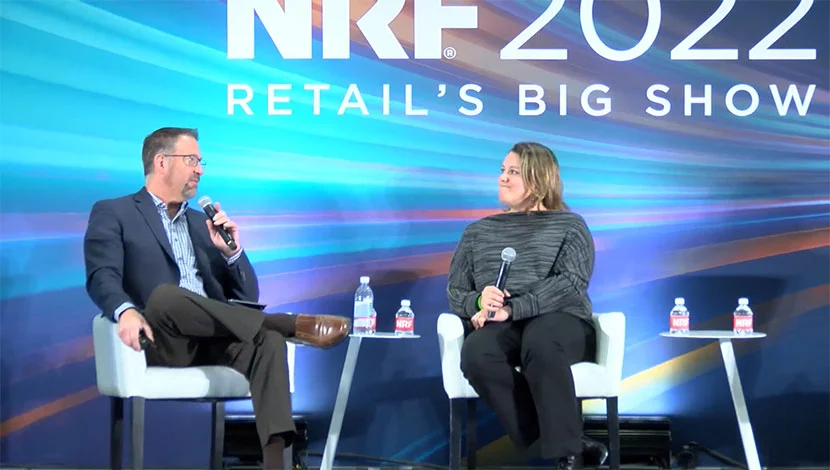 Stibo Systems' Doug Kimball with Jennifer Skeen of Sun & Ski Sports


Expect more disruption in retail in 2022
In addition to the takeaways mentioned above, there is a realization that between the emergence of digitally native D2C players and well-funded direct delivery tech platforms, the retail industry will see more disruption in the next few years. Retailers are operating in an increasingly competitive market (with new players like Instacart) that can lead to more than just small shifts in market share. Instead, it's possible entirely new digital environments could further disrupt the market, making current retail players irrelevant.

Fortunately, retailers are not lacking in the data or resolve needed to compete. However, they will need to make sure they are agile enough to make the right decisions about how and what will be required to succeed in these new digital channels.
Key implications for retailers




Omnichannel success requires agile and connected data.
Superior insight into customer behavior across the organization/value chain helps create unified experiences.
High-quality, clean, trusted data fuels successful AI initiatives.
Collaboration across the data supply chain is needed to provide transparency.
Use your data to take full advantage of new retail opportunities
There are multiple ways retailers can prepare for the coming disruptions, including ensuring data leadership, collaborating with solution providers and integrating your data, providing a complete view of your business capable of enabling your teams to execute. More specifically:
Retailers need

data leadership

to assess data across the organization, helping them identify opportunities to improve data that will benefit customers, as well as their own organizations.

Collaborative partners

such as Stibo Systems that can provide perspective on how to increase the value of their data to drive efficiency and new sales opportunities.
While retailers are not lacking in data, many are challenged to connect and clean data across their entire organization. Stibo Systems MDM solutions empower retailers to

integrate data to accelerate digital transformation

initiatives by enabling them to blend data sets across multiple domains for greater insights.
"With all the data available, educating your company about the importance of accurate and complete data is the #1 thing. The reason is, if you don't have accurate and complete data coming in your outputs and decision making may not be vetted out."

- Jennifer Skeen, SVP of Omnichannel & Marketing, Sun & Ski Sports, at NRF 2022
We would welcome an opportunity to engage about where you see the industry going. You can also learn more about how we support retail businesses with digital transformation and opportunities across the enterprise to unlock the value of your data.