Midway through what was supposed to be a recovery year, some retailers are still struggling. Better data may hold the key to their success.
The pace of change in retail since the spring of 2020 has been well documented around the world. Heroic efforts and incredible teamwork were required to restock stores with essential products in record time. Retailers quickly transformed their operations by creating safe in-store environments, transitioning non-customer-facing staff to work from home, and finding ways to communicate and serve customers through increasingly digital approaches.
While many retailers are on the road to recovery, new obstacles including employee shortages and supply chain challenges have emerged. Responding to these challenges will require some new thinking. Before we dive into that, let's first take a look at what retailers have been doing to make a comeback.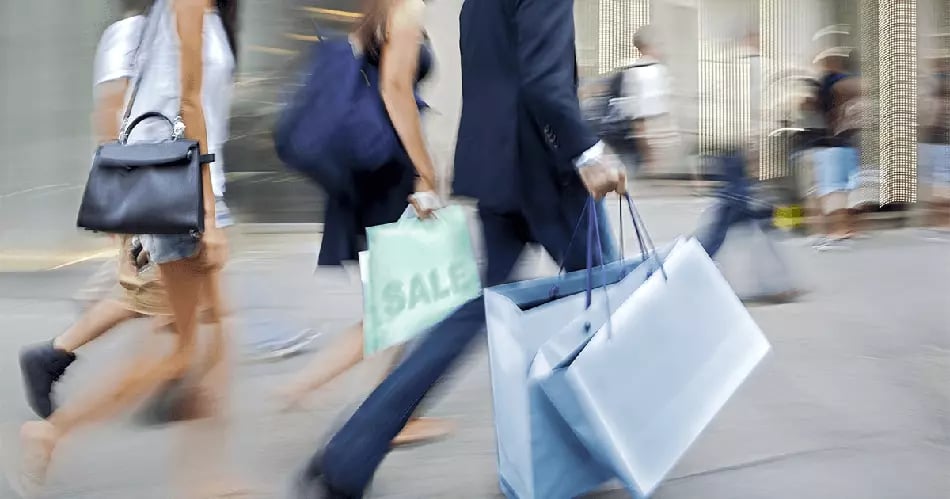 On the road to recovery
In early 2021, Euromonitor reported that 93% of retailers said the pandemic accelerated their digital plans by more than a year. This increased digitalization had a significant upside: Retailers that had accelerated their digital transformation efforts before and during the pandemic – achieving a higher level of digital maturity during the process – are now more likely to adapt faster, respond to new obstacles and perform better than their peers moving ahead.
This really doesn't come as a surprise. While attending #NRF2021 earlier this year, we were encouraged by what retailers had accomplished in the past year and were optimistic about the future. As part of my own recap of the event, I recommended three actions that would put retailers on a path forward to a reinvigorated retail industry:
Infuse digital into physical retail. As consumers return to the physical store after a year (or more) of stay-at-home digital commerce, retailers need to integrate the digital intelligence and agility they gained into their in-store experience. This requires retailers to create a seamless and consistent experience, regardless of whether their customers were shopping in-store or digitally. For example, a number of retailers succeeded in providing up-to-date information about their store operations and product availability on their digital channels (though this is still not widespread).
Offer more products that align to a higher purpose, with greater transparency. Over the past six months, retailers have committed to aggressive sustainability goals that support their communities and the environment. These include becoming carbon neutral, reducing product packaging and/or requiring suppliers to update packaging with a higher percent of recycled content. Retailers are increasingly becoming more transparent about how sustainable their product offerings are and the progress they're making toward their CSR goals, and consumers have embraced this new level of transparency.
Increase personalization across omnichannel touchpoints. Personalized experiences have been a key goal for retailers for years, but it continues to be a challenge. Retailers often find it difficult to orchestrate their data in a way that enables them to react to consumer behavior in real-time with relevant communication. Added scrutiny of data privacy practices and more regulation provide an additional hurdle to personalization for those that do not have good data governance practices in place.


New obstacles emerge in mid-2021
While retailers are making strides with the three strategies above, they continue to experience new and evolving shocks in their business environments with disruptive supply chains and limited employee talent available to hire. These obstacles threaten to impede retailers' revenue and profit recovery. In addition to figuring out how to decipher consumers' new purchasing behaviors, retailers must concurrently find ways to mitigate these emerging issues.
Employee shortages. Those in the retail and service industries are having a difficult time hiring and retaining staff across the globe. The local bagel chain, for instance, that struggled the past year to generate enough revenue to keep its doors open is now experiencing a flood of customers and orders since Covid restrictions relaxed. It has plenty of business but is struggling to attract and retain employees due to the high demand for talent and fast-paced, stressful working environment. According to labor experts, what is occurring long term is not a labor shortage but a restructuring of the labor market. In the UK, there was a reported 45% increase in job vacancies in late spring, and the Australia Bureau of Statistics is reporting "27% of businesses are having difficulty finding suitable staff." Regardless of the root cause, the shortage puts considerable strain on businesses trying to deliver exceptional experiences to customers with higher expectations.
Supply chain challenges. What was considered in the spring of last year a one-time supply chain shock due to panic buying paper products, cough medicine and cleaning supplies has evolved into a multiyear challenge. But unlike the early days of the crisis, these supply chain hurdles are not due to a meteoric rise in demand. Instead, a lack of containers, truckers and general supply chain capacity are creating new challenges that are impacting businesses around the world. Recent shortages are seemingly random, such as a lack of bakery items and sugar packets at Starbucks, french fries in restaurants in South Korea and to-go bags at various restaurant locations worldwide.
"Around the world, airlines, restaurants and hotels can't fill open jobs, stymieing efforts to capitalize on resurgent consumer demand. Many workers that went home when the pandemic hit haven't returned to shipyards, factories, or construction sites, hitting production and stalling projects."

- Julia Horowitz, CNN, June 2021
New challenges require new approaches to solving them
Most retailers have used product information management (PIM) technology to manage their product data, realizing a wide array of benefits such as increased efficiency in data management, data enrichment, better visibility into the processes and approvals of product data, and the ability to easily share trusted data internally and with consumers via physical and digital channels.
Yet as data requirements become more complex and retailers need to manage more product attributes and hierarchies – and keep that information accurate and up to date – they can run into some limitations. This is especially true if retailers hope to address some of the more complex challenges mentioned earlier, like improving personalization, which can require a mixture of data about products, customers and locations.
For retailers looking to leverage the power of their data in new ways, a master data management (MDM) capability may be well suited to meet their needs by:
Optimizing the value of supplier data. Retailers can build on past success with PIM using product MDM by combining product data with supplier data. This can help retailers build more robust insights and visibility into their supplier base, enabling them to more efficiently onboard, control and understand their suppliers. This provides more flexibility when there are distribution delays for key raw materials or finished products. By having multiple suppliers to cover essentials such as paper bags or sugar packets, retailers can minimize the cost impact of poor customer experiences due to a lack of inexpensive operational supplies.
Optimizing the value of your most critical resource: your people. Despite all the technical advances and operational efficiencies retailers have achieved over the last two years, managing employee data has been less of a focus but is still essential to continued success. Employees are customer-facing brand ambassadors and are a critical element of driving customer loyalty and return trips. In this context, it is increasingly important to upskill and cross-train employees in various aspects of the business. But the challenge is that traditional HR databases that contain employee skills are not easily accessible. Managing employee data in a secure, centralized MDM system enables companies to connect to other data domains and gain insight into employee skills, projects, preferred locations and other valuable characteristics.
Optimizing the value of your location data. Along with employee data, retail site data is incredibly valuable. Accurate location data is needed to share with customers, so they can find the store address, hours of operation, contact information and characteristics of the store. Internally, a robust solution that manages site data can help make sure the company is on the same page when making merchandising decisions, while also ensuring operational efficiency and shipping accuracy. With all the store closures, remodels and dark store initiatives happening over the past several years, it is critical retailers be able to share trustworthy site location data with both business partners and end consumers.

Multidomain MDM is needed for data governance
Retailers that deployed governance over their product data have defined the process, including process ownership, creating a set of repeatable rules to follow, and establishing standards across data sets to help adhere to regulations and accessibility and security rules.
As retailers increase in data maturity and simplify their IT architecture, it would be valuable to extend this same governance to the other types of data previously mentioned. With Stibo Systems Multidomain MDM, retailers can establish similar governance rules and processes for supplier, location, employee, and asset data – on a single, integrated platform.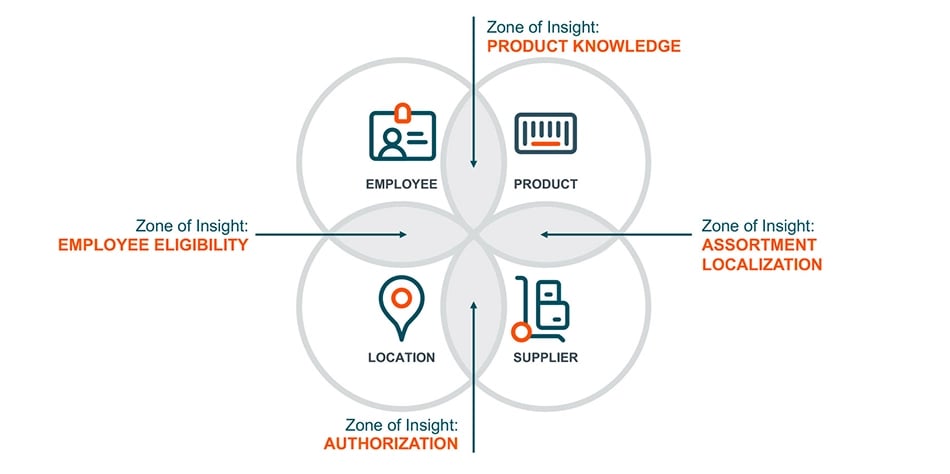 Zones of insight: Reveal important retail insights at the intersections of different data sets.
Continual and consistent data governance, stewardship, and practices are necessary for retailers to realize further gains in operational efficiency. An exciting and sometimes lesser-known benefit of multidomain MDM is the new insights that can be generated and exploited that are outside of a single type of data. Let's look at some of the important retailer insights (see above image) that are relevant for overcoming obstacles impacting the retail recovery.
Insight #1: Employee data X product data = product knowledge.
With an accurate view of the skill sets of all employees in a store, you can see potential gaps in coverage. For instance, you may discover 33% have a food handling license and can work in the deli, but only 15% have completed the required training to work in the café. This exposes the café to a potential gap in the service you can provide customers if there is increased demand or several employees are on vacation at the same time. By closing these training gaps, retailers can build operational resiliency and support continued employee growth.
Insight #2: Employee data X location data = employee eligibility.
Employee data can also incorporate location information to give management an overview of which employees are eligible to work at different sites. This makes it possible to enable employees to pick up additional hours at a second location. It also provides greater flexibility to navigate employee shortages impacting specific locations or to fulfill an expected spike in demand.
Insight #3: Supplier data X location data = authorization.
The backroom of a retail location can be quite hectic and confusing with vendors coming in and making direct store deliveries throughout the day. To ensure security, prevent theft and maintain product quality, receiving managers need to have a clear understanding of who is approved from the supplier to deliver to a particular location. With an authorization system, you can ensure that solid operational processes are in place to safeguard access across all locations.
Insight #4: Location data X supplier data X product data = assortment localization.
Customers love to buy from local suppliers as a way to support the community. From a food and beverage perspective, it can mean products are fresher and have reduced environmental impact. Data that ties the supplier location of the products to the store location can provide retailers with a valuable data foundation to activate in-store marketing to promote local products, as well as on their websites and apps based on the preferred store location of the customer.
These are just a few of the ways Multidomain MDM can increase data transparency and help retailers overcome talent shortages and supply chain difficulties with more informed, data-driven decisions. Learn more about what makes Multidomain MDM unique.
---