Over 1,000 CEOs and leaders recently gathered in Kyoto, Japan, for the Consumer Goods Forum (CGF) Global Summit in the famed venue where the Kyoto Protocol was signed 25 years ago. CGF attendees adopted a similar collaborative mindset this year, ready to tackle the industry's most challenging business and sustainability problems. Leaders discussed how to take tangible action together to positively impact climate change, lessen suppy chain disruption and grow their revenues – despite the constant turmoil facing their businesses.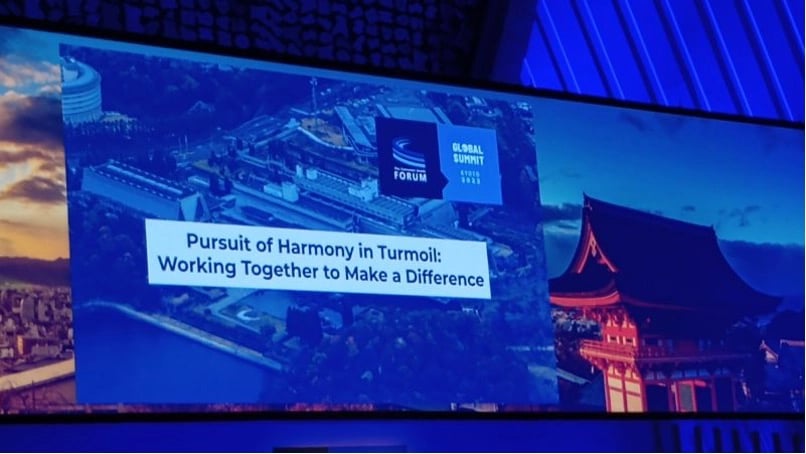 While there are many challenges impacting consumer packaged goods (CPG) and retail companies, following are three disruptions that were top of mind among the C-level attendees at the event:
Consumers' lives continue to be disrupted, causing unpredictable changes in shopping behavior. According to the EY & CGF study released during the event, 74% of consumers are concerned about increases in cost of living, and 54% expect cost-of-living expenses to increase in the next six months.1 As costs rise and the importance of sustainability changes, consumers are reevaluating their purchase decisions and overall perspective on consumption. Additionally, since the mix of goods and experiences has changed post-pandemic, some consumers may decide to purchase used items in certain categories and trade up in other categories – all while keeping a closer eye on their budgets.
Rapid adoption of generative AI technology. CPG companies and retailers face a tidal wave of generative AI innovations that are extremely promising but hard to execute. Kearney's session – "Armageddon or AI-Get-On: Can AI Regenerate Consumers' Trust in Brands?" – offered an interesting perspective on the impact of AI on consumer trust. While the case for using AI varies by situation and geography, consumers' top concerns are loss of human connection and data privacy. Most consumers, however, do see the potential value of AI, citing faster customer service, lower costs and more efficient product creation as top benefits.2 Similar to other technology investments, adopting AI across the enterprise requires focus on the consumer: What is the value for them? What are their expectations and concerns for various use cases? Lastly, it is important that a brand's use of AI aligns to its mission and engages long-term consumer trust.
Changes in the way we work. Both external and internal factors are elevating the need to change how businesses work across all organizational levels and with partners. Companies no longer lead consumers in technology adoption, but instead are trying to keep pace. Therefore, they must be agile in order to adapt business models, adopt more digital capabilities and remain relevant. Furthermore, climate change pressures, growing data requirements and the need to have continuous data flows from trading partners are prompting additional changes. Companies are rethinking their processes to avoid errors and overwhelming their data management talent. According to Daniel Rodriguez, CEO of FEMSA, "One of the main challenges is how we make sure that our company is evolving and transforming faster than the consumer."1
Driving action at scale across the industry
Amid this ongoing turmoil, impacted CPG and retail companies are looking for innovative, business-building ideas and new ways of working internally and across enterprises to make lasting change to their businesses, meet consumer expectations and achieve sustainability goals.


Innovation
During the conference, multiple talks were presented on the technological innovations that are driving change today. Although multiple AI use cases are now available for rapid deployment, AI use needs to be in the right context, with the right level of interaction, to ensure value and maintain trust.
In IBM's session, "When Sustainability Isn't Enough," the speakers shared that executing on sustainability goals has become a catalyst for innovation. They shared how they are using technology more often to operationalize their business and sustainability goals. The top two advanced techologies that companies plan to invest in to operationalize sustainability are automation (71%) and data and advanced analytics (69%).3 Leaders from companies are now expecting results from their sustainability goals. Therefore, companies must integrate sustainability into their DNA to achieve meaningful and measurable results.
Regardless of the sustainability opportunity to also drive sales or reduce costs, it is important to keep the consumer in mind at all times. Your organization needs to be agile, so it can adapt quickly to changes and react appropriately to new opportunities. Without consumer centricity and an understanding of the value of any technological change, it can be easy for organizations to adopt technologies that don't really matter.


Collaboration
New CGF Co-Chairs – Frans Muller, President and CEO of Ahold Delhaize, and Dirk Van de Put, Chairman and CEO of Mondelēz International – led a session on the need to accelerate the impact of CGF to make positive change in the industry. It will require all companies working together to overcome the challenges shared above. To succeed, solutions must be integrated across the value chain.
In their session, they stressed the importance of improving product data across the industry. The CGF participates and encourages the adoption of standards and innovation from GS1. The first one is Verified by GS1, which requires brands to use seven defining product attributes in a global registry. The second one is the Global Data Model, which establishes a consistent set of product attributes to address data quality and reduce inefficiencies in data sharing. CGF is also looking ahead to the implementation of the two dimensional barcode in 2027, which will reduce the code clutter on packages to one QR Code, improving the customer experience and the point-of-sale checkout and business processes.
AEON Next co-presents with Stibo Systems
Mr. Bharat Rupani, President of AEON Next, sat down with Stibo Systems' CEO Adrian Carr to discuss the company's data management journey. In the session, "The Digital Shift in Japan: How AEON Next Is Using Advanced Technologies to Transform Business and Enable Sustainability Success," Mr. Rupani explained how grocery ecommerce had grown rapidly after the pandemic and that there is now a permanent consumer need of convenient food delivery in Japan. To lead in the market and meet this consumer need, the AEON Group developed a digital shift as part of its innovation plan.
"AEON Next and team are building a new direct-to-home ecommerce site based on leading-edge technology for AEON. We had a great session with Bharat Rupani, President of AEON Next, talking about the challenges he has wrangling the data to make this business fly. That was my highlight of the event," said Carr.
AEON Next, an AEON Group subsidiary, plays a key role in executing this innovation plan, with its launch of a next-generation online grocery platform for Japanese consumers. According to Mr. Rupani, "We recently disclosed our consumer brand to the Japanese market – Green Beans – of which its services will start this coming summer. We aim to bring a compelling online grocery shopping experience that supports young, busy families in their daily lives. Our goal to transform shopping is based on three pillars: ease, reliability and choice."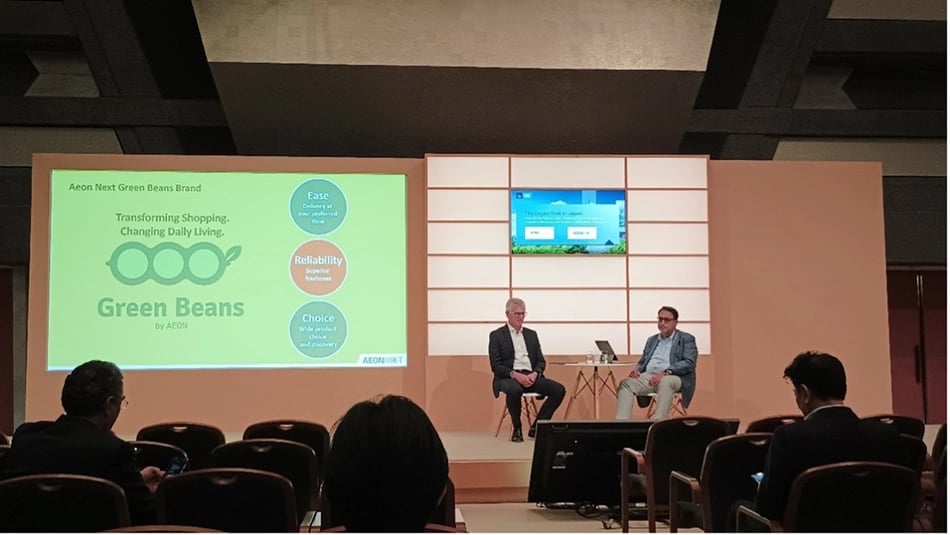 AEON Next started its digital shift journey by identifying the data required by its cutting-edge Customer Fulfillment Center by Ocado. To go beyond its brick-and-mortar and standard ecommerce model, the company needed to substantially increase the number of product attributes it managed, and its current product information management (PIM) system was unable to handle the change in requirements. This is when AEON Next realized that product data was a critical success factor, and it needed a robust PIM.
AEON Next deployed Stibo Systems Product Master Data Management, enriching the data to meet all downstream application needs and sharing that data consistently to consumer-facing websites and its warehouse management solution. The company is now well positioned to deliver something unique and valuable to its customers and the Japanese grocery market.
Regardless of whether your company is in the CPG or retail industry, the next few years are likely to be tumultuous. Significant external challenges, changing consumer expectations and rapid adoption of new technologies could be quite a challenge if your company's foundational business data is not high quality or available for use.
Stibo Systems participates in collaborative discussions about standards with CPG companies, retailers and the CGF community. Our industry knowledge, coupled with our innovative Multidomain Master Data Management platform, helps our customers comply with regulations, drive efficiencies through collaboration, and enable innovative and sustainably minded growth.
Learn more about our Science Based Targets initiative (SBTi) net-zero commitments and our corporate social responsibility.
Sources:
1 "Pursuit of Harmony in Turmoil: Working Together to Make a Difference," EY & CGF, June 2023, pg 6.
2 "Generative AI Study," Kearney Consumer Institute, May 2023 (cited at CGF Global Summit 2023).
3 "When Sustainability Isn't Enough," IBM Institute for Business Value, 2022.