Just over a week ago the World Health Organization declared the novel coronavirus (COVID-19) a worldwide pandemic, calling on countries around the world to take drastic steps to slow the rapid spread of the virus.
At the time of this publishing, over 395,000 people in 169 countries/regions are infected, and the number of cases will likely continue to grow (click here for current numbers). Individuals and communities worldwide are taking extreme measures to protect and prepare their families for the unknown – giving rise to an alarming trend: panic buying.
Shoppers are flocking to supercenters, supermarkets and drugstores to buy toilet paper, canned goods and other items in health-related categories. At the beginning of the COVID-19 outbreak, health protection was one of the most frequently purchased consumer packaged goods (CPG) categories.
In response to COVID-19, consumers move to protect themselves with health assessment and protection items.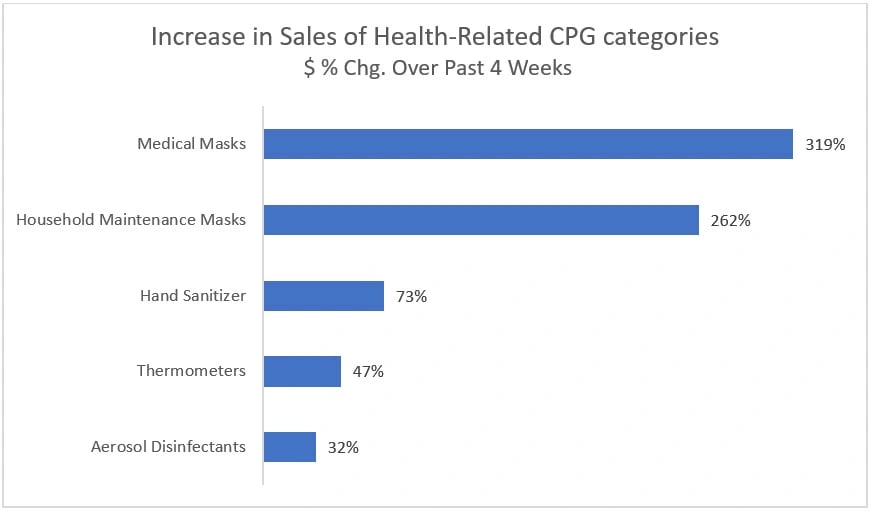 Source: Nielsen Retail Measurement Services, Total U.S. All Outlets Combined (xAOC), period ended Feb. 22, 2020 versus same periods a year-ago.
But as more schools and borders close and as "social distancing" and "flatten the curve" become public rallying cries, consumers have shifted their purchases to prepare to be stuck at home for an indefinite amount of time. Likewise, many nonessential businesses in sectors that attract large groups – like bars, gyms and restaurants – are being forced to close for a period of time. These closures are ever-changing as local governments attempt to curb the rapid spread of the virus.


Short-term panic buying spurs large pantry loads
With self-quarantining becoming a reality for many households, consumers have started stockpiling and buying large pantry loads. Some are stocking up on essentials to last them a couple of weeks, while others are buying quantities that could last several months.
Categories seeing the largest spikes in sales are:
Core meals (canned soup, frozen vegetables, pasta)
Baby categories (diapers, wipes, baby food, formula)
Paper products (toilet paper, facial tissues)
Beverage (water, juices)
Toilet paper and bottled water have been in such demand that many retailers – such as Kroger in U.S. and Costco Australia – have placed purchase limits on products.


What does this mean for long-term consumer behavior?
The impact of the pandemic – and its effect on long-term consumer behavior – is not yet known. However, there's a lot to learn from the outcome of the global recession of 2008, where consumers emerged from the recession facing new economic realities.
As a result, many reduced their debt, cut costs and evaluated their routine purchases. Additionally, many consumers' perception of brand value changed – some switching to lower-priced and private brands while others purchased premium products less frequently.
After the pandemic wanes, there will likely be a significant shift in future buying decisions made at the household level. The center store – where shelf-stable groceries, frozen food and baby categories are stocked – has been a slow growth area in grocery stores for years, as many people focused on shopping the perimeter of the store for fresh products. Will there be a long-term increase in demand for pantry items, as more consumers seek to be better prepared and have more essential items on hand?
Considering the increased demand for health protection, will categories such as masks and hand sanitizers be elevated from a nice-to-have product to a must-have category, with adequate backstock for families?
COVID-19 has also disrupted where and how consumers shop, as many (especially seniors) try to curtail in-store shopping to limit exposure to large groups. This has undoubtedly increased the frequency of online shopping for many that have not been regular online shoppers. The CEO of Numerator predicts that these additional crisis-driven, online purchases may translate to a long-term shift to more frequent online purchases.
"We expect COVID-19 to accelerate use of Click & Collect as well as shift even more consumers online in the U.S. and around the world." - Eric Belcher, CEO, Numerator







Long-term supply chain implications
Businesses with supply chains that source from the most impacted countries will likely face ongoing challenges related to sourcing and acquiring ingredients and materials, which will result in lost sales.
As it is, companies are already experiencing serious supply chain challenges if any of their sourcing, manufacturing or distribution take place in the countries and regions where citizens are currently on lockdown because of the pandemic.
Risk management is no longer a theoretical concept, as many are experiencing firsthand the risks of relying on single sources for critical supplies. Going forward, supply chain risk and resiliency should become top priorities. The interconnectedness of our global supply chains will need to be reexamined to ensure that when another global event occurs, it can be managed with minimal consequences.
"Given the panic and neglect cycle of pandemic preparedness, once COVID-19 is contained, much of the world is likely to return to complacency and remain under-prepared for the inevitable next outbreak. Businesses that invest in strategic, operational and financial resilience to emerging global risks will be better positioned to repond and recover." - World Economic Forum









Navigating uncertainty: Better product and supplier data management can help
To better prepare for future risks will require companies to better understand consumer behavior, their supply chains and the data they manage. Because for many organizations, understanding where weaknesses and shortcomings exist requires greater data transparency across their operations and value chains. Gaining a deeper understanding of the supplier network, and how impacted locations can delay product sourcing, manufacturing and delivery, is often not possible using just spreadsheets and ERP software.
Detangling this web of complex information can be a challenge under normal circumstances, especially when data is housed in siloed systems. It's hard enough to make the right risk management decisions during a crisis, but even more so when the data that is being used to evaluate potential business continuity scenarios is inaccurate.
Master data management provides companies with an accurate view of their product data, making it easier to understand ingredient origins and critical production information. It can also organize and streamline supplier data so that critical data such as contact information, supplier factory locations and manufacturing methods are complete and accurate – establishing certainty which leads to trust across the enterprise.
Companies can also link product and supplier data via an interconnected hub to make their data richer and more valuable. With better supplier and product data, companies can enable better data transparency, improving communication and collaboration with their partners across the supply chain. All of which is necessary to ensure that future risk management and business continuity decisions and plans are being based on trustworthy data.