For retailers, there is that inevitable moment in business, when the realization sinks in that the way things were working is no longer sustainable. Many retailers are confronting the hard facts that right now when it comes to data management and data orchestration in an omnichannel world where demands are high for personalization and real time product availability.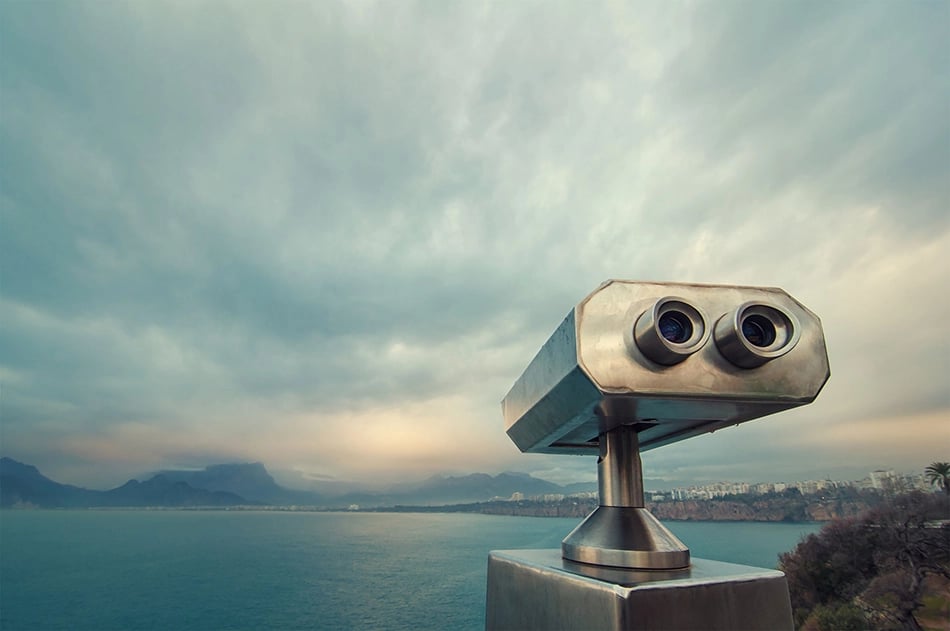 Every retailer out there has added new omnichannel services in the last few years to meet the needs of consumers who are increasingly adopting more digitally focused shopping behaviors (See table below). What is now a much more efficient and convenient retail proposition for consumers, including not only BOPIS (Buy Online, Pickup in Store), but also return from anywhere and pay with anything - can be a real challenge for retailers from an operational and technical perspective.
The challenge is that many retailers' front-end applications have become more powerful, providing richer experiences, while the back-end data management systems that supports these efforts, are often overlooked. Many retailers work with monolithic commerce platforms that do some commerce activities really well, but only as well as the data that supports it permits. As a results, retail IT and data management teams have scrambled to create and support homegrown technologies to close deficiency gaps. To make matters worse, teams across the organization often end up having to adopt labor-intensive manual data management activities to ensure business continuity – often negatively impacting employee work satisfaction.
What the industry needs is a different methodology in adopting and updating commerce related technologies, and the prevailing approach is one of Composable Commerce.
Below are omnichannel services that needed to be supported with strong back-end data operations as well as customer facing solutions.
Omnichannel Commerce & Operational Services
| | |
| --- | --- |
| Type of Service | Definition |
| BOPIS (Click and Collect) | Buy online and pick up in store with a specific period |
| Search In-Store Products Online | Ability to understand what items are in store |
| Shared Cart | Ability to share digital cart between mobile and desktop |
| Loyalty points earned and redeemed across channels | Whether in app, in store or on laptop you can earn and redeem points |
| Return products across channels | Items can be returned by mail or in-store regardless of purchase source |
| Ship from store | Customers can order products from kiosks to come from store or online |
| Consistent pricing across channels | Prices online and instore are consistent |
| In-Store Mobile Payments | Flexibility in payment through several different mobile payment options |
Source: TotalRetail, Insights Into Total Retail's 2022 Top 100 Omnichannel Retailers Report
What is composable commerce?
Composable commerce is a modular digital commerce approach based on an architecture that is composed of independent components that are configured the way you need them to be for your specific business. It is in part, an evolution of headless commerce, which separates the customer facing technology layer from back-end technologies to offer more control and flexibility in providing an optimized digital experience for the consumer. Composable goes a step further by providing a method of assembling the specific services into best-in-class solutions for each of the business needs that are connected within an agile technology architecture.
Keys of composability
Composable commerce is a design first approach and as it evolves over time, it is has the flexibility to evolve over time as the organization's strategies change and more omnichannel tactics are tested and adopted.
Component approach: Each part of the commerce and omnichannel technology can be separated into common activities and utilized independently. These components can be upgraded or changed overtime to allow for further enhancement without impact to the broacher technology stack.
Open integration: Cloud based SaaS solutions are integrated together with API technology. As the company changes and needs change, the integrations will change with ease.
Scalability: All of the modulars within the stack can allow for flexibility to improve or handle more data as company expands to new channels or handles more or different types of data.
80%
of businesses that don't have headless architecture today say they plan to implement it in the next two years
Second Edition of State of Commerce Report by Salesforce
Many companies, not just in retail, are now adopting the strategic approach of thinking about composability as they evolve their tech stack, what is so attractive about it from a business and financial perspective? Many companies see the benefits of achieving better satisfaction, more precise control over technology and potentially a lower cost of ownership for the entire span of commerce technologies.
Benefits of Composable Commerce
1. Ensure that you are meeting customer expectations
Each business is different and having a single, monolithic commerce solution was perfectly fine in the early years of ecommerce, but as commerce has matured, retailers now have specific capabilities that are of primary importance where they want to deliver 100% customer success and satisfaction. Delivering on a business feature like Search may not be possible on a big commerce platform because it performs at a fair level for most retailers, but as a niche or technical retailer, it is not meeting your customer' needs. Composable commerce allows retailers to invest in the most important technology components that matter most to their customers' experience.
2. Increased control and pace of innovation
As retailers embrace a composable approach to ecommerce, each individual application now has their own specific lifecycle. Retailers are no longer locked into longer innovation cycles as part of a larger roadmap when the evolution of a specific feature is more important to them as a retailer but negligible to the vendor. Additionally, retailers can keep the applications that provide real value and may strip away some features that were in the original Ecommerce platform that they don't use - buying only what they need. With a composable commerce approach, retailers can strategically plan their management of the applications versus planning for the consequences of modifying the entire solution. The consequences of the re-platforming of a single large ecommerce system can potentially disrupt your business for several years.
3. Lower Cost of Ownership
Large commerce solutions have built out a feature rich offering that meets all the fundamental needs of all retailers. Many of these features are often underutilized or even not used at all as they may not be relevant to the retailer's market, or the retailer already has a custom inhouse solution that performs better. Either way, retailers find themselves in a situation where they are subsidizing features that they are not using. With composable commerce, you have more flexibility to only purchase the packaged services that are required for your business and to buy the solution that is the right fit financially based on the scalability and functionality of the service.
How does a composable commerce look different than headless?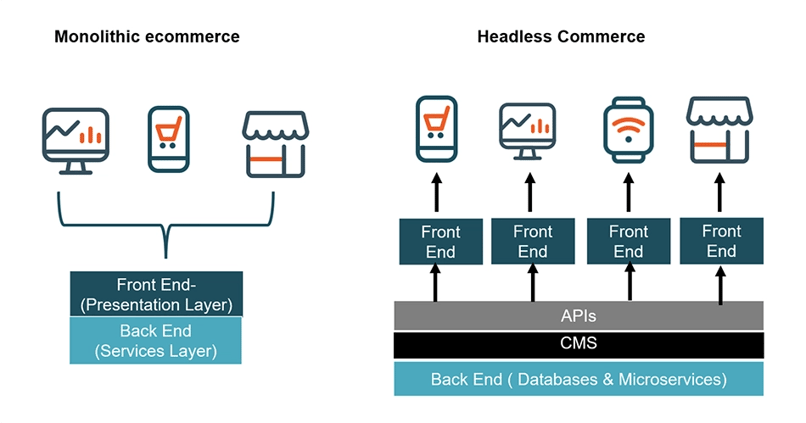 How does a solid business foundation help?
The pace of innovation in marketing technologies and commerce service technologies combined with their availability in the cloud via highly performing APIs, make having a composable commerce strategy feasible and an attractive option. Besides the technology - people, process and data are elements that also need to be worked into the foundations of the strategy.
From a people perspective, change management is needed as companies become more digitally oriented and now have more technology in place. Data & IT leaders need to listen to their employees before the change, prepare them for the changes, listen to ongoing feedback and ensure their long-term success throughout the change.
As more technologies are on-boarded, documentation on standard operating procedures becomes more important and do the roles of each individual service, including how they are interconnected. Streamlining APIs to have a logical flow of data from onboarding, creation, decision making, analytics and external personalization ensures that the organization has strong governance and improved agility over time.
Data is the last and arguably the most important foundational element that underpins success of composable commerce. Implementing composable commerce increases the number of technology solutions consuming data, so core data such as product master data, customer data, location data and even reference data or sustainability data must meet high standards for quality, traceability and availability. Furthermore, the master data management solutions that store the data need to have flexibility to evolve as the business changes and open to connect to various applications. Having a clear source of authoritative product and other master data is also important to ensure that the new agility of the organization is fueled with the highest quality data. While a composable commerce approach can yield many benefits, it may also surface more risks if data is not governed correctly. Errors or omissions of key product data information can quickly reach multiple data services and potentially causing confusion or frustration in your organization or with your customers.
To read the first part of this two-part series on the topic of headless commerce, please read the blog post "3 Benefits of Headless Commerce".
With Stibo Systems' SaaS Master Data Management Solution, enterprises can underpin their accelerated digital transformation, supporting transformation to composable commerce without data interruption and get the right quality data wherever it is needed to realize business goals. Learn more about how we support our retail customers.
Stibo Systems has many technological partners in ecommerce, data management, cloud partners and more to support the quick technological agility needed. For more information about our partnership in headless and composable commerce, please check out ours with Fabric.
---