Author's note: Click here to see my updated post for 2021 and beyond
Making the most of today's environment requires brands to enhance their data management capabilities with new innovations.
For consumer packaged goods (CPG) companies, the only constant is change – especially as it applies to trends impacting the industry. While many of last year's trends are just as relevant today, the difference is that consumer behavior and market changes are occurring at a much faster rate (approximately 2-3 months instead of 2-3 years). For the most part, CPG companies and their retail partners have made tremendous strides in addressing these trends. In fact, some of the best prepared companies have moved beyond surviving and are actually thriving during these challenging times.
But to build on this progress and prepare for the future, brands need to monitor and understand the implications of five key trends and their effect on most CPG product categories.
"Today's shoppers expect convenient and personalized engagements in every interaction, across all touchpoints. Retailers and brands must work to seamlessly deliver meaningful experiences that delight shoppers and drive loyalty."

- Jim Hertel, SVP Analytics, Inmar Intelligence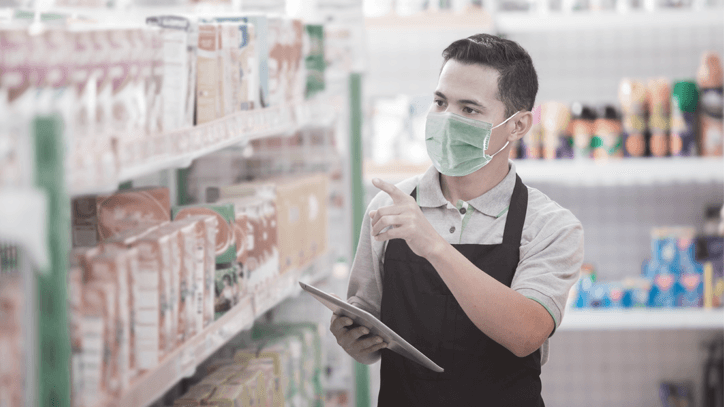 5 key trends impacting CPG product categories in 2020
For the past several years, consumers have increasingly adopted a digital lifestyle. New apps, social platforms and other digitally connected tools are having greater influence on consumers' shopping behaviors. The response to the global pandemic has intensified the reliance on digital, accelerating a few of the key trends:
Digital media consumption and digital commerce have increased.

This will likely persist at high levels through the next 6-12 months as consumers use new websites and apps to research and buy products online.

Convenience is a primary driver of online purchases.

Almost 9 in 10 consumers are likely to choose a retailer based on convenience (such as product availability, easy-to-find products, low-friction checkout process, timely delivery and more delivery options).

Consumers are focusing more on health and sustainability.

Products marketed as sustainable averaged 5.6x faster growth over five years than conventionally marketed products over the same period.

The private label market continues to grow.

Two-thirds of consumers say that store brand products are just as good as national brand versions of the same product.

Newer business models such as direct-to-consumer continue to grow.

Consumers want brands to deliver rich, engaging digital experiences with unique offerings in an authentic way.
A common theme among these trends is the growing need for corporate and data transparency. Consumers are seeking more detailed information online about a company's products (including what's in them and how they were made), brand, supply chain and distribution options. Meeting these needs will require companies to be more transparent with their consumers, sharing the information that their consumers want to know. To do this, companies need a centralized master data management (MDM) foundation that enables them to provide accurate, trustworthy data to their retail partners and consumers.
Addressing these consumer trends will likely lead companies to further evaluate their strategies and operations to determine if changes to their business structures, technology, data systems or people need to be made.
5 opportunities for CPG companies in 2020
Now is the time to embrace transparency and capitalize on the following opportunities to further grow your CPG business in 2020.
Accelerate digital transformation.

While most companies have been on a digital transformation journey for years, consumers' increasing reliance on digital channels underscores the necessity of digital transformation initiatives. Having accurate data that's robust enough to work with the latest digital technologies is essential. You must enable data transparency across your organization and with your partners to provide the experiences your consumers want.

Improve tracking of supply chain information.

This includes tracking product-level data attribution in order to extract, validate and share environmental, sustainability and origin information. This will enable you to better measure and share corporate social responsibility goals and information with consumers, reinforcing trust in your brand's commitments.

Enhance operational efficiency.

Relying on a growing number of digital channels to promote and sell your products will lead to an increase in the volume, variety and complexity of data sources. One way to ensure your teams are working efficiently is to automate and streamline your data management processes and workflows for better collaboration and decision making.

Increase business agility.

As marketing and consumer behavior changes, you need to be able to pivot. A lack of data transparency and structure can hamper business agility, making it more cumbersome and costly to onboard products and expand into new digital and physical channels. Leveraging a single trusted source of data, you can efficiently share your data feeds with retailers and partners and meet their aggressive timelines.

Create exceptional customer experiences.

Mastering your data enables you to achieve a 360° view of your customers. It enables you to share accurate information and leverage data transparency to enhance the consumer experience, driving higher engagement, loyalty and business performance.
79% of CPG executives expect that the Covid-19 crisis to be one of the biggest opportunities for growth in the industry.
Delivering consistent and rich content to your retail partners is key to creating a more engaging brand experience. To do this efficiently, you need to be able to extract value from your data by connecting, governing, enriching and syndicating it. An MDM solution enables you to do just that by eliminating silos and integrating data across systems and domains, including third-party resources and supply chain partners.
But how exactly does MDM help resolve your data challenges and set you up for future success? Following are some common questions we receive from CPG companies and how Stibo Systems' latest integrated MDM solution suite can help address them.
5 data questions CPG brands should be asking and how MDM innovations can help
How can we share information with our partners more efficiently?

Responding to each individual new item request from retailers can be challenging. One of the more powerful innovations in syndication is the data catalog. It enables you to streamline and expedite the data sharing process, so you can share your full catalog with retailers and enable them to pull the product data and rich media content they need when they need it.

How can we best measure the accuracy of our product listings across all channels and retailers?

To ensure consumers can discover your products online, it's critical to have the proper keywords and product descriptors in online listings. Because there are a myriad of listings and retailers, it can be hard to have visibility into how all the items are listed online. Fortunately, syndicated services now include a product comparison and scoring feature to understand the differences between product data lists and what's currently published on retailer websites.

How can we better manage our increasingly complex business-to-business (B2B) relationships?

To understand true customer value, identify and mitigate risks, and implement effective sales strategies, you need to have a single, unified view of your customer ecosystem. A thorough understanding of your direct and indirect B2B organizational profiles, hierarchies and relationships leads to better decision making and cost savings.

How can our team work more efficiently with data?

Choose an MDM solution that enables users to navigate it in an intuitive way, using best-in-class search capabilities. As data volumes increase, this will help your users get to specific items quicker for increased productivity.

How can we better analyze our master data to help ensure better decisions?

In-line analytics allow users to see data blended together, analyzing master data with other data sources in one view. Not only does this improve the accessibility of data, but it makes it easier to gain a larger business overview and derive actionable insights that speed up decision making.
To learn more about how Stibo Systems can help you build a trusted data foundation for your organization, visit stibosystems.com/industries/cpg.