We all know that data is a valuable commodity and that each year companies invest in a broader range of data-driven projects in order to understand their customers better.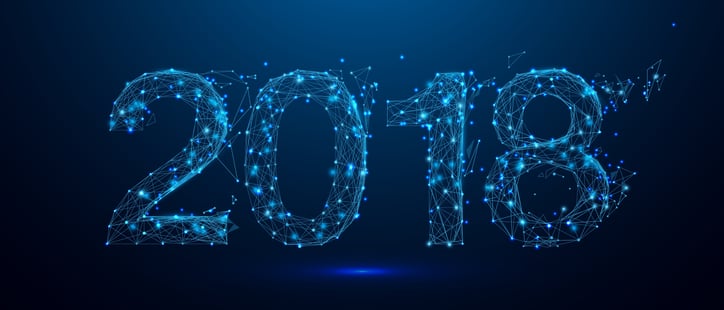 But as business challenges vary, what should your data project be in 2018? Let's take a look at five key data priorities - starting with GDPR.
5 key data-driven projects for 2018
1) Are you ready for General Data Protection Regulation (GDPR)?
In data-intensive industries such as financial services, the problem has been to cope with vast quantities of data often supported on legacy systems. This has led to two major challenges. The first: how to link your data to gain a comprehensive, single view of a client.
The second has been how to stay fully compliant in a constantly changing regulatory environment. To learn more read: Five Reasons Your Data Governance Initiative Could Fail
The GDPR will begin May 25, 2018, which is why the hottest data-driven projects are currently surrounding data management and how to plan for the arrival of this new regulation.
Forward-thinking companies are taking this as an opportunity to review their current data structure and introduce new data management technology that not only ensures compliance but will also help them transform and improve the way they deliver services to customers.
Let's look at customer experience in more detail.
2) Create a seamless customer journey
After, or alongside, compliance, the next big data project that businesses are focusing on is creating a consistent customer experience as today's customer expects to receive the same level of service however they choose to engage with a company.
As this can only be achieved by obtaining a comprehensive overview of a customer, it's why financial services industries are combining this element of data management along with their data compliance project.
In the retail industry, the emphasis is on creating a seamless omnichannel sales model, bridging online and in-store to form a consistent customer experience. On the back of this, retailers are using data management to forge links between customers, suppliers and partners to increase sales and reduce risks in a changeable marketplace.
And while financial services companies are combining customer experience initiatives with their data compliance projects – the canny retailer is linking together customer experience with personalised engagement.
3) Personalisation is now expected by consumers
A study by Salesforce in December 2016, revealed that more than 70% of consumers expect brands to understand and anticipate their needs – their State of the Connected Customer report makes for interesting reading.
Customers assume companies will know their history and specific preferences and that trend is set to become more evident in 2018.
Once upon a time, you only expected to receive personal service in shops – today's consumers demand a personalised digital experience too. And what's more, a digital service that connects back into the store – if your customer orders for collection, the item had better be in store when they go collect.
The means to drive this personalised brand experience lies in customer data, and the insights it brings. However, aside from gathering consumer data, there's also the growing demand for device data, which leads us on to the Internet of Things (IoT).
4) IoT offers new ways to collect data
The ever-increasing number of devices connected to a network and communicating with each other – the Internet of Things - has generated even more opportunities to collect data. And even more challenges when it comes to harnessing this data for business use.
The value of this data is in the insights it offers. For example, predictive maintenance becomes achievable when you monitor a device and can see exactly how it performs (or doesn't perform) over a period of time. This not only gives businesses the insight they need to make informed decisions, it also provides the kind of data that can then be used to stimulate artificial intelligence.
5) Prepare for artificial intelligence
According to a Gartner survey, 59% of the organisations surveyed were still gathering information to support the build of their AI strategies, while the remainder have already made progress in piloting or adopting AI solutions.
The ability to use machine learning and algorithms to make business decisions could be transformative for many. And, while for you, this may seem a long way off, many business leaders have decided to invest in data management now as they know that having a data ecosystem in place will lay the foundation for future development and revenue growth.
The above are just a few examples of why all types of organisations are putting data management at the heart of what they do.
Data-driven projects for 2018 in a nutshell
In short, the most significant projects for companies in 2018 will be based around improving the level of control they have over their master data. Why? Because this will allow them to serve customers better, improve business operations, remain compliant and ultimately, increase revenue.
And if those are your goals, it would pay to follow suit.