Multidomain Master Data Management (MDM) offers organizations the ability to integrate and analyze disparate data assets (i.e. customer data, product data, supplier records, etc.) no matter where the information resides within different business units or departments. According to Aberdeen's 2014 Big Data survey, 50% of surveyed organizations cited data siloing as a top challenge facing their analytical efforts. This is where multidomain MDM can help. An end-to-end system handling multiple domains enables alignment of data needs with data delivery, preventing valuable information from being locked away in one place. However, in the current data management landscape, less than half of organizations have a multidomain MDM solution. Across 163 organizations, the most common method of handling master data involved no formal system at all (Figure 1).
Figure 1: The Landscape of MDM Systems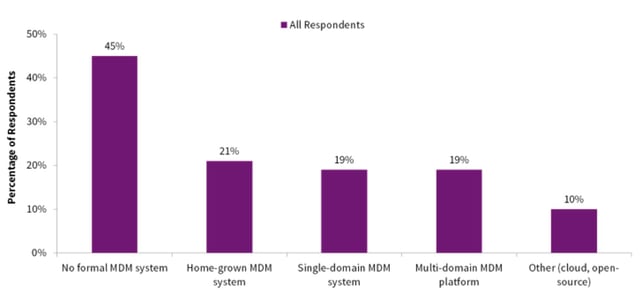 Among organizations with formal MDM systems, custom or homegrown systems are the most popular by a very slight margin. Many companies attempt to keep costs low by using internal development talent to produce these systems, or they feel the specific needs of their organization are not well suited to a pre-packaged solution. However, these homegrown systems can be risky, as a lack of expertise or understanding of master data issues (such as governance and access control) can cause more problems than they solve. Nearly half of organizations (49%) in Aberdeen's study on Document and Content Management reported that they felt home-grown systems would either provide no significant improvement to the quality of their business data, or would in fact make the situation worse.
The remaining organizations are fairly evenly split between relying on a system for a single critical master data domain, and having an end-to-end system to handle multiple domains. Early research from the 2014 Big Data survey indicates quantifiable benefits for those organizations with multi-domain MDM. Over the past year, organizations taking a multi-domain approach to MDM are 54% more likely than all others to have improved time spent looking for information (per knowledge worker per week). Users at these organizations are 48% more likely to be satisfied with their ability to share data.
These metrics are indicative of the successful tearing down of data silos and the open exchange of information across business functions. Users are able to retrieve and share pertinent information regardless of its origin. Multidomain MDM will also address any issues around governance and compliance, and mitigate data errors inherent in information proliferation, such as duplicate entries. Given the benefits, expect to see more organizations shift towards a multidomain MDM approach.