What is the state of organizations' Master Data Management (MDM) capabilities? And how do organizations cope with MDM, benchmarked against one another? To find the answers to those questions, Stibo Systems recently hosted a Master Data Management Benchmark Assessment. The assessment was prepared by Michael Lock, Vice President and Principal Analyst of the Aberdeen Group.
The results show that 6 percent of organizations are "Best-in-Class", 52 percent are "Industry Average", and 42 percent are "Laggards", revealing that there's still some work to be done for the 52 percent in the average category, and a lot of work to be done for the 42 percent that lag behind, if they don't want to risk being surpassed due to their inefficient master data management capabilities.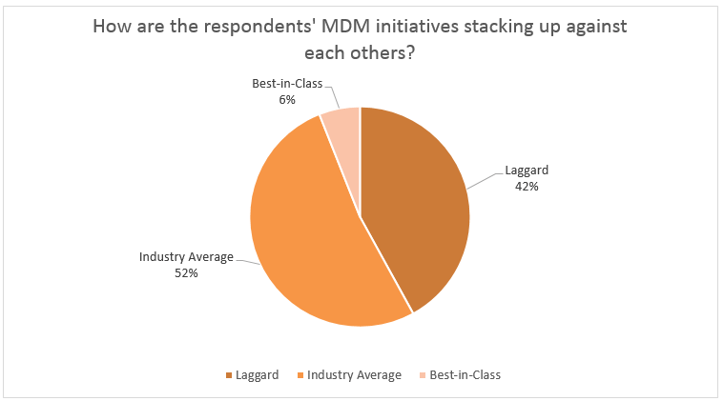 Although not representing any scientific or irrefutable results, this assessment gives a good snapshot of how well – or bad - organizations of differing sizes, from various industries and regions, including US, EMEA, and Asia Pacific, are doing with MDM. And it is rather troubling that 42 percent of organizations score below average, when we consider the fact that we live in the 'digital', 'data-driven' age, where businesses need to 'disrupt or be disrupted'.
The organizations that neglect their master data infrastructure, or fail in implementing it successfully, will face huge challenges, if they haven't already. They'll have a struggle making the right business decisions if it's not based on an accurate background. They'll face massive ineffectiveness in their data workflows, negatively impacting their brand as well as their profits, and they'll have trouble providing personalized, seamless customer experiences.
On the other hand, we have a large group of MDM "Average"s, which is not a bad thing at all. In fact, we interpret it as a sign of MDM's growing market establishment, and its increasing role as a fundamental basis for digital and forward-thinking businesses. But still, these 52 percent do have some work ahead before they are considered "Best-in-Class", which – in our experience – is where every business should be, if they want to be "Best-in-Class" in general, not just in their MDM efforts.
21% don't have any MDM technology or skill sets at all
So, which MDM capabilities do organizations have? That was also one of the questions, that the respondents were asked.
21 percent stated that their organization don't have any MDM technologies or skill sets in place. 30 percent responded that some data management skills were in place, but a formal MDM strategy was lacking. 10 percent had a "formal MDM solution on place for a single data domain," while 16 percent had "multiple MDM solutions in place to handle multiple data domains individually." Almost one in four organizations, 23 percent, had a "single MDM solution handling multiple data domains simultaneously".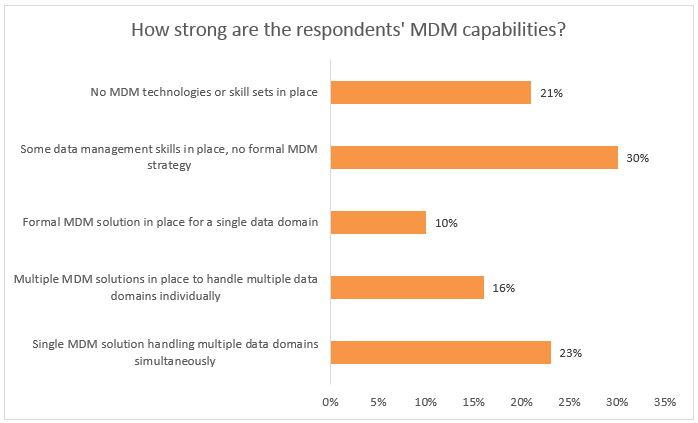 Let's start with the positive. Almost one in four of the organizations have a single MDM solution, handling multiple data domains simultaneously. Unfortunately, the assessment doesn't tell anything about if the "single solution" is handling all the data domains or just two or three data domains, and which data domains. But even so, it's very positive that organizations seem to be realizing the correlating benefits of combing several data domains in one solution.
In between the organizations with no technology or skills at all, and the ones with a single solution for more domains, we see different – and very common - levels of MDM capabilities. 30 percent have skills in place, but no formal strategy, and are as such still very MDM immature. Hopefully, most of the organizations in this category will soon realize MDM's valuable business effects, and climb a step up the ladder in their MDM capabilities, for instance by implementing a formal MDM solution for one domain, as 10 percent have done, which is a very good starting point.
However, these organizations must remember that when they scale up their MDM activities and extend them to new domains, that they choose solutions that allow integration between the systems, or simply just apply the existing solution to new domains if it is a fit. If not, they'll face siloed solution, and challenges in reaping all master data business benefits. This is also why it is rather worrying that 16 percent have "multiple MDM solutions in place to handle multiple data domains individually."
More alarming however is it that 21 percent don't have any MDM skills or technology in place at all. Maybe they have other systems that are satisfying their current data management needs or perhaps they haven't grown to a point where they need MDM. But in our experience, these companies must start prioritizing mastering the data crucial to their everyday operations, if they want to thrive and grow in our digital world of today.