Last Sunday, on my first walk through the Expo Hall at the NRF's 105th Annual Convention & EXPO, I came across a vendor handing out a piece of booth collateral titled, "The Idiot's Guide to Omnichannel."
It was mocked up to match the look and feel of the familiar book series, right down to the cartoonish artwork. It provided a beginner's level overview of the what's, where's and why's of omnichannel retailing. While the creation of an "Idiot's Guide" alone could be viewed as all the evidence we need for any theme's ubiquity, for other reasons I believe that 2016 may well be remembered by brands and retailers as the year of "Peak Omnichannel."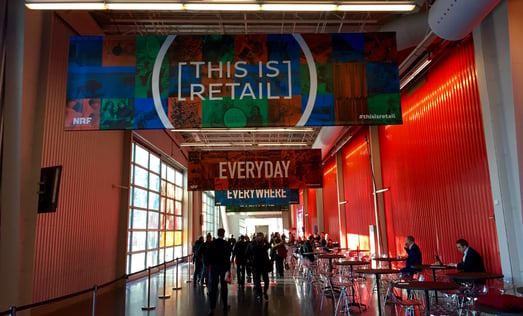 Beyond trade show handouts, omnichannel was— if you'll forgive me —omnipresent at the BIG Show. From booth signage, to session content, to overheard conversations in the unreasonably long lines at the Javits Center Starbucks, the topic was absolutely front and center. I'm not sure I attended a single session over the three-day conference in which omnichannel wasn't at or near the core focus. This is nothing new, of course. For most of past decade the journey to what we now call omnichannel has been an incremental, often difficult one, as retailers tried to keep pace with the ever-changing demands of mobile-enabled, socially driven consumers. Retailers quickly scrambled to start reaching them across these new channels, and ultimately realized that blending all their online and offline touchpoints into a unified customer experience was the best course of action.
"Peak Omnichannel" is a Tipping Point
When I say that 2016 could be the year of "Peak Omnichannel," I don't mean it in a negative sense. What I mean is that this calendar year could represent a positive tipping point where omnichannel concepts finally shift closer to well-adopted best practice than innovative concept. As evidence, consider NRF and FitForCommerce's 2015 Omnichannel Retail Index, a secret shopper survey of 120 retailers across verticals. It indicates that more than half of retailers they surveyed are now offering in-store product availability on their websites. Many consumers are likely starting to take this functionality for granted, but accomplishing it is no small feat. It requires a real-time view of inventory data, back-end systems that talk to each other, and the ability to expose store inventory to the ecommerce channel - capabilities that just a few years ago were still somewhat leading edge - but now more a majority of retailers in one survey have it equipped.

Another omnichannel feature that customers are likely starting to take for granted is the ability to buy online and make a return to your brick and mortar store. An impressive 81% of retailers in the Index now boast this capability, engendering loyalty from shoppers like my wife who frequently take advantage. Likewise, some of the programs FitForCommerce identifies as most likely to help a retailer differentiate themselves to omnichannel consumers are approaching 50% adoption rates, such as free return shipping and in-store product inventory lookup on web or mobile.

These are just a few of the indications that retail could be approaching "Peak Omnichannel" – an era where unified customer experience programs start to see very rapid adoption, and the vast majority of retailers are able to effectively erase the borderlines between their channels. They'll more quickly implement and test online digitally immersive experiences in their stores, provide ultimate flexibility in shipping and returns, and even perhaps develop new ways to bring the personalization and rich experience of in-store shopping onto their sites. And all of the enabling technologies to make this happen, as well as the case studies speaking to them, were on full display at NRF's Big Show last week.
Of course, executing omnichannel necessitates the ability to consume, manage and synchronize large quantities of product information and customer data. Quite often one of the first steps to planning an omnichannel program first entails a Multidomain MDM plan. What will our data model(s) look like? What systems will we need to connect? After all, if the goal is to provide a consistent experience for your customers, you first need to have consistent and reliable information across your retail enterprise.
Where Do You Stand?
Even if my hypothesis proves correct, it is not to say that beyond the omnichannel peak lies a smooth, downhill ride. Just as few fully realized how big an impact mobile would have on the shopping experience, no one can predict what innovations will give rise to new channels in the future, or what channels will experience further disruption. Thus the retailer that can— to quote Christian Davies, Executive Creative Director from design firm FITCH, in his excellent Agile Retail presentation, "launch, improve and repeat" the fastest— will reap the greatest rewards in the form of customer loyalty.

The question for you is what will your organization do to prepare for Peak Omnichannel? The last thing you want is your competitors quickly implementing differentiating experiences and leaving you behind.

If you're up-to-speed or even leading in omnichannel, the question becomes what are you going to do to ensure you're ready for the next thing? How are you going to continue to reach consumers that are increasingly addicted to distraction, let alone the emerging generation with eight second attention spans…?
Even for the best retailers, there will always be a new peak to climb.