The ideals of master data management (MDM) espouse consistency, quality, and efficiency applied toward different data domains such as customer data, product data, or supplier data. For many companies though, customer data stands out as the most valuable pool of information that ties back to just about every aspect of the company's operations. Customers have a profile and a purchase history that connects with product data as well as financial data. Often times they have account managers or customer experience professionals assigned to them that connects with HR data. They have a regional dispersion that correlates with supply chain and vendor information. The list of these connections and correlations is extensive to say the least.
The benefits of customer-centric MDM
In an effort to exploit this phenomenon, many organizations are taking what might be referred to as a customer-centric approach to MDM. This is a strategy that uses customer data as the focal point of a multidomain approach to MDM. In other words, these companies have taken the effort to master multiple, different data domains within their organization, using customer data as the foundation of that strategy. Thinking about how this approach can create new connections between disparate data domains and help generate game-changing insight, one can see how companies with customer-centric MDM are more likely to master just about every data domain available as compared with their counterparts (Figure 1).
Figure 1: The Hub of a Multidomain Spoke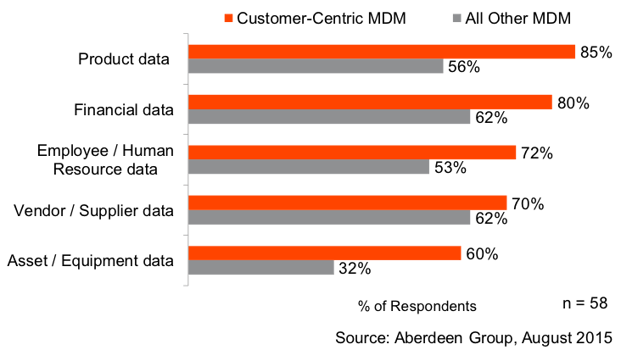 At the end of the day, they're looking for ways to develop deeper and richer insights about their customers and they rely on these linkages to help generate those insights. However, data linkages and new forms of insight aren't the end game for these companies. They look to use this approach as a stepping stone to tangible and repeatable business performance.
According to the research, these companies experienced improvement in 3 key areas:
1) Completeness of data: Missing or corrupted fields in a data record can provide major hindrances in the analysis process. Companies with a customer-centric approach to MDM reported that 92% of their data records were complete and accurate, compared with 82% for all other companies. Flipping the data on its head, one can say that these companies have less than half as many instances of incomplete data.

2) Accelerated decisions: Efforts to improve the quality and usability of data have two main benefits for organizations. First, they allow for more diverse data to be brought into the decision process making for more enriched and heightened analyses. Second, they facilitate a smoother and faster flow of information within the organization. Companies with a customer-centric approach to MDM are 62% more likely to see an accelerated time-to-decision.

3) Customer retention: Data about customers is good. Data about customers that connects to data about many other things across the business is better. Companies with a customer-centric approach to MDM were able to drive better insights about their customers, ultimately resulting in a 78% lower rate of customer churn.
Customer-centric MDM improves customer retention and satisfaction
Most companies of a certain size have some formal strategy for data management in place. Many, however, have not yet built the ability to connect different types of disparate data under one roof, and therefore haven't yet experienced the benefits attainable with this approach. Starting with an MDM strategy focused on customer data, then layering on top the ability to handle multiple data domains at the same time, companies can set themselves up for substantial improvements in the decision process, ultimately leading to some real impact when it comes to critical metrics like customer retention and customer satisfaction.