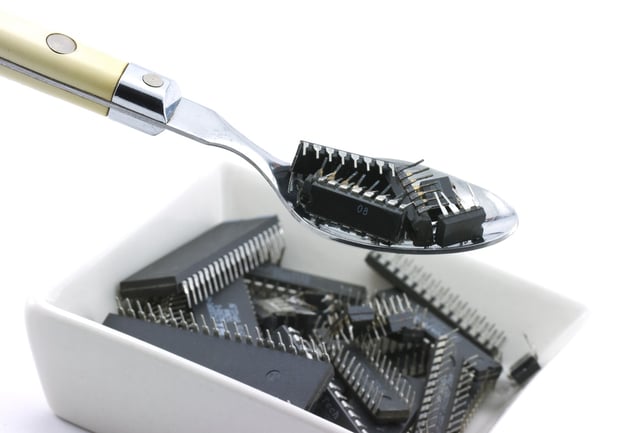 I work with the Stibo Systems' food, beverage and consumer goods manufacturing clients, so I take it as part of my job to stay up to date with the latest trends and bleeding edge technology use cases in these industries. The Internet of Things (IoT) is now here, and it's predicted to be worth trillions of dollars in the coming years. The IoT is fundamentally changing the relationship of companies with consumers, as well as the relationship they have with your products. Not only are your customers becoming more and more connected to one another, but they are increasingly expecting to connect with the very products they purchase, own and consume.
Here are just two recent examples:
Cargill's traceable beef. Recently Cargill, one of the largest privately held companies in the world, announced their Pasture Crafted initiative to bring organic, grass-fed/grain-finished beef products to market. While this is certainly a competitive response to surging consumer demand for organic and grass-fed beef, the most interesting part of this effort is how Cargill will introduce traceability into the mix. Consumers will be able to trace the product from their grocer's cooler all the way back to the animal's birth, identifying the ranch where it was born, as well as other information about how it was raised. Now more than ever, and enabled by technology, consumers are demanding information about the origin and composition of their food.
Samsung's Family Hub Refrigerator. For years appliances have been getting smarter and more connected, but this behemoth may be altogether something different. Not only does it keep your meals cold, but it also serves as an information hub to coordinate family schedules, stream music and create shopping lists—it will even let you shop for groceries online directly from its door-sized touchscreen. It also features three internal cameras that let you take a glance inside your fridge from your mobile device. I can imagine the convenience and connectivity that this technology provides easily catching on and spurring a series of competitive innovations across the food and beverage industry. In a world where consumers want to "FaceTime" with their outdated milk, what are the possibilities--and opportunities--for food and beverage manufacturers?
These are two different but highly impactful examples of how technology is fundamentally changing the relationship that consumers have with their food. For many in the food and beverage industry, the forthcoming crush of data they'll be required to manage in order to compete and win against this backdrop is daunting.
So what can you do?
Getting the Data Right
Machines and devices are driven by data. Like anything, data management is a discipline that requires you to master the fundamentals before moving on to the advanced maneuvers. That is to say, before you can reliably use all kinds of new information about your products and customers to your and their benefit, you must first have the type of internal infrastructure and foundational processes in place from which to grow. For many, that includes a master data management strategy and the appropriate governance policies.
Think about it: how much do you know about your customers now? Can you honestly say you have the proverbial 360-degree view of them, and know how to deliver the content they want, when they want it, in the form they desire at that given moment? What about product data? Do you have systems and processes in place that allow you to manage and track your products from ideation to the store shelf and beyond? In the event of a product recall, how prepared are you?
If you've answered negatively to any of these questions, don't worry, you're not alone. The good news is that the companies who actively treat data management as a strategic endeavor—the companies that are obsessed with continuous improvement of their data quality, data infrastructure and data analysis—are the organizations who will be the most well-positioned to answer the call. Especially if the call is from a customer who expects to contact his refrigerator in the middle of the night to see how many yogurts are left.