Digital disruption and its positive impact on the insurance industry
If you're from a financial services background then you'll be familiar with the term regtech (regulatory technology), and possibly fintech (financial technology), but for those of you from the world of insurance we have 'insurtech' – in reference to all that is insurance technology related.
What is insurtech?
I came across insurtech whilst doing research for another article I was writing around the power of digital technology to disrupt traditional, often centuries old, and now largely commoditised insurance products. The information that fitted nicely into the article was a piece that covered some of the top insurtech companies who are set to disrupt the insurance industry, in a big way, using digital services.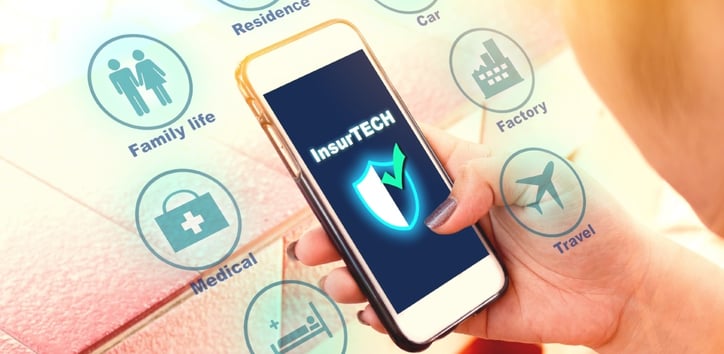 The benefits of going beyond traditional insurance
Insurance is one of the most complex industries in the world, built on traditional grounds of pooling and underwriting. But now, with the technology to manage and easily access their data, insurers are in a position to price risk directly, perhaps even on a per 'usage' basis.
In fact, according to a survey undertaken by Accenture, 82% of insurers agreed that organisations need to understand not only where consumers are today, but also where they want to be.
The biggest innovations in insurance over the next three years will not be based on the technology tools themselves, but on how we design them with the customer in mind.
Here are three examples of insurtech companies who are disrupting the insurance industry by offering digital first, customer-led services:
Brolly uses artificial intelligence (AI) to power its processes and provides an easy-to-use, handy tool to track down and find insurance products.
The user benefits because Brolly simplifies the traditionally painful task of searching for the right insurance, making it a pleasant experience.
Cuvva provides a pay-as-you-go service for car insurance, meaning you don't need an expensive, long-term policy if you're going to only use a vehicle intermittently, or rarely at all.
Cuvva is able to offer these services thanks to advances in data-sharing technology and smartphones, providing an insurance product that works and is accessible via an app.
Neos uses a set of IoT enabled devices to increase communication and connection to heighten the customer's control.
IoT enabled devices connect aspects of your home directly to a smartphone app, such as leak detectors, wireless cameras, smoke sensors and door sensors.
IoT provides a vast amount of information to insurers that would have previously been inaccessible enabling the insurer to give each customer a far more personalised policy and experience.
How to monetise digital disruption
Technology advances and greater data control are enabling insurance companies to think of services that go far beyond traditional groundings, to create truly personal, and often amazing, customer experiences.
But the biggest barrier, beyond the struggle to step outside of the traditional comfort zone, is the ability to build new trusted layers of information from existing data sources. But there is a solution to this.
Master Data Management software is enabling insurance companies to bring individual silos of customer data together to create a single version of the truth, allowing them to design and deliver the products that their customers really want.
Creating customer centric services gives you far more flexibility and relevance than you might have had before, and your job is to make use of data and technology to monetise this disruption.