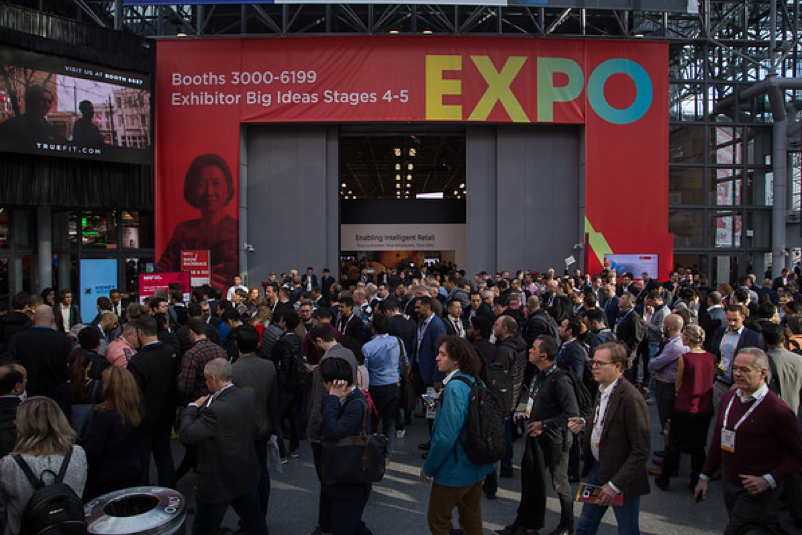 Every year, NRF provides a window into the future of retail and NRF 2020 did not disappoint. Stibo Systems had a strong presence at the event and our team was inspired as always by the keynotes and informational presentations. Even more impactful were the variety and number of conversations with existing and potential customers as well as global industry leaders we met at the show.
"We don't think retail's dead. We think that mediocre retail is dead"

– David Giboa, CEO, Warby Parker
While it has often been said that retail is dead, the record attendance of +40,000 and high energy levels clearly indicate this is far from the case. What we see is a shift where there is an increasing gap between great retail - and the rest. And there is much everyone can learn from this divide.
Following are key takeaways we heard and observed that can help retailers everywhere succeed in the evolving environment relative to their technology and data strategies.
Takeaway #1:

It's time for hyper-personalization

For several years, retailers have cited the need for personalization to improve the customer experience (CX). In 2020 the focus will be hyper-personalization. To deliver, retailers are making bigger investments in technology, realizing the need for more integrated data strategies and investing in the right talent to execute at a more precise and intimate level.

Research by Deloitte identified that consumers are spending 20% less time shopping and becoming more selective in the brands they interact with and purchase. Asked why, consumers said when choosing a retailer, relevancy was their number one consideration, beating out price and product considerations.

To become more relevant retailers need to learn more about the customer, collect and organize customer data, and interact in a way that meets customers wherever they are in their purchase journey.
Takeaway #2:

Put data in the hands of customer facing teams

As companies collect more and bigger data sets, it is important to be able to collect, organize, summarize and share that information across the enterprise. In the past, information was only periodically shared with leadership or sales. By not sharing it with customer facing employees, organizations were missing out on opportunities for their most important employees to positively impact a sale.

In a presentation at NRF, Harnessing an innovation culture and customer obsession, Alexa Geovanos, brand president of Chloé in the Americas, shared data insights practices of the successful luxury brand. Like many such companies, their clients know and love their brand and stores. The challenge for their employees is to beat the already high expectations of their customers. To do this, Chloé invested more in data insights, and in helping store associates connect with customers. "We put as much data in the hand of our customer teams as we do the HQ team, so they are empowered to have the best interactions with the customers in store," Geovanos said.
Takeaway #3: Increased focus on sustainability
Brands and retailers are rapidly moving to more sustainably focused business models. Retail brands West Elm and Lush shared their sustainability journeys. It's a long-term proposition starting with business strategy and leadership buy-in; then building sourcing strategies based on their goals and measuring products based on them.
NRF 2020 key take-aways include the need for:

Deeper personalization
An improved CX through pervasive insights
Data transparency to meet rising demand for sustainable products
Becoming a better business contributing positively to the world on an environmental basis is increasingly important. It can elevate the entire organization with a higher-level purpose to deliver corporate transparency. Jennifer Gootman, VP of social innovation and corporate social responsibility at West Elm said, "If I could say what has made us successful in this space, it is that it (CSR) is core to our business, it's embedded in our product and it reaches our customers directly."
In 2020, we can expect more retailers to make progress on this because sustainability is no longer only relevant to a small segment of consumers. The challenges are becoming more widely known and more people are embracing sustainably focused brands.
The power of MDM to transform retail
In addition to gaining new insight from the show, Stibo Systems hosted two sessions sharing perspective on the role master data management plays in helping retailers deliver on market needs.

Peter Brook, director, omnichannel solutions at adidas (pictured) shared their digital transformation story, including tackling cultural barriers before creating an agile, team-based environment to take on complex technical challenges. Becoming even more customer focused and delivering relevant content and products to serve customer needs gave attendees insight into the potential of master data management.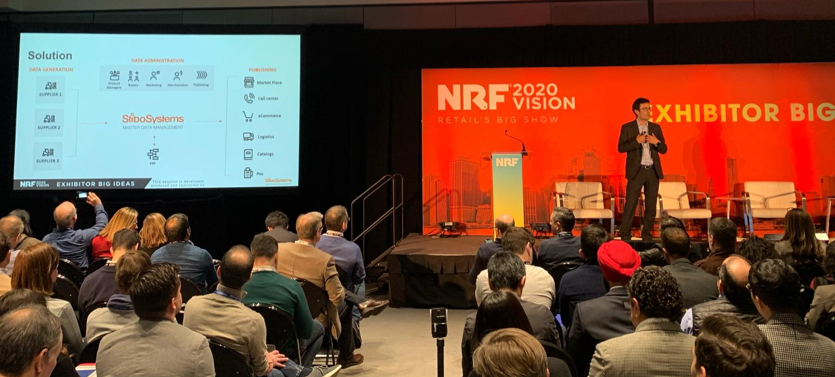 In the second session, Camilo Gallego Ferrer (pictured), VP at Grupo Éxito, shared how this leading South American retailer has digitally transformed into an omnichannel trailblazer and in only six months delivered significant value to their customers; e.g., by growing the number of products from 100k to 1.1 million. All this achieved using Master Data Management.
Better data enables data transparency
In 2020, retailers have an opportunity to leverage data further to level the playing field, becoming more relevant to customers, delivering more personalized experiences by sharing information in a transparent way. By breaking down organizational silos, retailers can empower their teams to be more intelligent about the business and to engage with customers at a higher level.
For retailers that have successfully started their journey to greater sustainability, it is equally important for consumers to have visibility into the information relevant to their evolving interests and concerns. As well as to share sustainability information in a transparent way, so consumers can make informed product purchase decisions.
Ready to make better business for a better world?
NRF 2020 was hectic, confusing and people centric – very similar to the world of retail itself. Many retailers are at a crossroad now with an opportunity to set the course for the next year and decade. A new, accurate data foundation is needed to provide more relevant and superior experiences, empower employees and drive data transparency so you can share information that will help customers make better choices for a better world.
How was your experience at NRF 2020? Comments welcome below. Or click here to learn more about how master data management can improve your retail customer experience and business outcomes or about how data transparency can lead to better business for a better world.