Big Data means different things to different people, but the brass ring of Big Data is always the same: get the right information to the right people at the right time. No matter how much data there is, or how fast it needs to move, the aim is to deliver timely information that trained eyes and minds can convert into insight. Big Data initiatives should equip decision makers with a robust view that accurately reflects the state of the business and provides a strong foundation for analysis.
Aberdeen's 2014 Big Data survey measures a number of metrics that track performance in pursuit of this lofty goal. Those organizations with Master Data Management (MDM) outperform all others across the board (Figure 1).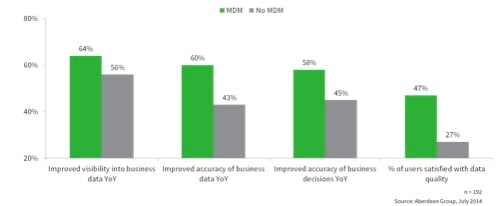 Figure 1: Better Data, Better Decisions
Organizations using MDM are 64% more likely to have achieved an improvement in visibility into business data in the past year. With an MDM solution, decision makers can work with large data volumes culled from multiple sources in a single system. No matter where data is stored, inquisitive minds can quickly find it and integrate it into their analysis.
Sixty percent (60%) of MDM organizations improved the accuracy of their business data in the past year, compared to 43% of all others. MDM enables facile cleansing and integration of information for use throughout the organization. Better data accuracy contributes to the MDM organizations' superior rate of improvement in the overall accuracy of business decisions. Not only does MDM offer decision makers enhanced visibility and more accurate raw data for analysis, it also enhances opportunities for collaboration between internal and external groups. Stakeholders across different, business units, or even organizations can have the same pertinent data delivered to them as needed. Finally, MDM organizations have 74% more users per capita satisfied with data quality. Centralizing data and ensuring quality with MDM foster user trust in information and drives deeper insights.
However, even those organizations with MDM have room for improvement. There is still work be done and they can leverage their solutions to improve data governance and delivery. Satisfying less than half of users with the quality of data, while a vastly superior mark compared to all others, simply won't cut it for long. Even the improvement metrics are primed for continued, well, improvement. Data volumes will continue to grow (and grow and grow), and using MDM to improve visibility and the impact of decisions will only benefit overall performance more and more. As organizations grapple with the volume, velocity, and variety demands of Big Data, they should keep their eyes on the final prize. MDM helps data-driven decision makers reach for that brass ring.