With a mountain of transactional data, streaming feeds of real-time market data, and an influx of third party information available, the financial services sector has long been ripe with opportunity for insight. While the advanced analytical techniques in use are the most visible aspect of generating insight, activities to organize, access, cleanse, and govern data are absolutely critical in developing an underpinning of valuable data. Companies these days, particularly in the financial services sector, are responding with their wallets. When it comes to spending, technology leaders need to make sure the infrastructure is robust and scalable, the environment and the data are secure and reliable, and the users are armed with the tools and applications required for their jobs. With those pieces in place, organizations typically then turn to analytics as a way to move from automation to optimization. Essentially, the tremendous amount of data created from these modern IT environments contains nuggets of wisdom that can be extracted with the right tools, and more importantly, the right data-driven mindset.
Data from Aberdeen Group's CiTDS reveals that, on a per site basis, financial services firms are spending an average of $2.8 million, compared with $400k for the healthcare industry, and $240k for the education sector. Additionally, Aberdeen's research demonstrates that these companies are more likely to employ and hire people who are data-driven and analytically inclined. These companies have the resources and are willing to commit them to the data environment, but they also suffer from a lack of cross-functional data transparency (Figure 1).
Figure 1: Data Skill without Access?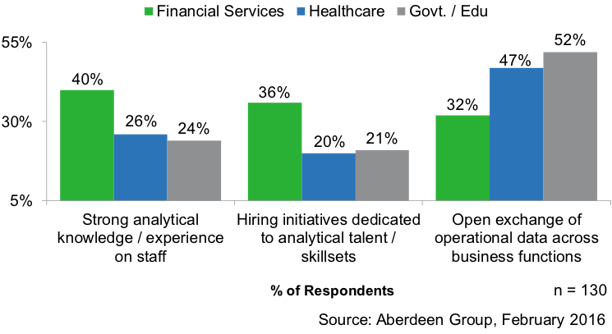 With the amount of regulatory scrutiny these companies face, it's entirely understandable that they would be hesitant to increase the accessibility of information. However, an unchecked data "free-for-all" rife with quality issues and security exposure doesn't need to be the reality for companies looking to expand access to information. Aberdeen's recent report, Explore It, Don't Just Store It: The Value of Searchable Data, demonstrates some of the performance implications of a responsibly open environment of data exchange.
Moreover, this concept of access with accountability is one of the most prominent reasons why companies turn to technologies like master data management (MDM). An effective MDM strategy allows organizations to pull together and centrally manage a variety of data from disparate sources across the organization, while at the same time providing a layer of governance and oversight that can reduce or eliminate the type of data quality issues that would plague a financial services organization. Leading users of MDM were able to exploit their effective data strategy to drive substantial benefits, such as:
Enhanced data quality. Regulations alone would force a typical financial services organization to have a heightened focus on maintaining data quality, but best practices around generating relevant and usable insight would point them in the same direction. MDM Leaders are 94% more likely to be satisfied with the quality of data in their organizations.

Faster decisions. Nothing slows down the decision process like corrupted, duplicated, or absent data. With a higher degree of data quality, leading MDM users were able to deliver information on time at a much greater rate. According to the research, these leaders are 2.3 times less likely to have critical information delivered late.

Revenue growth. The natural progression of any effective analytical process starts with raw data, and ends with actionable insight that leads to results. MDM plays a critical foundational role in this process as it helps improve the quality and usability of the information that would ultimately be transformed into insight. Higher data quality leads to faster decisions which leads to the ability to identify and act on more opportunities for growth and efficiency. MDM Leaders are 2.2 times more likely to see growth in organic revenue on a year over year basis.
When it comes to the resources needed to exploit data, financial services organizations are operating from a position of power, as these companies have anywhere from three- to ten-times more IT budget as those in other key industries. From algorithmic trading and other forms of advanced analytics, these organizations will likely remain at the cutting edge of analytical activity compared to other industries, but the research points toward the data environment as perhaps the most important piece of the puzzle. Companies that can execute a strategy for MDM, one that allows for greater access to information across the organization with a responsible amount of oversight, will be rewarded with a higher degree of data quality, an accelerated decision environment, and tangible business results.